We went up to the Lost Slam last week. Then this week, a change in plans brought us back to Glacier Peak Wilderness. But Genius could very well be our final peak on the bucket list for this season.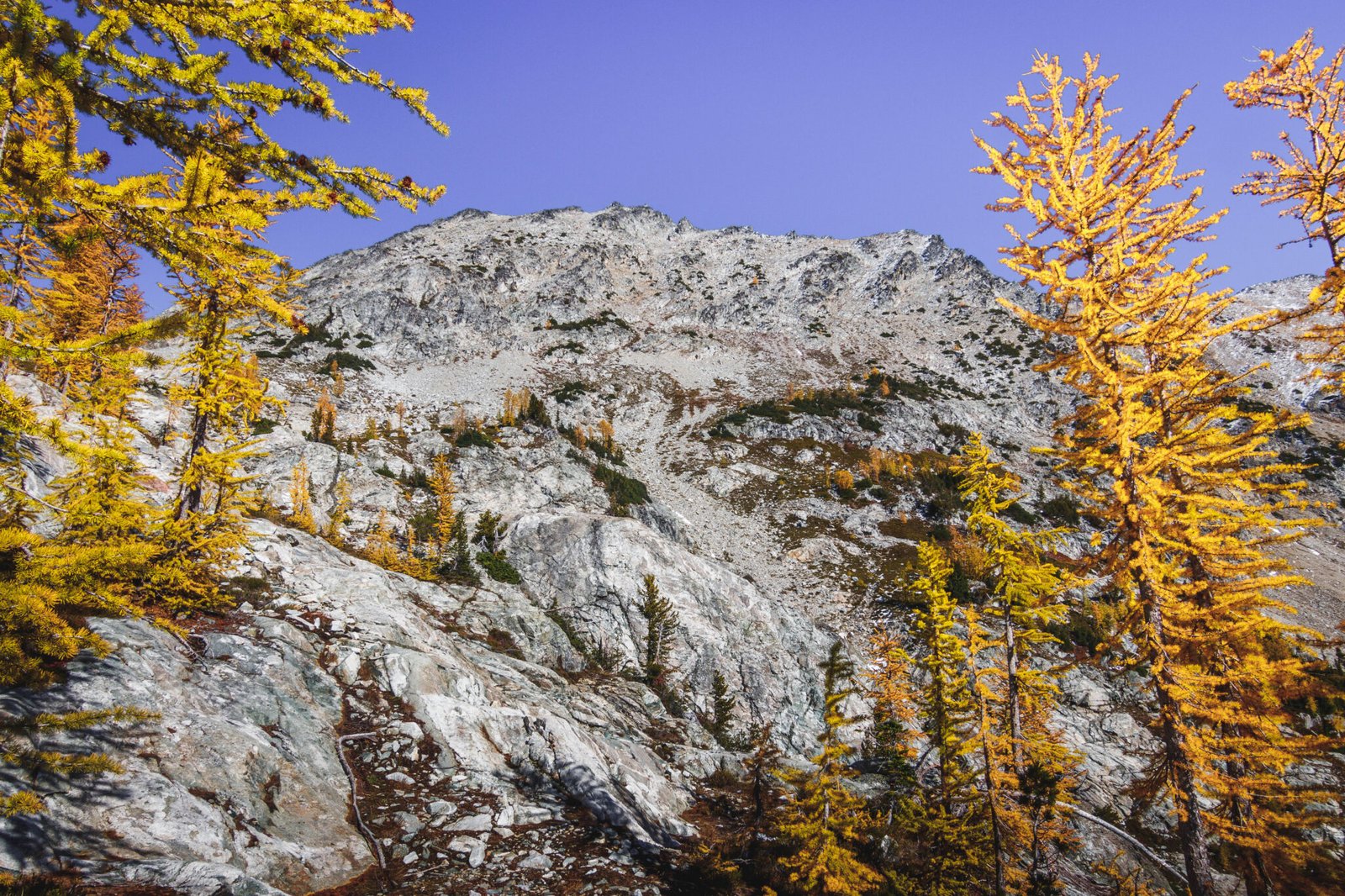 See more trip photos here.
Genius at a Glance
Access: Phelps Creek Trailhead
Round Trip: 15.5 miles
Elevation Range: 3520′-8039′
Gear: helmet
GPS Track: available
Phelps Creek Trail
Genius was going to be our season opener over Memorial Day weekend this year. But I decided to visit the wildfire-prone Pasayten Wilderness first. Sure enough, McLeod Fire broke out in the late summer. I also tried including Genius on two other trips. But neither of them worked out. So the peak deserved its separate post.
There was a long line of cars at the trailhead. The register entries to Carne Mountain and Spider Meadow suggested the last-minute rush for fall colors. On the way to the meadow, we met and several day hiking groups. Later, the pup and I stopped before the stream off Genius' west basin. Then at 4800′, we left the trail and scrambled north through the light brush.
See more trip photos here.
Getting up to Genius
To bypass the slide alder lower down, we stayed close to the stream. Then we followed several game trails on climbers' left. Tree branches were helpful to keep from slipping. We were moving on mud and wet slabs on steep ground. The terrain opened up past 5400′ with several options to bypass cliffs and outcrops. The closer we were to the upper basin, the more larches we saw.
From the west of Genius at 6800′, we crossed the broad and flat basin to the east end. Then from there, we moved east up toward a minor rib. It would lead us up to the summit ridge. But not before we went through a short section of nasty scree and mud.
See more trip photos here.
In Search of the Real Genius
Pockets of snow and snowmelt covered most of the downsloping slabs lower down. But in contrast, the higher terrain had many loose rocks and ledges covered in scree. Incredible what little wetness and a thin layer of new snow could do to slow us down significantly.
We went up near the top of the ridge. Then we moved over to a nearby pinnacle, mistaking it for the summit. So after getting back down to the saddle, we went southeast up to the real summit. It was just 500′ away. The summit offered a little seating area but lots of exposure. Plus, there was just enough new snow to make moving around tricky. I carefully checked out the steep northeast side.
See more trip photos here.
Genius Summit Plus Views
Views of the sun-lit, taller neighbors were simply breathtaking. They looked even more so after receiving a dusting of new snow. Dumbell Mountain, Greenwood Mountain, Copper Peak, Mount Fernow, 7FJ, and Mount Maude were merely within my grasp. From here, the impressive Bonanza Peak tucked in between Dumbell and Greenwood looked closer than it did.
Most of the Bulger List peaks to the west, including Glacier Peak, were starting to fade into the afternoon clouds. Other visible high points included Phelps Ridge, Chiwawa Mountain, Fortress Mountain, Buck Mountain, Clark Mountain, and Luahna Peak. But they were all beginning to drown in their shadows cast by the glowing sun.
See more trip photos here.
Outro
We followed our route and later went back down to the 6800′ basin. Then another 2000′ of drop put us back down on the trail at 4800′. We arrived there just before sunset. The six-mile hike back to the car wasn't all that exciting. But it went by quickly.