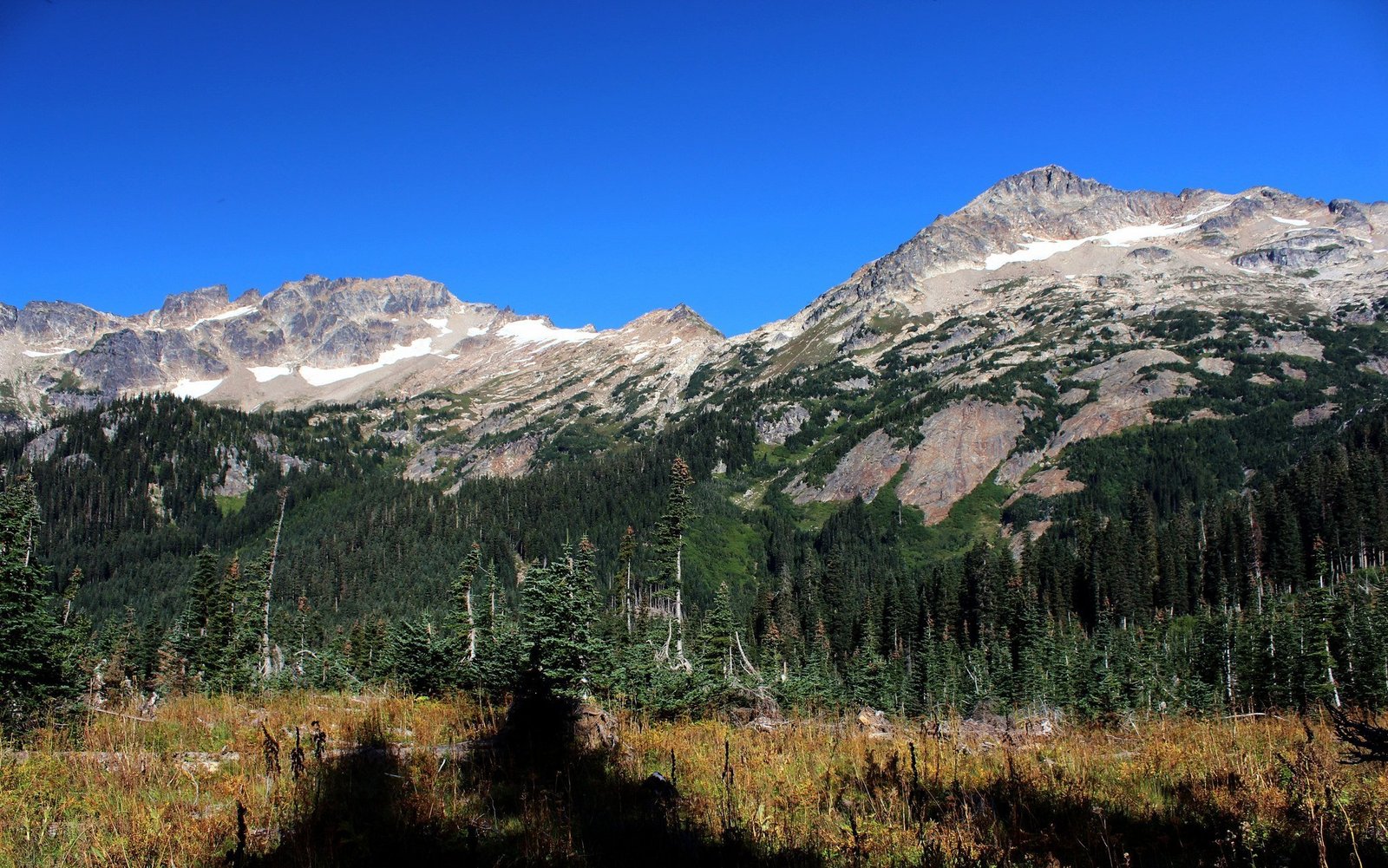 Photos from this trip can be found here.
Fortress Slam = Fortress Mountain + Chiwawa Mountain
堡壘滿貫=堡壘山+吉娃娃山
Knowing this would've been a long day, I car camped by the trailhead the night before to get an early start. A few people went about their business at the crack of dawn as I proceeded my journey up Chiwawa River Valley.
The views started to open up at the head of the basin as route finding got a little more challenging with the fallen trees below the upper basin. Both mountains were in plain sight and got progressively shorter the higher I went. For whatever reason, the creek crossing I read about in several reviews was nowhere to be seen.
Apart from the seemingly never-ending approach to the base of the climb the only real crux was the snow finger below the col somewhere between 7,800' and 8,000'. The snow was too hard to step on without crampons, so I stuck close to the rocks while constantly being mindful of possible rockfalls. A short class 4 (high class 3 in my opinion) move on the final scramble, with some weaving around the summit block rocks to the summit. Entiat Peaks were all visible from the summit, as well as all the western peaks. Glacier Peak once again dominated the view to the west.
On the descent I traversed under the aforementioned permanent snowfield to get to the base of Chiwawa since the snowfield was too icy and too steep to traverse across. The route to Chiwawa summit was more straightforward but had more talus coverage than Fortress, pretty much from the col all the way to the top. I followed a faint footpath half of the time, but was also making my own path to keep from sliding downward. The views from Chiwawa was more or less the same as those of Fortress, now with evening colors. I spent about 30 minutes on top before making my way back down.
With 10 minutes till sunset and at 7,000-foot elevation, it was when I discovered my headlamp had fallen out of the backpack some point during the climb. "Fuuuck!," I yelled out. With the aid of the moonlight and my faithful GPS, I managed to get back on the main trail after two miles of scrambling through woods and fallen trees. My saving grace for the remaining five miles back to the trailhead? A tiny flashlight buried at the bottom my ten essentials pack for the last five years. Another beautiful day in the wilderness!