Buck Mountain by Clark Mountain overlooks Buck Creek in Chiwawa River Valley. It's also the second tallest peak on Chiwawa Ridge after Fortress Mountain. Meanwhile, the notable Glacier Peak is just a stone's throw away.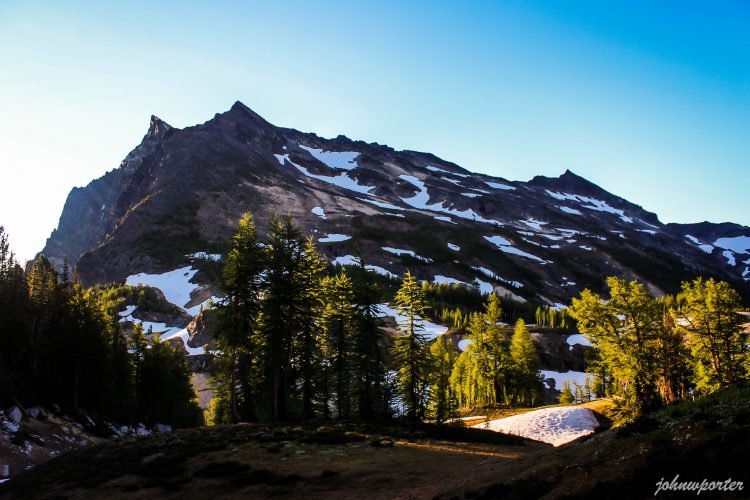 See more trip photos here.
Buck Mountain at a Glance
Access: Trinity Trailhead
Round Trip: 24 miles
Elevation Range: 2800′-8528′
Gear: helmet
GPS Track: available
Dog-Friendly: with guidance
Buck Creek Trail
The yellow pup and I came to the mosquito-infested Trinity late afternoon and started walking soon after. I had been on this trail once before to Fortress Mountain. But this time, we continued on the Buck Creek Trail.
We started in the shade, so it wasn't as warm. But the minute we stepped out into the open, we felt the heat right away. Later, back in the trees, I chatted with two friendly forest rangers as they worked on the trail. Then I took a photo of them before continuing.
See more trip photos here.
En Route to Buck Creek Meadow Camp
At 4000′, we left the trail and crossed Buck Creek on a log. The goal was to reach the bottom of Mount Cleator's timbered east ridge for the brushy part of the climb. Later I found the climber's trail at 5800′ in a meadow with a blue tarp. From there, we contoured the broad basin to Mount Berge's east buttress.
It took some time to find the ramp to bypass the buttress. At first, we went up too high. Then I saw the faint trail and went around the headwall onto a large talus field. It took a while to go up through the rocks to reach the upper basin at 6800′. Daylight dwindled just as we found a decent campsite.
See more trip photos here.
Buck Mountain Climb
The following day, we moved east from camp toward Buck Mountain. Though, the summit wasn't visible until we reached the flat area at 8000′. Soon, the broad snowfield to the south of the west ridge appeared. Although I didn't bring any snow gear, we had no problem going through this section.
Later we moved onto the rocks from the snowfield's east end. Without moats, it was a smooth transition. Soon, we climbed up to the cozy summit adorned with a small cairn. There was just enough room to seat the two of us.
See more trip photos here.
Buck Mountian Summit Views Plus Outro
We enjoyed a long time on top as I read through entries from the summit register. Meanwhile, the pup took a much-needed nap. Later we retraced our steps back to the campsite and took a power nap in the shade. Then we packed up and went down to Buck Creek Trail.
The afternoon hike out to the car went by in the blink of an eye. Meanwhile, the pup and I had great chats about our lives ahead.
See more trip photos here.