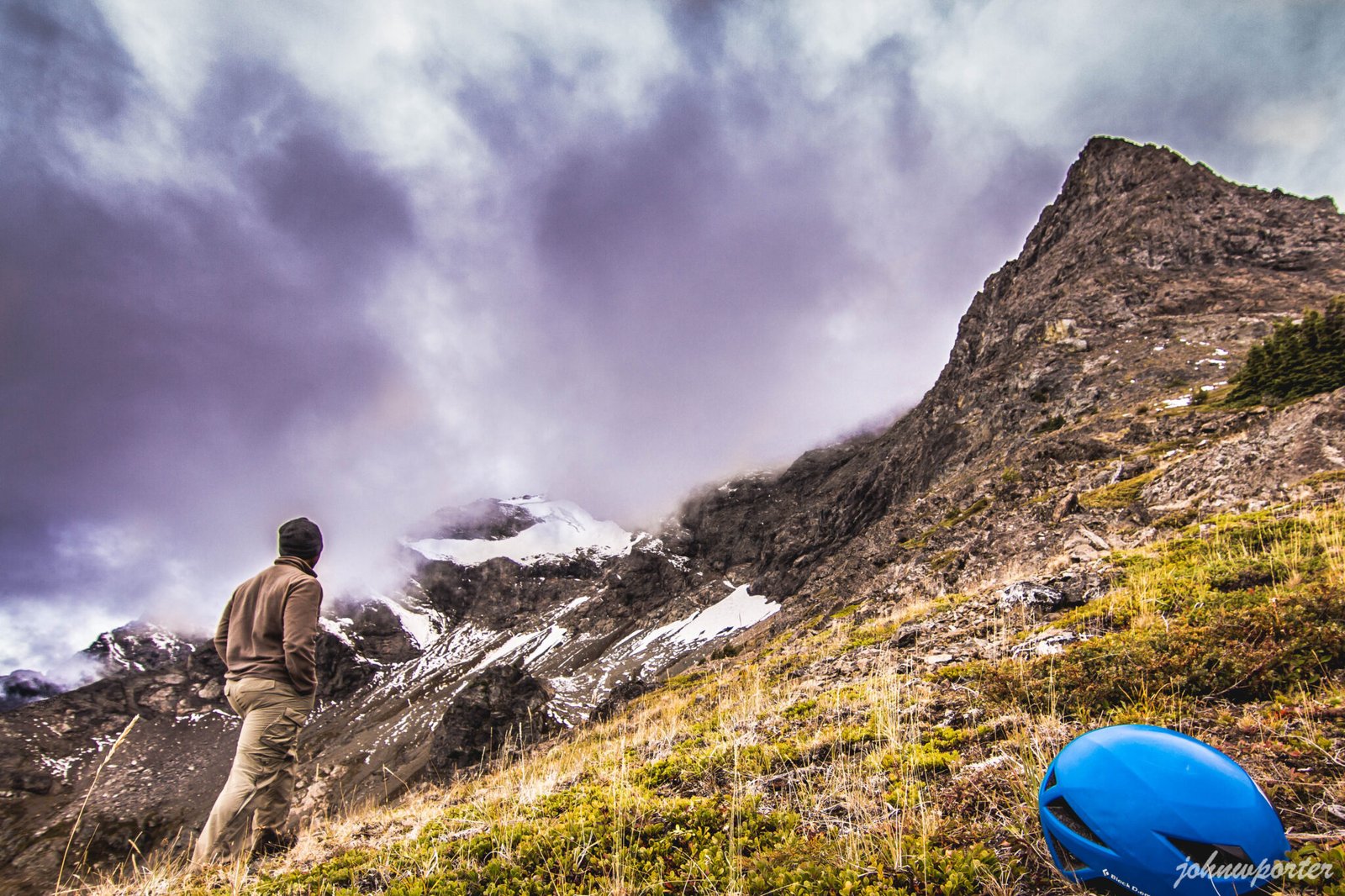 Photos from this trip can be found here.
Logistics Overview
Overview > Day 1 > Day 2 > Day 3
Day 1 – Friday, September 4
Canyon Creek Trail to Crater Mountain north basin
Night 1 – Crater Mountain moraine lake
Day 2 – Saturday, September 5
Jack Mountain
Night 2 – Jerry Lakes Peak south saddle
Day 3 – Sunday, September 6
Exit
This imposing feature off North Cascades Highway (SR 20) southeast end of Ross Lake can be seen from virtually any high points in North Cascades. I'd habitually yell out: "I'm gonna get to you soon, Jack!" every time I drove by it to and back from climbs.
The plan to climb Jack weekend after climbing Ptarmigan Peak had to be postponed due to lightning-induced Goodell Fire by Newhalem. Forest fire resulted in a three-week long shutdown of SR 20 between Nehalem and Rainy Pass. Three of my remaining eight peaks, including Mount Logan and Goode Mountain, were all within the fire closure zone. South access via Stehekin to climb Logan and Goode also had been closed off a month earlier due to Goode Fire.
Day 1 – Canyon Creek Trail
Overview > Day 1 > Day 2 > Day 3
Photos from this trip can be found here.
This approach turned out more straightforward in practice than viewed on maps. Friday afternoon's weather looked somewhat questionable from highway. By late afternoon, clouds had moved in and devoured the area entirely. After hiking in clouds to Lookout No. 2., I decided to spend the night on the ridge due to low visibility. But by the time sunset came around, clouds suddenly broke away, leaving behind a dim view of Jack and a moraine lake in north basin of Crater Mountain's east peak. So I quickly broke camp, ran down north scree slopes, and got to the 6,400′ moraine lake shortly after dark and camped.
At night the moon and stars were out in full force, but for some reason clouds capping the last thousand feet of Jack never budged. I stayed up past midnight studying maps and getting star trail shots before turning in. Next morning while awaking to nearly bluebird weather, clouds on Jack seemed as if they never left. I still needed to get through Jerry Lakes Basin then Crater Creek Basin, before I could get to Jack's southeast shoulder at 7,000′.
Photos from this trip can be found here.
Day 2 – Jack Mountain
Overview > Day 1 > Day 2 > Day 3
Photos from this trip can be found here.
Jerry Glacier was virtually nonexistent as I traversed at its nose on lots of talus and scree. At the 6,600′ notch south of Jerry Lakes I maintained same elevation and traversed to ridge west of the lakes. From the saddle north of Point 6629 I dropped into head of Crater Creek Basin, then worked my way through moderate terrain up to the 7,000′ shoulder on Jack's southeast ridge. Weather here took a turn for the worse and I never saw the sun again.
Visibility wasn't too bad on the traverse to Jack's south face, but by 8,000′ I was in a complete whiteout with six inches to one foot of recent snow. I followed a faint hikers path, past a couple of belay stations with webbing mentioned in a couple of reports, at least I was on the right track despite being surrounded by clouds. Low visibility caused me to attain Jack's west ridge too fast too soon, and I ended up doing some unnecessary class 4 moves through semi snow-covered ridge line while traversing eastward toward summit.
Photos from this trip can be found here.
One of the things I had wanted to see on this trip was Nohokomeen Glacier north side of the mountain. Luckily I was able to a glimpse, quickly grabbed a shot before clouds obscured the view again. Too bad not much to see from the summit except the precipitous drops on all sides, by then visibility was about 15-20 feet.
I didn't stay long since it was a long way to go to get back to camp. Getting down the mountain in a this weather condition made the descent even slower. Not much daylight left back at 8,000′, but I wanted to at least get back down to the 7,000′ shoulder before darkness fell.
Photos from this trip can be found here.
It got completely dark by the time I went down to 6,400′, so I decided to stay the night on Jerry Lakes Peak's south saddle with my emergency blanket, then back to camp first thing next morning.
In my own experiences, the SOL Emergency Bivy purchased at REI hasn't done a good job with wind protection or heat preservation. Although it reflects most of my body heat back to me, all that heat ended up being cold condensation collected inside the bivy. The two times I've used it, once in summer and one on this trip, I was shivering and uncomfortable throughout the night.
Photos from this trip can be found here.
Day 3 – Exit
Overview > Day 1 > Day 2 > Day 3
Photos from this trip can be found here.
Next morning eastern sky was full of dark clouds and vibrant colors, but to the west behind me Crater Creek Basin covered in clouds. I dropped down to Jerry Lakes to get a closer look before heading back to camp. After a night of restless sleep, I was very excited to take a nap back at camp. Just then it started to rain for the next hour, perfect timing to get a nap in before heading out.
Weather down below near Highway 20 was much better compared with higher up. And as I made the long drive back out west, through rear view mirror I would constantly check and hope Jack would poke his head out above clouds–but it never did.
Overview > Day 1 > Day 2 > Day 3
Access: Canyon Creek Trailhead
Gear: ice axe, crampons, helmet