Jack Mountain by Crater Mountain rises above Ross Lake by North Cascades Highway. It's the 17th highest peak in Washington State as well. Moreover, its nearest higher neighbor isn't until Mount Logan, at over 16 miles away.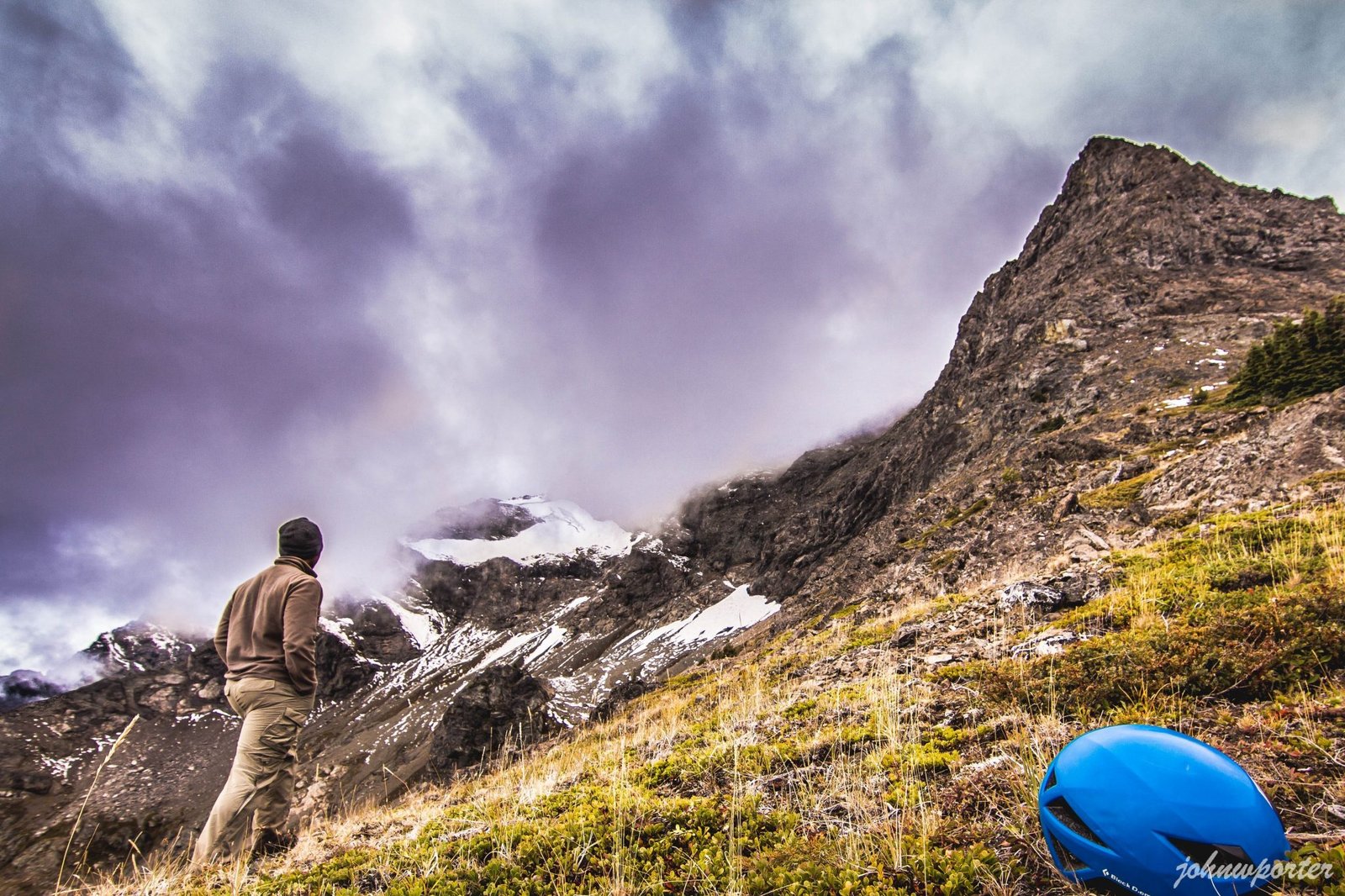 See more trip photos here.
Jack Mountain at a Glance
Access: Canyon Creek Trailhead
Round Trip: 26 miles
Elevation Range: 1880′-8243′
Gear: helmet, ice ax, crampons
GPS Track: available
Logistics Overview
September 4-6, 2015
Overview > Day 1 > Day 2 > Day 3
Day 1 – Friday, September 4
Canyon Creek Trail to Crater Mountain north basin
Night 1 – Crater Mountain moraine lake
Day 2 – Saturday, September 5
Jack Mountain
Night 2 – Jerry Lakes Peak south saddle
Day 3 – Sunday, September 6
Exit
---
Day 1
Canyon Creek Trail to Crater Mountain north basin
Overview > Day 1 > Day 2 > Day 3
The Preface on Jack Mountain
My goal was to climb Jack Mountain the weekend after Ptarmigan Peak. Sadly, the lightning-induced Goodell Fire had postponed my plan. The fire also caused a three-week-long closure of Highway 20. So no access between Newhalem and Rainy Pass.
Three of my eight leftover Bulger List peaks included Mount Logan and Goode Mountain. But they were also off-limits because of the lightning-induced Goode Fire. In turn, it had cut off the alternative access through Stehekin as well.
See more trip photos here.
Old Lookout No. 2
The route turned out more direct in person. Though, the weather on Friday afternoon looked highly questionable. So by the late afternoon, the clouds had surrounded the area. Then right before going up to Lookout No. 2, the weather had turned for the worse. So I decided to spend the night on the ridge.
By sunset, the clouds broke away suddenly. Then the ghostly view of Jack Mountain slowly appeared. I saw the moraine lake in Crater Mountain's north basin. So without hesitation, I packed up everything and hurried down the scree slopes below the lookout. Then I made it to the pond at 6400′ shortly after dark.
See more trip photos here.
Crater Mountain North Basin
At night, the moon and stars were out in a full display. But somehow, the stubborn clouds capping the last thousand feet of Jack never wanted to budge. I stayed up past midnight, looking at maps. Then I took some photos before going to sleep.
The next morning, I awoke to nearly bluebird weather. But the clouds on Jack Mountain looked as though they never left. So now, the plan was to go through the Jerry Lakes Basin first. Then I would go through Crater Creek Basin to reach the southeast shoulder at 7000′.
Overview > Day 1 > Day 2 > Day 3
Jack Mountain via Jerry Lakes
Jerry Glacier was virtually nonexistent as I crossed the massive talus and scree. Then from the 6600′ notch south of Jerry Lakes, I decided to skip the lakes by staying high. That way, I could go directly onto the south saddle of Jerry Lakes Peak.
From the pass, I dropped into the top of the Crater Creek Basin. Then I worked my way through moderate terrain up to the 7000′ shoulder. At last, I was on the southeast ridge. But all of a sudden, the clouds moved into the area. Then I never saw the sun again.
See more trip photos here.
Jack Mountain Climb
Visibility wasn't terrible on my way up to the south face. But I was in one foot of fresh snow and whiteout when I reached 8000′. There I followed a faint trail and passed two belay stations with webbing. A couple of reports had mentioned those spots. So glad I was still on track despite the mist.
The weak visibility had me climb up to the west ridge too soon. So I ended up making several unnecessary technical moves through the snowy ridgeline. Then from there, I traversed east toward the summit area.
See more trip photos here.
Jack Mountain Summit with Zero Views
The one thing I had wanted to see on this trip was the Nohokomeen Glacier. But I caught only a glimpse. But glad I photographed it before clouds obscured the view again. Sadly, there wasn't anything to see on top. The drop-offs on all sides felt airy. By then, my visibility was only an arm's reach.
I didn't stay long since I still had a long way to go back to camp. But going down the mountain was even slower in these conditions. By the time I went back to 8000′, the daylight had begun to fade. But my goal was to go back to the 7000′ shoulder before dark.
See more trip photos here.
A Change of Plans
The sky darkened by the time I went back to Crater Creek Basin at 6400′. So I decided to stay the night on Jerry Lakes Peak south saddle with my emergency blanket. Then the next morning, I would return to the campsite first thing.
In my experience, the SOL Emergency Bivvy hasn't done a great job in wind protection. Or heat preservation, for that matter. Even though it reflected my body heat, the warmth would quickly form moisture. So I'd shiver throughout the night the two times I've used it.
See more trip photos here.
Overview > Day 1 > Day 2 > Day 3
Back to Moraine Lake
I woke up early the next morning. The eastern sky was full of dark clouds with vibrant colors. But behind me, the mist had enveloped Crater Creek Basin. Later I hiked down to Jerry Lakes. So I could have a closer look before going back to camp.
After a night of restless sleep, I was eager for a long nap at camp. As luck would have it, the minute I went inside my tent, it rained. Then it went on for the next hour. Great timing to get some sleep. On the way out, I made several stops for photos. So It took a while to get out of the basin.
See more trip photos here.
Outro
In contrast, the weather down by Highway 20 was a lot better than up in the mountains. As I made the long drive out west, I checked out Jack Mountain through the rearview mirror. I was hoping at some point Jack Mountain would poke its head above the clouds. But it never happened.