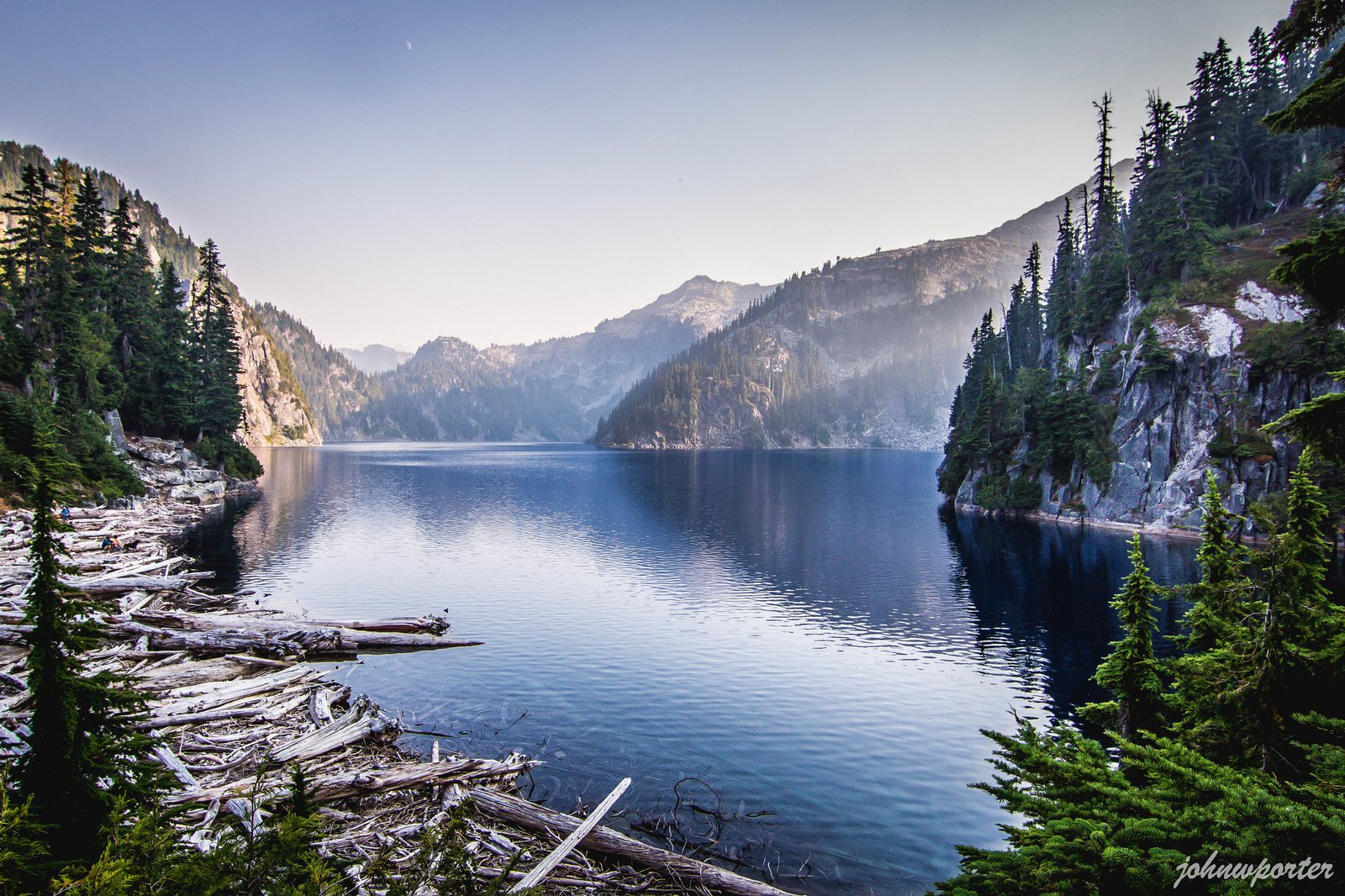 Photos from this trip can be found here.
While waiting for North Cascades Highway to reopen, pups and I took a stroll through West Fork Foss River Valley. Two friends had invited me to traverse the ridge that divides West Fork Foss and East Fork Miller River Valleys earlier in the week. But as tempting as it sounded, I opted to take the pups backpacking since the three of us haven't spent much time together this summer. We did eventually meet up with the two friends when they spent one night by our camp before continuing on with rest of their traverse.
Many lakes along the valley and most of which had spectacular views. A ton of people crowding (hiking, camping, etc.) at Trout Lake, the farther up we went the few people it got. But that was until we arrived at Big Heart Lake. I could've sworn tents were set up by every switchback just past the lake. We stopped long enough to get some photos before heading up the narrow ridge (Atrium Ridge?) dividing Big Heart and Angeline Lakes.
We got a late afternoon start, and by the time we reached south end of the ridge it was getting dark. A group camped by the 5,320′ pond, we stopped and chatted a bit before heading downhill t outlet of Chetwoot Lake. Passed Little Chetwoot Lake and found a tiny peninsula to set up camp. Hard to believe no one there but us that night.
Next morning pups and I headed up Iron Cap Mountain, figured we'd at least bag a summit during our trip. We headed east toward north ridge of Point 6077 on talus and heather, and attained ridge at 5,900′. Bypassed Point 6077 on its east on talus to attain Iron Cap's west ridge. Greenish moraine lake in north basin looked inviting, figured we'd drop down after Iron Cap.
Scrambled all the way to summit, along the way bypassed a few outcrops and lots tough shrubs from the north side. First time seeing so many lakes from a mountaintop, quite a vantage point in the Alpine Lakes Wilderness area. The impact of this summer's wildfires was especially evident on top, nearby views were generally good but with a smoky tint. Stone Kingdom peaks were just as impressive as viewed from any other high points in the area.
After signing summit register, pups and I left the mountain via its north ridge and dropped down to the aforementioned moraine lake in the northwest basin. Pups played in the water for a bit while I took photos, then left the basin through a notch west of the outlet. We made our way down to Azure Lake and went up on the knob west of the lake to get a closer look at the gorgeous Angeline Lake. Azurite was partly visible but no view of the much larger Otter Lake farther east.
It felt good to feel lazy for once on a backpacking trip. We spent quite some time scouting out the area, then slowly hiked back to camp and got back just shy of sunset. After dinner we went to hang up our food, heard noises coming from Little Chetwoot Lake that turned out to be my two friends. They had planned on coming to Chetwoot Lake the night before, but spent more time traversing the ridge than anticipated and ended up bivvying on the ridge instead. Good times!
Next morning friends left to continue their high traverse through Iron Cap, La Bohn, and Hinman. Pups and I spent our morning lounging around the camp, then packed up and hiked out in later morning.