Kololo Peaks are part of an extensive mountain range south of Glacier Peak. The summit ridge is no more than a long, rocky crest. But what sets the peaks apart from the rest is that together they straddle four glaciers.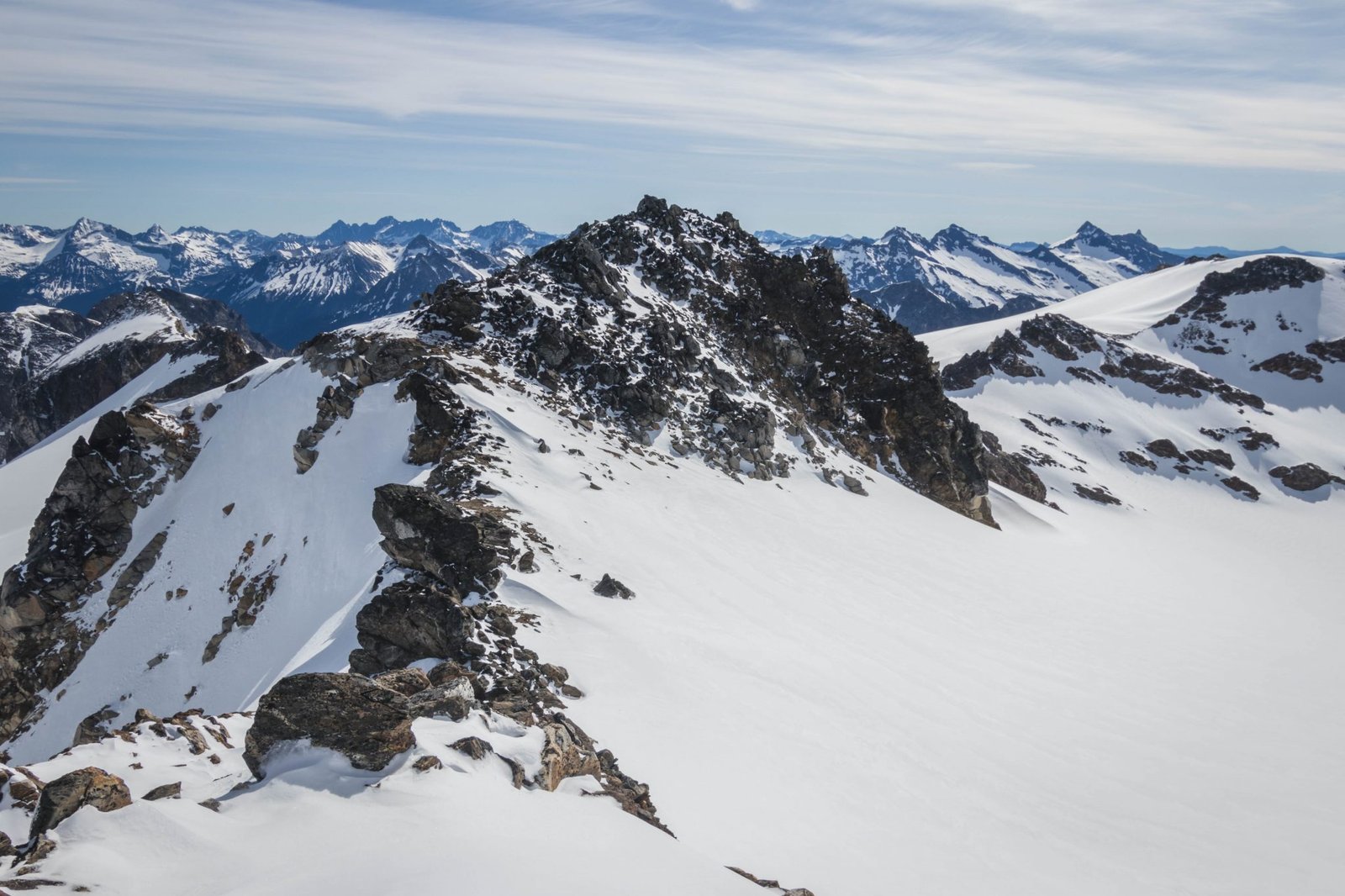 See more trip photos here.
Kololo Peaks at a Glance
Access: North Fork Sauk River Trailhead
Round Trip: 29.2 miles
Elevation Range: 2080′-8200′
Gear: helmet, crampons
GPS Track: available
Dog-Friendly: yes
The Preface
We had excellent weather last week. So I looked forward to more of it this weekend. Kololo Peaks haven't been on my radar until this year. I also knew nothing about them seven years ago.
I had planned on spending three days in the area to climb other peaks as well. But after leaving Kololo Peaks, I decided to save my vacation day for another trip.
See more trip photos here.
Nork Fork Sauk River Trail
Rumor has it that this area is a bustling hub over the Fourth of July. So the pup and I came in this weekend to avoid the masses. The iffy weather forecast would also turn most away.
Soon after leaving the car, the weather went from partly sunny to mostly cloudy. The maintained trail had just a handful of down trees to bypass. Later we reached Red Creek bridge at mile 4.5.
See more trip photos here.
Mackinaw Shelter
Another mile of hiking through lush old-growth, we later came up to the Mackinaw Shelter. Instead of stopping there, I wanted to take an extended break on White Pass. So we continued.
Though, I didn't realize Forest Service had decommissioned the shelter since my previous trip. In half a mile was a group of down trees that took some time to go through.
See more trip photos here.
Gaining Attitude
Up until now, we've gained about 1000′ in the first five miles. So that meant that we would make up the rest 3000′ in the next four miles to White Pass. I remembered this part well.
Shortly past the shelter was the start of the real deal. But thankfully, the many short switchbacks up to 5400′ offset the steady attitude gain. It started to rain right then.
See more trip photos here.
Hiking up to White Pass
The terrain expanded as we went above the forest. Then the trail slowly rose through lush meadows. Later we met three climbers before the Pacific Crest Trail junction as they exited.
At one point, a hiker caught up to us. Then snow appeared higher up as we made our way through several gullies. Later we reached White Pass adorned with one lone tent.
See more trip photos here.
Hiking to Foam Pass
Increasing clouds had taken over the area. So views to the east were crappy. While we rested, three climbers showed up at the pass. They reunited with their one partner, who had passed us earlier.
There had been lots of fresh tracks in the snow. So there was a decent path to follow. Then we began walking, shortly after the group of four left the pass.
See more trip photos here.
Descending Foam Pass
Visibility was so weak as we continued in a whiteout. So it felt like taking forever to reach the top of White River Valley. Meanwhile, we aimed for Point 6770's west saddle.
Later I put on crampons below the ridge on icy slopes. So I could prepare for the steep descent on the other side as well. Then we caught up to the four climbers shortly.
See more trip photos here.
Into White Chuck River Basin
A quick exchange with the folks on the pass, the pup and I proceeded to go downhill. Once we went down to 6300′ in White Chuck River Basin, we began moving uphill again.
The group of four climbing Glacier Peak followed right behind us. But soon, the mist took over. Then the whiteout made it hard to see the group's whereabouts.
See more trip photos here.
Finding 6700′ Camp
There was still lots of snow in the area. So it unlikely that we would find running water. Later we reached a flat spot at 6700′ just east of Lake 6433.
Luckily, we found a dry rock platform just as it began to rain. Then snow and hail came soon afterward. Plus, the wind gusts didn't help with setting up the tent.
See more trip photos here.
Hunkering Down at Camp
There wasn't a whole lot to do in this weather but to hunker down inside the tent. I tried to use this opportunity to take a nap, but I couldn't fall asleep to the light outside. So instead, we stared at each other and listened to the wind to continue for the next two hours. When the howling finally stopped, the area was back to a whiteout again.
At 10 PM, we finally got outside the tent when the clouds magically vanished without a trace. And to my surprise, the sky was already full of stars! Without a water source, I had to melt snow to get water for making dinner. Guess there's a first time for everything! I was hoping to spot Kololo Peaks, but I wasn't sure if they're visible from camp.
See more trip photos here.
Kololo Peak Climb
I awoke to the alarm at 4 AM, shortly before the four climbers walked past our camp. We finally got up at 5 AM to get ready for our climb up to Kololo Peaks. But we didn't start walking for another 1.5 hours. What gorgeous morning it was, a stark contrast to yesterday's gloomy weather. The pup ran to greet a skier who had just come from below.
Soon, we headed northeast toward the head of the White Chuck River east basin. At 7200′, I located a snow ramp to get around a buttress from its west. At the top of the snow slopes, we continued to head east on moderate terrain toward Kololo Peaks. We could see the west peak from down below, but the real summit was still out of sight.
See more trip photos here.
Final Stretch on Kololo Peaks
With the decent amount of snow coverage, we didn't need to scramble on rocks. The snow continued to take us up to the northwest ridge, where we got onto Suiattle Glacier. From there, we traveled south along the edge of the glacier to the north of the west peak. Then we followed steep snow to reach the top.
From here, the east peak was visibly taller. We walked across the flat top to check out the scenery and made our way down to the saddle. A quick traverse through exposed terrain, and we were on the east summit. The views with Glacier Peak front and center were as gorgeous as I had imagined.
See more trip photos here.
Kololo Peaks Summit Views
I was still in shock after a gloomy approach to camp just the day before. The sky could not have been any bluer; virtually all high points were visible from near and far. This summit was the closest I'd seen Glacier Peak without actually climbing it.
Like last week's trip, it was another three-volcano day! Mount Rainier to the south and Mount Baker to the left of Glacier Peak. Mount Pugh, Fortress Mountain, Bonanza Peak, Black Peak, Dome Peak, Copper Peak, Tenpeak Mountain, Sloan Peak, plus everything in between.
See more trip photos here.
Leaving Kololo Peaks
On the way back to camp, we both spotted a fox walking across the snow ramp. But it quickly went out of sight after seeing us coming down the slopes. I took a power nap back at camp before packing up. Two more skiers showed up nearby as I broke camp. The pup was loving all the attention from everyone we met.
Back down the basin, we met three more climbers while they took a break by the rocks. They planned a four-day leisurely trip to climb Glacier Peak. We chatted for a good while before finally heading up to Foam Pass. Getting up to the ridge in hot weather was the crux of our trip!
See more trip photos here.
Back to White Pass and Out
We met six parties in the past two days, including the two guys climbing Glacier Peak in one long day. Glorious sunny weather plus endless views made getting back to White Pass feel much faster. We took a photo break down at the Red Creek crossing. The one skier we met by the bridge was the last person we saw.
Four more miles until we were back at the trailhead!
See more trip photos here.