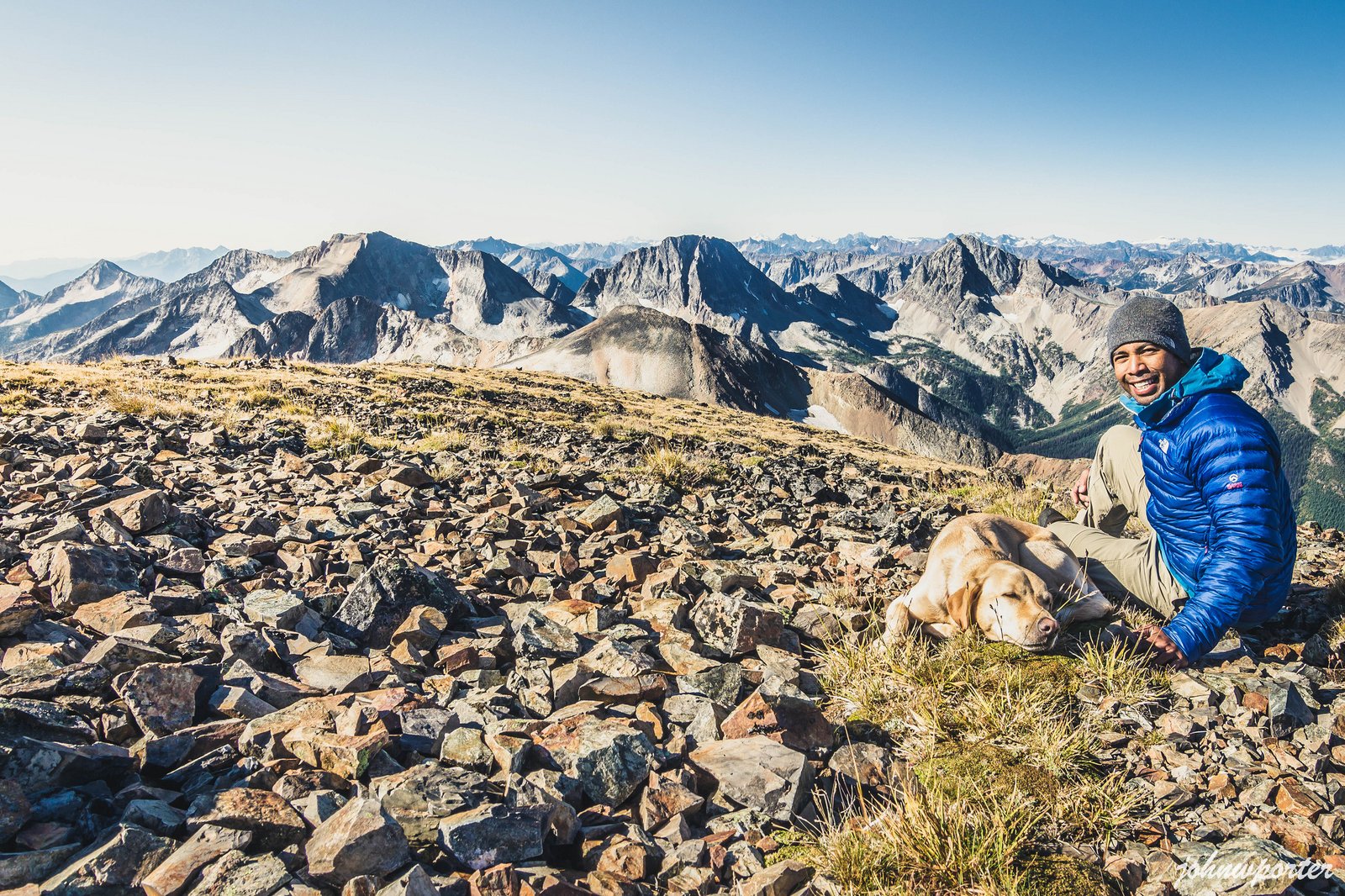 Photos from this trip can be found here.
I had completely underestimated the scale of Pasayten Wilderness on our first visit to the area three years ago. At the end of that trip pups and I got just four of the six peaks on the itinerary. Ptarmigan Peak and Lost Peak were the farthest away from the other four, not sure how much pups paws could endure. So I decided to save them for another trip.
Last year yellow pup and I climbed Monument Peak and Lake Mountain, we included Lost Peak on that trip as well. Since these peaks require a long approach, I had put off Ptarmigan, my 92nd peak, until the very end. It was during this trip the Goodell Fire broke out, causing North Cascades Highway (Hwy 20) to be shut down for three weeks with no access between Newhalem and Mazama.
During the approach from Slate Pass to Freds Pass weather was fair, then on the descent into Eureka Creek Basin the rain came. We took refuge under big trees and waited out the rain before resuming the approach to Lago-Carru col. Visibility was terrible when we arrived at the col, and the north side looked fairly steep in clouds. When clouds subsided 15 minutes or so later we got a bit of sunshine to the north. It was comforting to see rest of the approach to camp.
Clouds rolled in once again just as we got to our camp the 7,400′ tarn in Mount Lago's north basin. Not a whole lot to do in a basin full of clouds so we turned in not long after dinner.
Next morning we woke up to a bluebird day, and left camp a little past six just after sunrise. First made it up to saddle north of Point 8207, follow the ridge northward and bypassed Point 8165 on its left on a climbers path. Once on the north ridge of Point 8165, traverse to Dot Peak was fairly straightforward. Pup and I took a break on Dot then set off on the last mile of ridge traverse to Ptarmigan on gentle, class 2 terrain. We were now 18 miles from the car, only 18 more miles left to get back to the car in a day.
Compared with its south slopes, Ptarmigan's north face was quite dramatic with sheer drops. Southern skyline was dominated by Lago group, and views upon views of Pasayten Wilderness for miles and miles. It was windy up top, so we stayed just long enough to take photos and give the pup some rest before heading down.
On the way back, we bypassed Dot Mountain summit on its east slopes and followed rest of our route to camp. We both took a power nap after breaking camp to prepare for the long trek back to Slate Pass.
Access: Buckskin Ridge Trailhead at Slate Pass
Gear: helmet