Inspiration Traverse, the trip I had put off up until this season. It wasn't something of an "inspiration." I have not been a fan of snow. So it took a lot of self-motivating. But blame it on the Bulger List. Otherwise, crossing five glaciers in a day would have never crossed my mind. Let alone climbing Primus Peak and Austera Peak.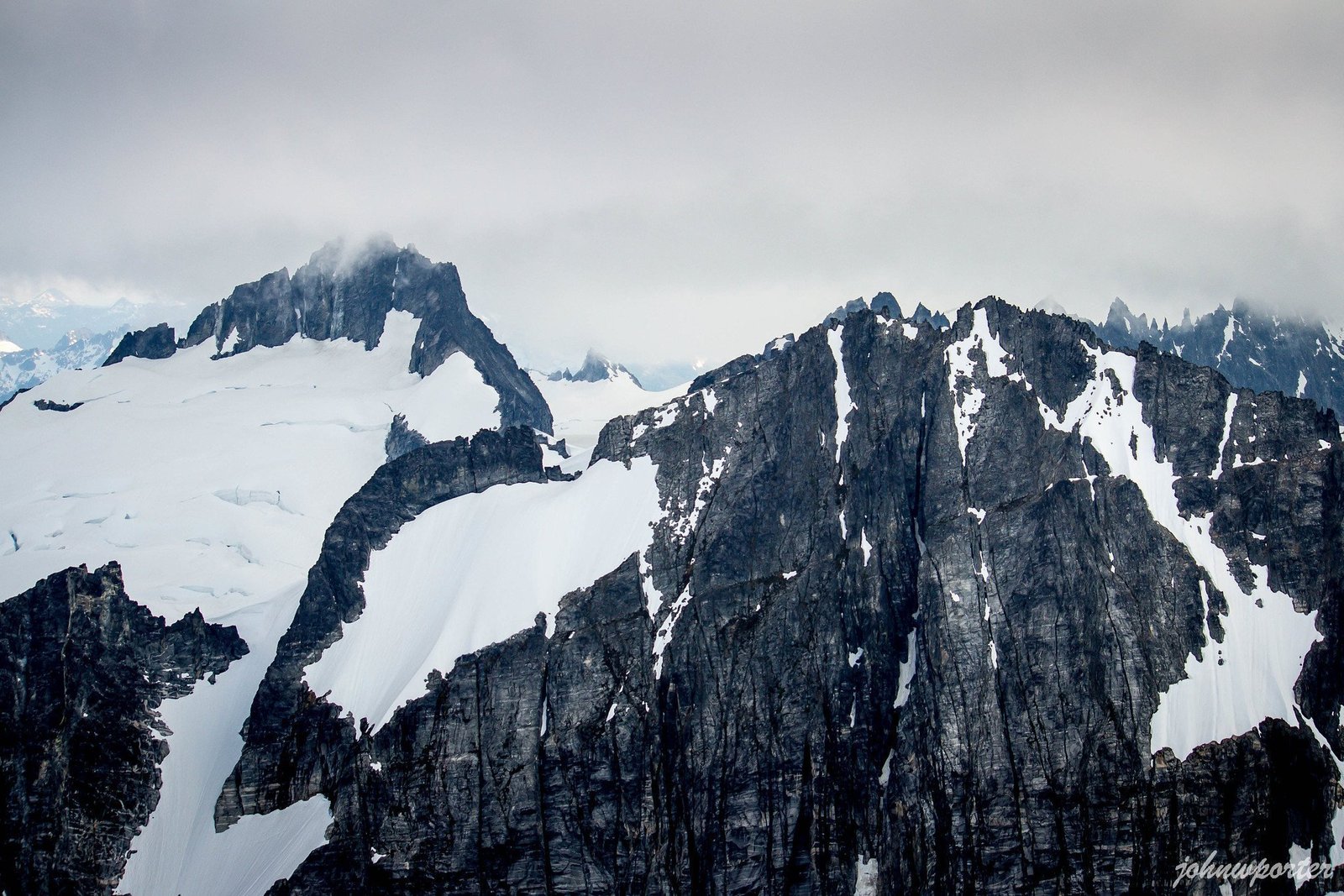 See more trip photos here.
My first time on the Icecap group was climbing Eldorado Peak in 2013 with the Seattle Mountaineers. Back then, clouds shrouded the area most of the day. So I couldn't truly appreciate the beauty of this place. Luckily the weather was on our side this time. But it was a little warm for a June climb.
Primus Peak and Austera Peak at a Glance
Access: Cascade River Road @ mile 18.5
Round Trip: TBD
Elevation Range: 2160′-8508′
Gear: helmet, ice ax, snow, rock
GPS Track: available
Dog-Friendly: no pets
Inspiration Traverse Approach
My partner and I first met when the pups and I went climbing The Craggies. Then four years later, we planned to climb together on this trip. We first went up to the 6200′ notch. Then from there, we dropped into Roush Creek Basin. Snow level began at 6400′ above the granite slabs. Then we made use of the ski tracks to go through Eldorado Glacier.
The lower part of the Inspiration Glacier was relatively flat. So it didn't take long to get to the east ridge of Eldorado Peak. Then the boot trail made a left and went uphill. From here, the glacier spanned across to the Klawatti Col. Soon, we roped up and continued on the glacier. We followed days-old boot tracks.
See more trip photos here.
North Klawatti Glacier
From Klawatti Col, we then went north and dropped partway onto McAllister Glacier. From there, it was a short traverse to get to the north col of Klawatti Peak. We mixed climbed, and we went over a notch to be on Klawatti Glacier. By now, the snow had softened quite a bit. Then we continued through this section.
Soon, we came up near the wall of the Austera Towers. We bypassed it by moving down on the glacier to the eastern edge. There we found a short scree ramp. So we used it to cross over to the north side. Then a short distance of sidestepping on steep snow finally put us on North Klawatti Glacier.
See more trip photos here.
Primus Peak Climb
We found an excellent camp spot a few hundred feet uphill from the icefall. After setting up our tents, we identified a couple of steep snow ramps at the bottom of Primus Peak. Then we walked straight toward the slopes. From there, the climb to the top was straightforward.
The terrain on this side was mild. So we stayed on snow in the lower parts of the peak. Then we moved onto the rocks above that. At two hundred feet below the top, we went up to the south ridge. Shortly, we made it through the final stretch up to the summit.
See more trip photos here.
See more trip photos here.
Primus Peak Summit Plus Views
We arrived at the flat, snow-free summit. The south side of North Klawatti Glacier was in and out of clouds. The evening sun lit up the mountain ranges gracefully. The Forbidden-Torment ridgeline changed colors as the light passed through moving clouds. Snowfield Peak, Jack Mountain, Goode Mountain, and Buckner Mountain were all in sight.
My partner headed back down to camp while I stayed behind to take more photos. Later, I caught up to him, and then we got back to camp at 40 minutes before sunset. The next day, we would spend the longest day of the year climbing Austera Peak. Then it was the long hike out. It was a starry night for photographing the star trails and Milky Way.
See more trip photos here.
Austera Peak Climb
The next morning, we packed up and left before the snowfield softened. Soon, we were back on the south side of Austera Towers. Then we climbed up the glacier while staying close to the wall. Eventually, we went up to 7800′ as the terrain flattened. There wasn't much snow beyond that point. The upper east ridge was mostly dry. So that worked in our favor.
Austera Peak summit wasn't visible until after we passed a few more spires. We made the traverse by staying on or south of the ridge crest. But we'd sometimes drop down to scree to bypass the cliffs. We got through exposed slopes before entering the summit gully. Here we stayed right on solid rocks. First, we made some 4th class mantle moves through the chimney. Then a short exposed scramble on the east face finally put us at the top.
See more trip photos here.
Austera Peak Summit Plus Views
Another beautiful day in the mountains! The cascading Forbidden Peak, Boston Peak, and Sahale Peak were especially gorgeous from this angle. There were views of the impressive Klawatti Peak and Dorado Needle. They were only two glaciers away and so close. This summit was a little small for two people. So we stayed just enough time to get our selfies before heading back down.
Back on the glacier, we followed our tracks and then went back to Klawatti Col. We tried climbing Klawatti Peak. But we had a hard time getting over the moats. So we turned around after spending an hour of route finding. Soon, we were making our way back through the Inspiration Glacier. We climbed back up to the 6200′ notch. Then we went down through the heather and talus to reach the trailhead.
See more trip photos here.
Outro
What a fantastic trip! But there was not enough time to savor all the views. I'm probably good for now before embarking on another glacier traverse. But we shall see.
See more trip photos here.