Dorado Needle and Klawatti Peak are on the famous Inspiration Traverse. While Klawatti Peak sits by the standard path, Dorado Needle requires one to go off-route a bit. But best of all, both peaks offer dramatic views of Eldorado Icecap.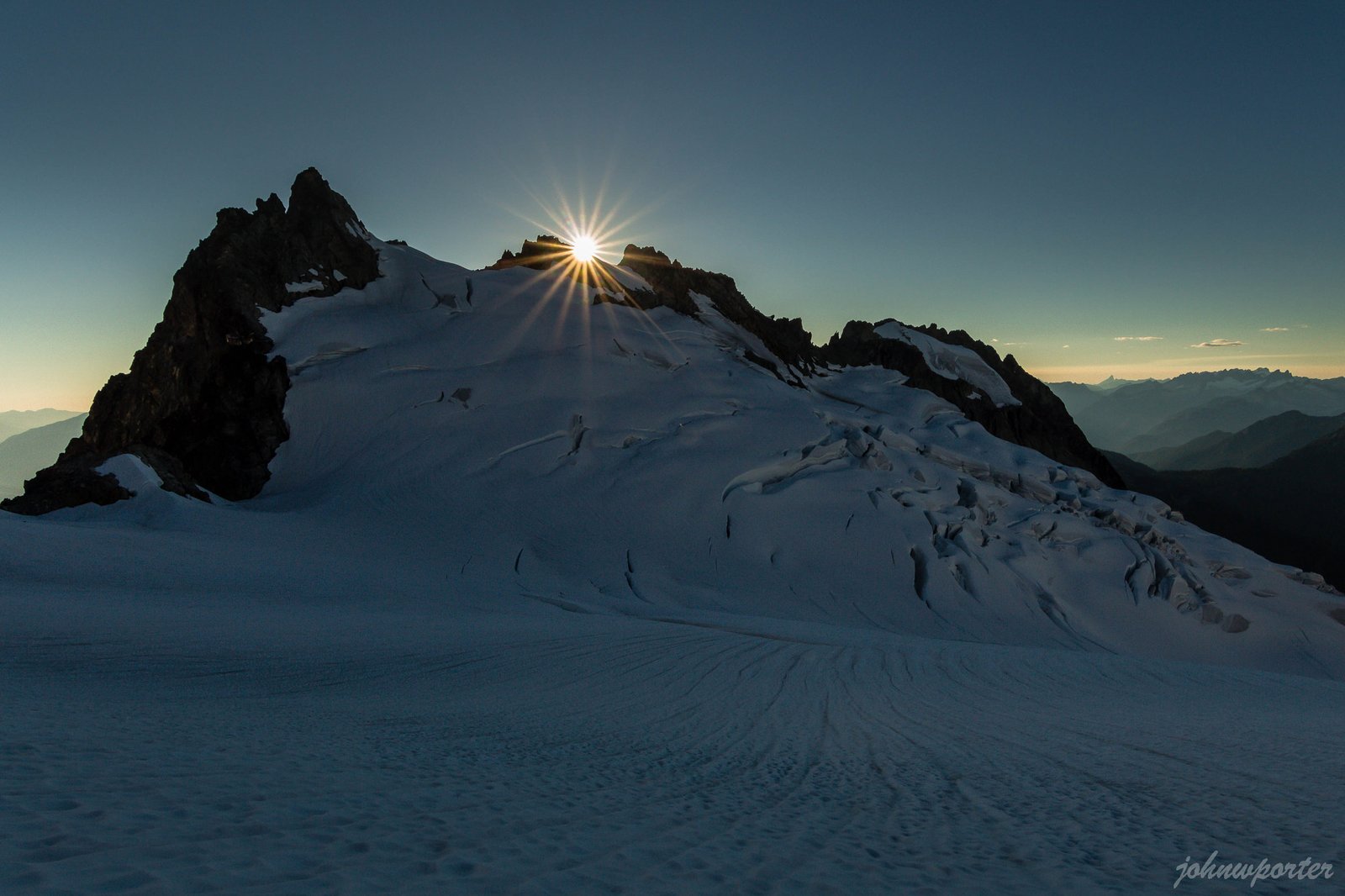 See more trip photos here.
Dorado Needle and Klawatti Peak at a Glance
Access: Cascade River Road @ mile 18.5
Round Trip: 15 miles
Elevation Range: 2160′-8485′
Gear: helmet, ice ax, snow, rock
GPS Track: available
Dog-Friendly: no pets
The Preface
My partner and I were up here one month ago. It was great to take care of the two farthest peaks. But it felt like forever to cross five glaciers in one day. Moreover, it was disappointing not to include these two high points.
Here I was a month later climbing Dorado Needle and Klawatti Peak alone. It's mid-July, so the moat was my main concern. But depending on the current condition, the gap would determine the outcome.
See more trip photos here.
Inspiration Glacier to Tepeh Col
Other than the spectacular views, going through the top of Eldorado Creek and Roush Creek was unexciting. But more crevasses have opened up on Eldorado Glacier since last month.
There were more tracks through the snow. Perhaps most people went climbing Eldorado Peak. Much snow on the Inspiration Glacier has also melted to leave behind huge gaps and dry rocks.
See more trip photos here.
Tepeh Col to McAllister Glacier
Halfway through Inspiration Glacier at 8000′, I stopped at Tepeh Col. From there, I had my first look at Dorado Needle. Then I dropped off the overnight gear and went down the other side.
I went onto McAllister Glacier by moving west. At the same time, I bypassed a few small crevasses. Then I noticed the group of four climbers as they made their way up the peak.
See more trip photos here.
Dorado Needle Climb
I dropped 400′ to reach the 7600′ notch. Then I went uphill while moving northwest to the 8200′ flat area north of the summit. My goal was to get onto the rocks by going up the east face directly.
The climbers were now leaving the top. So I wouldn't want to be in the line of potential rockfalls. I poked around and then found a better way up to the ridge through the boulder debris.
See more trip photos here.
Final Stretch on Dorado Needle
The climbers took a while to rappel. So I decided to bypass the group via the steep west face. That way, I would get back onto the ridgeline above their anchor. Soon, I reached the infamous au cheval.
The arête had enormous exposure on both sides. So I inched forward carefully. But it wasn't for the faint of heart! Afterward, a short rock scramble put me on the small summit, just enough room for one.
See more trip photos here.
Dorado Needle Summit Views
I anchored myself into the solid summit rock. Then I carefully moved around to take photos. Holy cow! The backside of Eldorado Peak looked so much more impressive from this angle.
My next day's goal, Klawatti Peak, stood right across the basin. Meanwhile, Ragged Ridge loomed in the distance. This summit was hands down, the best place to see five of Washington's highest peaks in a row.
See more trip photos here.
Leaving Dorado Needle
On the way out, I went down the east face on steep scree. Then I was able to go back onto the snow through a small snow bridge. Then I made my way back to the 7600′ notch.
There seemed like more crevasses to bypass goikg the other way. But soon, I was back on the saddle. Then from there, I continued northeast on the Inspiration Glacier to Klawatti Col.
See more trip photos here.
A Night on Klawatti Col
Someone had made an excellent bivy spot on the south side of Klawatti Peak. It was the perfect place to see the massive Inspiration Glacier. It stretched from here over to Eldorado Peak.
To the south was the Torment-Forbidden Ridge. It stretched beneath the beautiful Milky Way. In the dark, Klawatti Peak towered above me looked like a scary creature.
See more trip photos here.
Glorious Day Two on Klawatti Col
Long days at this time of the year made it hard to fall asleep. So I barely had enough rest before the first light. But I didn't need to wake up early. I also didn't need to walk far to the bottom of Klawatti Peak.
I took time checking out the moats across the south side of the peak. Later I found a receding snow bridge below the southwest gully. Then I dug in my ice ax and moved slowly onto a ledge with a giant step.
See more trip photos here.
Klawatti Peak Climb
It was still shady on the south side, so it felt much colder. There were several class 4 moves in the steep gully. So I carefully worked my way up through this part.
Later I made it up to the southwest ridge. Then it was only a walk-up to the top. I strolled across the elongated summit, and I couldn't pick out the highest point. I didn't see a register here.
See more trip photos here.
Klawatti Peak Summit Views
Views, views, and more views for days! I looked out above the cliffs to see the vast Klawatti Glacier at the bottom. By now, the top had seemed very crumbly even to think about traversing.
It felt surreal to see Dorado Needle on the other side of McAllister Glacier. I was only there the day before! I also got a decent look at Primus Peak and Austera Peak to the north.
See more trip photos here.
Leaving Klawatti Peak
On my way down, I didn't want to go through the gully again. I might have a hard time going back on the snow at the bottom. So I decided to drop down on the southwest ridge.
As luck would have it, I spotted cairns along the ridgeline. So I followed them to where I saw my tent down by the col. Then I looked around for rappel stations.
See more trip photos here.
Back to Klawatti Col
Horray! Glad I found a few old anchors and backed up one with extra webbing. Then I made one rappel onto the slabs directly below me. My rope nearly tangled up in a vertical crack.
From the slabs, I downclimbed and then leaped over the moat to be back on snow. After a few hundred yards of walking, I was back at the tent shortly. Talk about the adrenaline rush!
See more trip photos here.
Exiting Inspiration Traverse
It had become quite warm by then. But I needed to start moving before more snow turned into slush soon. So I quickly packed up and hurried through Inspiration Glacier.
It felt like taking forever to reach the other side of the glacier, especially at the end of a trip. But from there, going down the mountain went by in the blink of an eye. En route, I met a few climbers on their way up.
See more trip photos here.