Mailbox Peak by Mount Teneriffe and Mount Si perches over Middle Fork Snoqualmie and South Fork Snoqualmie River drainages. Sitting at its top is the well-known mailbox that sometimes transforms depending on the season's decor. The less strenuous new trail has been in place since 2014.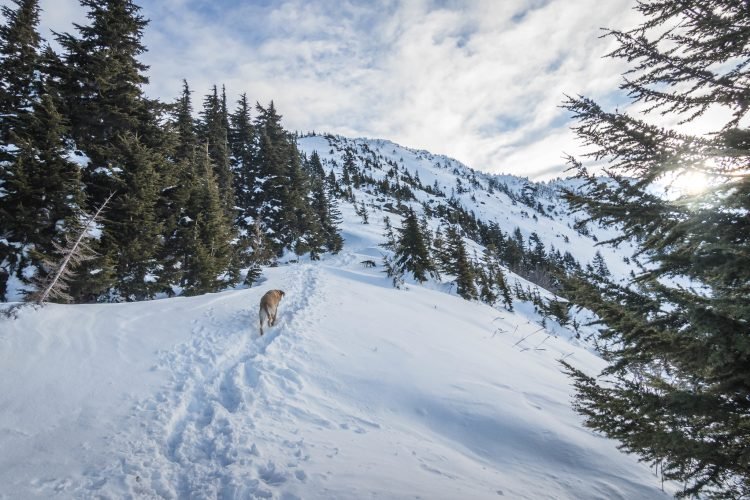 See more trip photos here.
Mailbox Peak at a Glance
Access: Middle Fork Road closure
Round Trip: 8.2 miles
Elevation Range: 800′-4841′
Gear: microspikes, snowshoes
GPS Track: available
Dog-Friendly: yes
The Preface
Mailbox Peak has become extremely popular throughout the years since our first trip a decade ago. While going through my old photos, I realized that it had been six years since we climbed the peak. So a revisit to the old stomping ground was in order.
Because of recent roadwork on Middle Fork Snoqualmie Road, I researched conditions last night to be sure. Then I came across a recent report from yesterday on Washington Trails Association (WTA). What great timing!
See more trip photos here.
Mailbox Peak on the Old Trail
We drove to the Middle Fork Road closure by the snow berm and started hiking at 5:15 AM for the extra .75-mile walk to the old trailhead. En route, I noticed massive tracks since the recent heavy snowfall. Glad we didn't need to carve out a path!
Yesterday's report was spot on about not needing snowshoes on the trail. But I wore microspikes for traction to avoid sliding on the steep incline and sped things up significantly. Some people are great at keeping balance in the snow without gear, not me.
See more trip photos here.
Summit Views
We broke out into the first clearing as colorful popcorn clouds strewed the morning sky. Then it slowly cleared up at the summit. Despite being 28 degrees, it felt much warmer without the wind. The sun came out 20 minutes later as we enjoyed the visit in solitude.
Mailbox Peak continues to be the vantage point to see the vast Snoqualmie River Valley. No view of Mount Rainier this time as clouds in South Cascades had devoured the volcano earlier. But everything else was still visible, including a bit of Glacier Peak.
See more trip photos here.
Exciting via Mailbox Peak New Trail
Two men came up as we made our way down to the boulder field. Right then, I decided to check out the new trail from 2014 after our previous visit. I found the unmarked fork shortly after going back into the forest.
We found fresh snow in the upper trail, so snowshoes came in quite handy. Then I switched to microspikes on firmer snow for the lower two-mile hike back to the new trailhead. We met seven people en route, pretty quiet for a sunny Friday!
See more trip photos here.