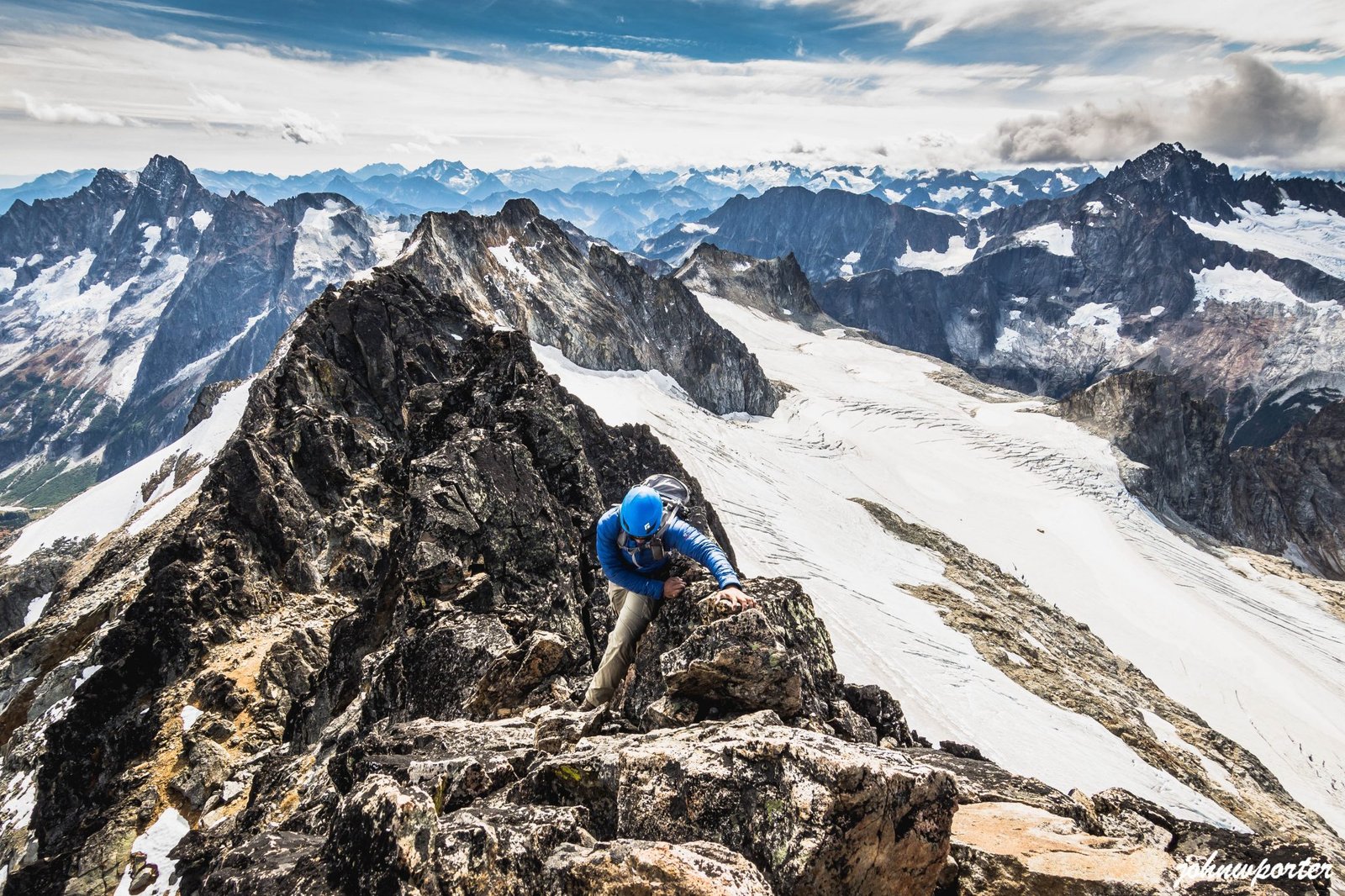 See more trip photos here.
The Lowdown on Mount Logan
Access: Thunder Creek Trailhead
Round Trip: TBD
Elevation Range: 1240′-9087′
Gear: helmet, crampons, ice ax
GPS Track: available
Logistics Overview
September 12-14, 2015
Overview > Day 1 > Day 2 > Day 3
Day 1 – Saturday, September 12
Approach to Thunder Basin
Night 1 – Thunder Basin Camp at 6000′
Day 2 – Sunday, September 13
Mount Logan
Night 2 – Junction Camp
Day 3 – Monday, September 14
Exit
---
Day 1
Approach to Thunder Basin
Overview > Day 1 > Day 2 > Day 3
Hiking to Thunder Basin
Despite rewarding views from the top, this approach was the loneliest of all my solo outings. As a result, the 16-mile hike into Thunder Basin felt exceptionally long. Not to mention that for the most part, I had limited views.
The sky got dark in my last two miles to the 6000′ high camp. After scouting round, I finally found a good campsite half a mile north of Park Creek Pass. The night sky was starry with a tint of city light pollution. But I was able to get good photos of the Milky Way and star trails over Mount Buckner.
See more trip photos here.
Overview > Day 1 > Day 2 > Day 3

Mount Logan Climb
Next morning, the weather took a drastic turn unexpectedly. Low clouds and wind gusts took over the area. But I wasn't too concerned as the weather forecast indicated a bluebird weekend. So I waited another hour at camp until the sky gradually cleared up before heading up the mountain.
Most climbing parties stay low to bypass the southwest ridge at 6600′. So they could traverse northeast to head up the west face. Though, I aimed too high on the south face and ended up downclimbing 200′ through a notch at 7800′. From there I got onto the west slopes and traveled north toward Fremont Glacier. Views got better the higher I went.
See more trip photos here.
Getting off Fremont Glacier and onto South Ridge
I took a break before Point 8248 and then started traveling northeast aiming for the hogback above of the glacier. From there, I quickly survey the area for an ideal spot to get off the snow. Even so, I didn't see anywhere with snow over the rocks for a smooth transition.
The only thing I found was the receding snow bridge barely touching a ledge. But thankfully, I was able to use it to get on the rocks. From there, the rest of the climb was pure scrambling on mostly exposed class 3 terrain. I arrived at the 8700′ notch shortly after. Carefully following a faint path west of the ridge, I finally arrived on the summit in the early afternoon.
See more trip photos here.
Mount Logan Summit Views Plus Descent
Holy isht! I couldn't believe I finally made it to the top of this mountain. Logan is aesthetic from all directions, but I particularly like the north face viewed anywhere from Ragged Ridge. Views went for miles and miles on this gorgeous day. Periodically I'd glance over at Goode Mountain and its nearly vertical north face. Though, I wasn't sure whether I'd still have a shot at it before the snowfall.
Once I soaked in the views all around me, it was time for me to head back down to camp. The receding snow bridge was the only crux since it was easier to get off than getting back on. I reached out my arm and dug the ice ax deep into the hard part of the snow. Then one leg at a time I slowly climbed back onto the glacier.
See more trip photos here.
Back to Highway 20
I got back to camp in the late afternoon and then quickly packed up. Afterward, I took a much-needed nap before setting off on the long 18-mile trek back out to Highway 20. I arrived back at Skagit Queen Camp just after dark. Then from there, I slowly walked the next four miles back to Junction Camp, including the irritating 1000′ elevation gain.
The time was now 11 PM; too exhausted to even think about hiking the rest nine miles back to the car. So I decided to spend the night at the Junction Camp without a permit. This junction marked the halfway point between last night's camp and the Thunder Creek Trailhead. OMG, I was halfway there!
See more trip photos here.
Overview > Day 1 > Day 2 > Day 3
Outro
I woke up early the next morning, packed up. Then I continued to hike the rest of the way back to the trailhead. Hiking in stiff boots resulted in issues with my big toes.
See more trip photos here.