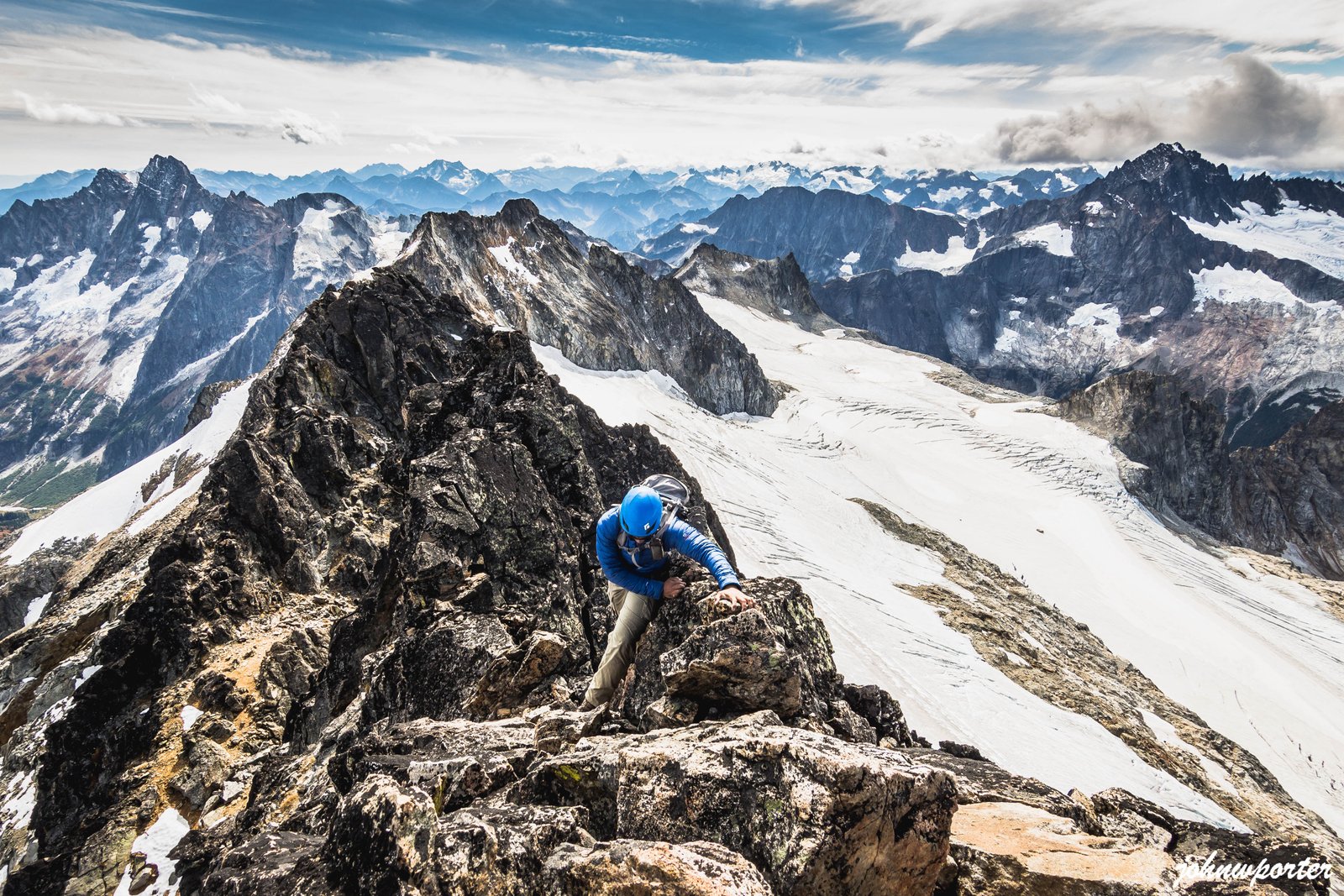 Photos from this trip can be found here.
Perhaps the loneliest approach on a solo climb. The 16-mile approach into Thunder Basin felt extra long when views were scarce. Two more miles later, just before it got completely dark, found a good camp half a mile north of Park Creek Pass at 6,000′.
Clear night sky with slight city light pollution, I managed to get some shots of the Milky Way and star trails with Mount Buckner. Next morning weather took a drastic change, low storm clouds plus wind gusts had overtaken the whole area. Not overly concerned since weather forecast indicated a full-on sunny weekend, so I waited an hour before heading up the mountain as the sky slowly cleared up.
I believe most parties stay low to get around southwest ridge of Logan's south peak at 6,600′ then traverse northeastward up the west face. I aimed high on south face, crossed a notch on the ridge at 7,800′, then descended couple hundred feet onto the west face and traversed northward toward Fremont Glacier. Views just kept getting better the higher I went.
After taking a break before Pint 8248, I started working my way up the glacier heading northeast toward the hogback. I looked around and didn't see anywhere snow was touching the rocks for an easy transition. The only thing I had working for me was this one dying snow bridge extending over a ledge allowing me to jump onto rocks. Mostly exposed class 3 from there to the 8,700′ notch north of Logan's middle peak. A climbers path on west side of the ridge guided final scramble to the summit.
Holy isht! I couldn't believe I finally made it to the top of this gigantic mountain. Logan is aesthetic from all directions, but I particular like the north face viewed anywhere from Ragged Ridge. Views went for miles and miles on this gorgeous day. I looked over at Goode Mountain and its nearly precipitous north side, unsure if I'd still have a shot at it before the first snowfall.
Once I had a chance to soak in all the views around me, it was time to head back down to camp. The dying snow bridge was the only crux, as it was easy to get off than getting back on. I reached out and dug the ice ax deep into the hard snow first, then one leg at a time slowly climbed back onto the glacier.
Back at camp late afternoon, I quickly packed up, took a quick nap, and then set off for the long 18-mile trek back out to Highway 20. I arrived back at Skagit Queen Camp after dark, then slowly walked the next four miles plus the annoying 1,000′ elevation gain back up to Junction Camp. It was 11 PM and I was exhausted, so I spent the night at the camp, which coincidentally was the halfway point between my car and my camp the night before. Halfway there!
Got up early the next morning and started hiking the remaining nine miles back to the car. My big toes were killing me.