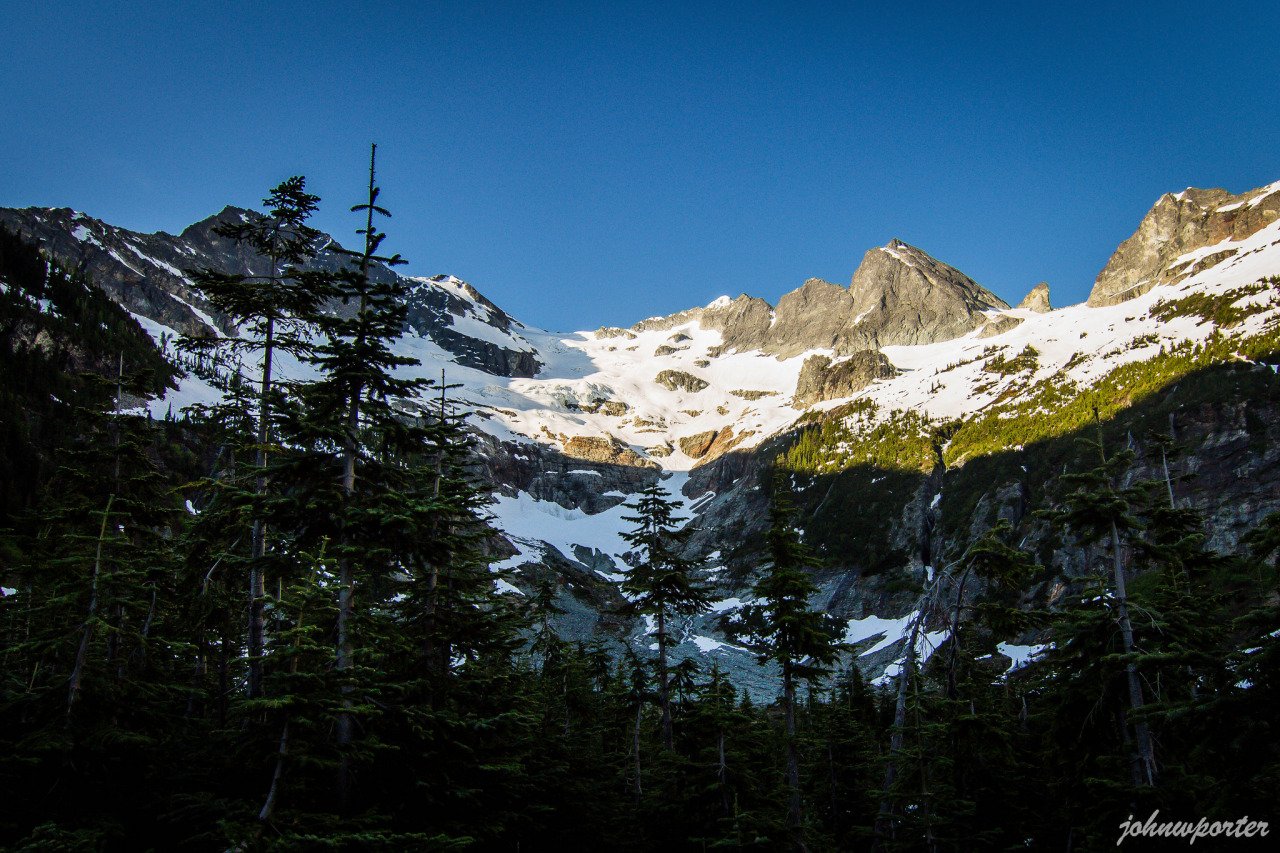 Photos from this trip can be found here.
Despite the reputation of nasty, brushy approach this peak receives from most climbers, Dark Peak turned out to be an enjoyable climb from camp and beyond. Apart from banking on good weather throughout, this was another climb that involved extensive and strategic logistics planning from Chelan to High Bridge Campground byway of Stehekin.
The 4.5-hour ferry ride, followed by the 10-mile shuttle ride put me at the campground in the early afternoon. The minute I left High Bridge my primarily goal was to get to lower basin camp before dark. The approach involved hiking on the nicely maintained Pacific Crest Trail (PCT) and feeling pampered before having to get off it.
Swamp Creek Trail obviously doesn't get much use these days other than climbers climbing this particular peak. The trail was a little hard to follow at first with the switchbacks, but it eventually stayed parallel to the creek on the west side. Good thing I found the big log mentioned in other trip reports to cross the creek safely. I was able to follow the trail for a good quarter of a mile until it disappeared on me. Unfortunately fighting my way through brush ended up taking longer than expected and I didn't get to lower basin until an hour after dark. Although it was still better than having to deal with the brush in the morning had I stayed just off the PCT.
Getting to the upper basin was a workout in itself. The climbers trail was visible until I had to veggie belay my way out of the brush. The upper basin and onward was so scenic that I had already forgotten what a pain it was to get to this point. There were no tracks to follow in the snow, so I kick-stepped 3,000 feet up to the saddle. The group of four climbers that showed up after me repeatedly thanked me for leaving them a nice snow track to follow.
It was snow free beyond the saddle all the way to the summit. Seeing Bonanza Peak sitting in front of me was beyond real since I was just on that peak the summer before. After feeling I got my trip's worth by taking all the photos I wanted, I started heading down the mountain. Met the group of climbers just above the saddle and eventually met them at the lower basin to hike out together. I spent the second night by the PCT with the other climbers for an early start to hike back to High Bridge and catch the shuttle back to Stehekin.
I had purchased a seaplane ticket for my return back to Chelan so I could pick up the dogs from boarding the same day. Thank God for the seaplane, not sure if I could spend another 4.5 hours on the ferry back to civilization.