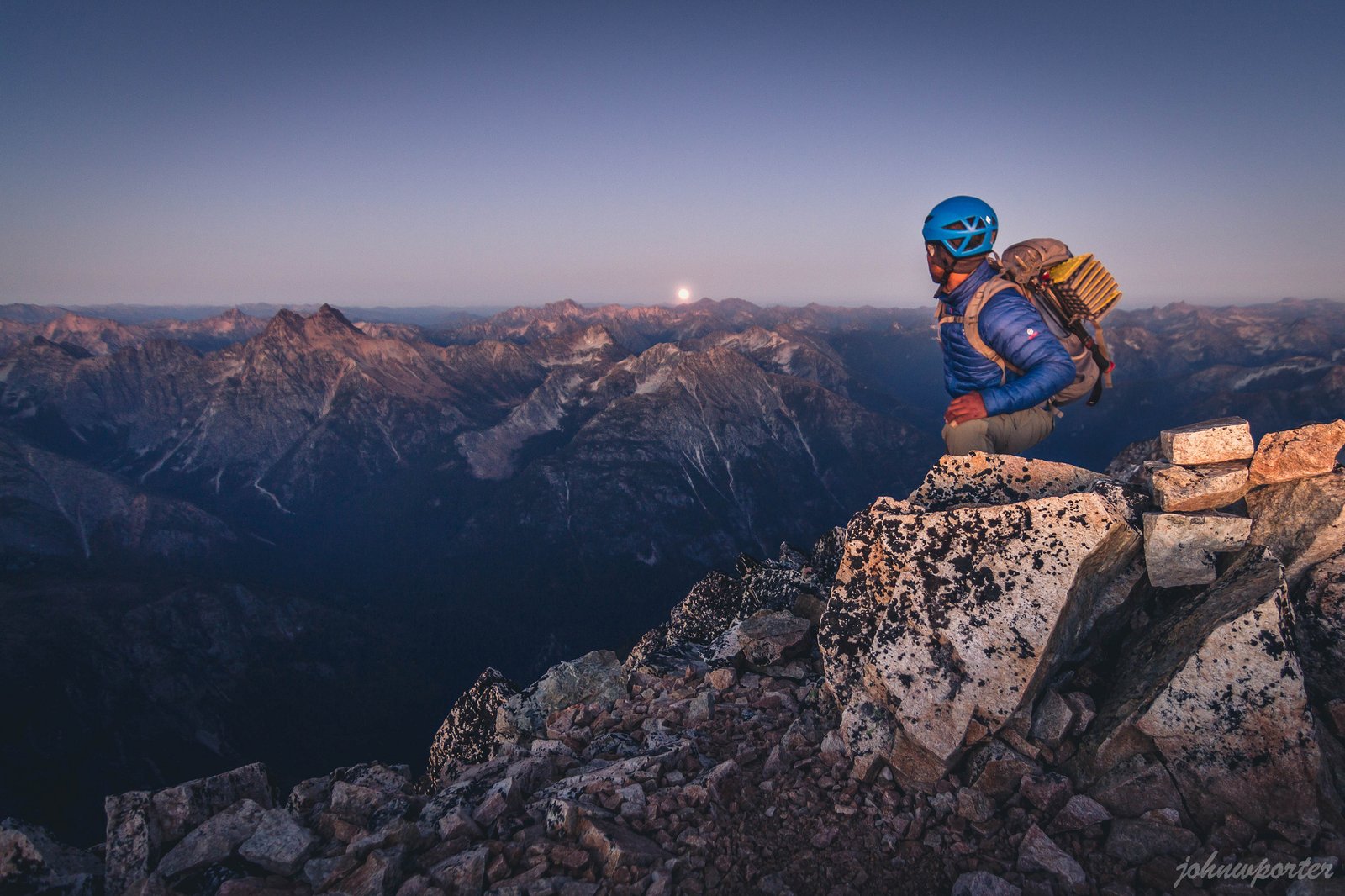 Photos from this trip can be found here.
Park Creek Trail had been closed off to all traffic this season due to damage resulted from wildfires. So I approached from the north via Bridge Creek Trailhead and took advantage of the nice Pacific Crest Trail (PCT) before branching off to the North Fork Bridge Creek Trail. I chatted with a few through and section hikers along the way.
Near bluebird approach day, views down Bridge Creek Valley went for miles and miles. Got to North Fork Bridge Creek Trail junction late morning and took a break before continuing on. Weather took a turn upon entering North Fork Bridge Creek Valley, Goode Mountain soon submerged in thick clouds.
Found a camp spot below edge of Goode Glacier, turned in early after a tiring day. Moon was out at night and I occasionally awoke to rumble of the glacier. Next morning the rumble continued, and so I scratched the idea of climbing northeast buttress. I started scouting out routes by heading westward toward edge of Goode Glacier, stopped just short of the buttress extending down from Goode's west tower. I climbed along east of the buttress into a wide, steep gully, and attained buttress at 7,800′.
Just before reaching 8,000′, a notch in the buttress forced me to down climb onto a hidden, benign glacier west of buttress. Relatively late in the season, edge of glacier had only one thin snow bridge barely touching bottom the head wall. A few careful attempts later I finally on rocks and started the slow and physically fatiguing 300′ climb to the ridge at 8250′. Second night was spent on a narrow ledge, throughout the night I was constantly awaken by wind gusts. A couple of times I had to tuck myself in between big rocks to get out of the wind.
Day three looked to be yet another glorious day. After breakfast I started climbing up west ridge, aiming for top of Goode's 8,270′ west tower assuming it was the true summit. A couple hours of sketchy climbing later finally made it to the top. But of course my jaw dropped when I looked up and saw Goode's true summit towering above on other side of the deep notch separating the two summits.
Two rappels with some down climbing later I was at the notch. From there I descended southward into the steep gully with an huge amount of loose rocks and rockfalls west of Goode's southwest ridge. Another couple hours later I made it to the 7,600′ flat area on the south side to finish the climb via southwest couloir. Partners and I were here a year ago so I was familiar with the climb through moraine, southwest rib, and southwest couloir. At top of couloir, the narrow ledge leading to north side of Goode was paved of loose rocks and an impressive view of northeast buttress and Goode Glacier straight down.
Final steep scramble to summit on north side was extremely sketchy, took much longer than anticipated. Recent temperature drop and light flurry created pockets of thin ice covering on top of virtually every granite rock normally with good holds on warm(er) days. Eventually made it to summit just shy of sunset, exhausted, hungry, and ready to crash at any minute. Circumnavigating a big mountain like this for the first time made me feel completely spent. The upside though, I got to spend the third night on the highest point in North Cascades National Park.
Next morning was glorious, warm, but still windy from the night before. Really wished I could have spent more time on top before leaving to allow enough time for the long trek back to Highway 20. Put my alpine rope to use and descended the north side, which looked so much steeper from summit. Luckily the morning sun had melted away thin ice on granite rocks for a smoother descent.
The hike out on Bridge Creek Trail/PCT ended up taking longer, since I was physically incapable of moving any faster uphill. Before long, the night had fallen and the moon was out again. I made several stops alongside the trail, and eventually made it back to the trailhead at the crack of dawn.