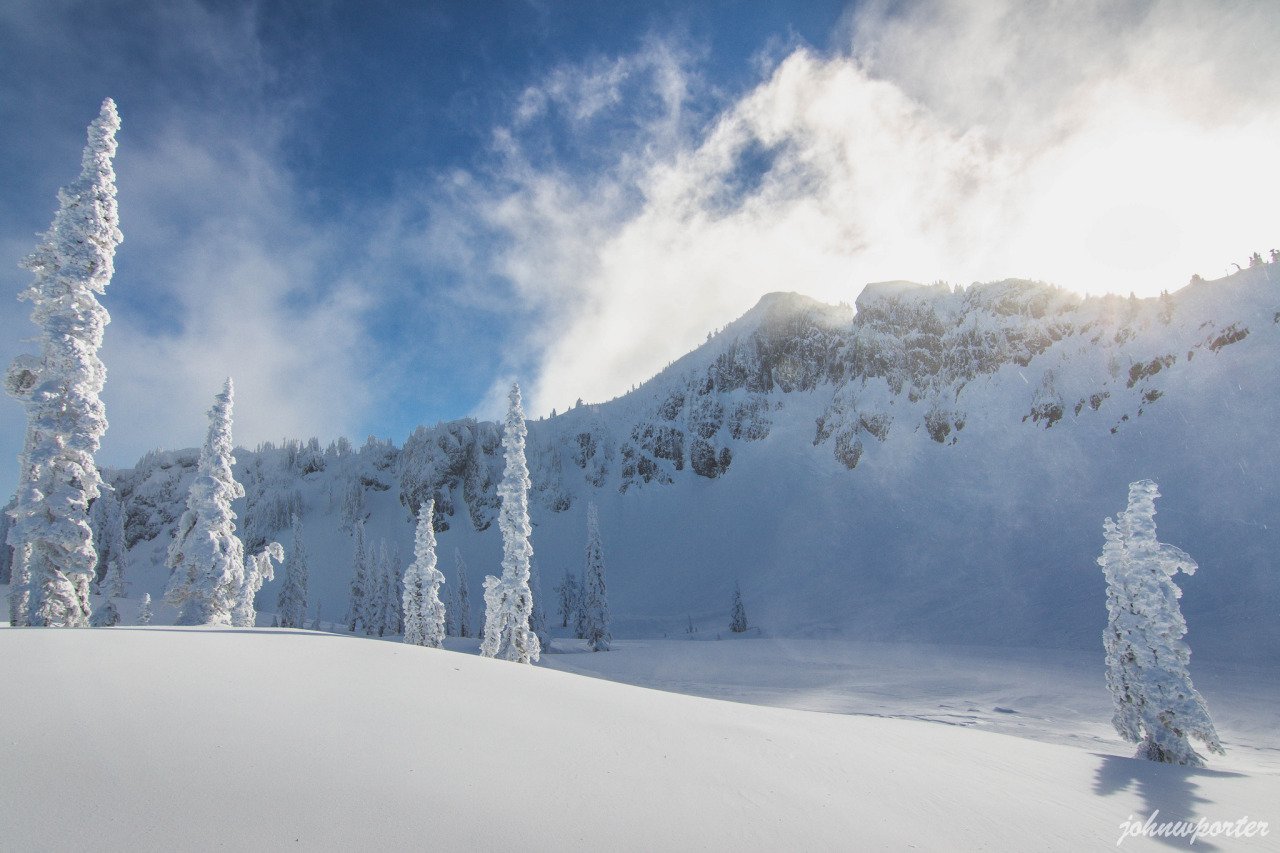 Photos from this trip can be found here.
Snow and ice on the road kept most vehicles parked just off the freeway exit. We were the first group to arrive and there was just enough room for four cars to park before the plowed section. Avalanche danger was moderate, but we were most concerned about the 24-30 mph southeast wind in the day's forecast.
We walked from car to the trailhead and proceeded to hike the Annette Lake Trail, which thank god had already been broken. After hiking for about halfway to the lake, we started scrambling heading directly up the steep west slopes. People from the group take turns breaking trail and that alone took up the entire morning. Once in the north basin, we immediately felt the relentless gusty winds that accompanied us all the way to the summit. The original plan was to traverse the northwest ridge to the summit. We soon gave up that idea after getting on the ridge and realizing how much more windy it was and everyone was having trouble moving forward without constantly getting snow blasted.
Our alternate approach was to get back into the basin where wind wasn't as strong and traverse southerly until it was possible to attain the northwest shoulder at 5400'. The southeast wind continued to blow, but we quickly avoided it by traversing on the steep west slopes directly above Annette Lake. However, the wind picked up again just after we went past the notch on the northwest ridge just below the summit. The last 100 feet or so was extremely uncomfortable and unbearable, and we could hardly hear one another. It wasn't a terribly cold day, but the wind chill factor made it much worse.
Everyone made it to the top safely but the group didn't stay for every long before heading back down in the wind gusts. Views were great, but I personally only had enough tolerance to get a couple of photos on the summit before saying good . On the way back, the pups and I stopped on the ridge to get some photos before catching up with rest of the group.
Balaclava, mittens, snowshoes, and spikes were very much needed on this trip and glad I brought all of them with me.