Our trip to the Chilliwacks last week closed out the climbing season. The weather looked iffy this weekend. So the pup and I escaped to the east of the Cascade Mountains. Bentrim Hill's moderate elevation gain made for a relaxing outing.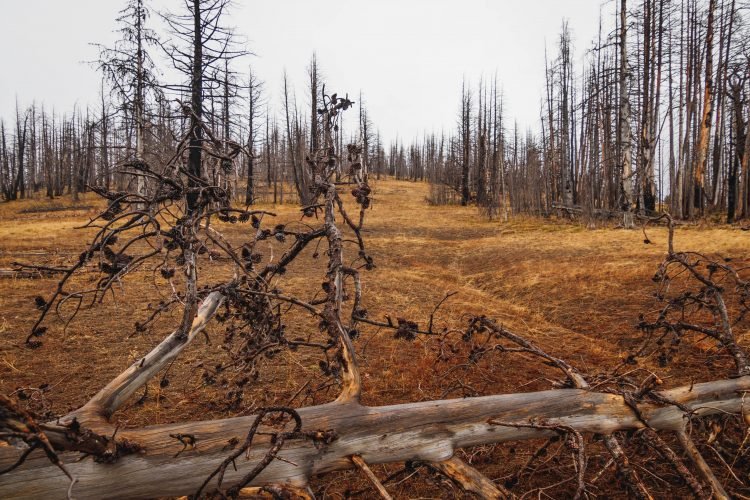 See more trip photos here.
Bentrim Hill at a Glance
Access: Old Ellensburg Trailhead (#1373)
Round Trip: 7.4 miles
Elevation Range: 5160′-6078′
Gear: none
GPS Track: available
Dog-Friendly: yes
Hiking the Old Ellensburg Trail
An area like this one is full of spur roads. So I often wonder how climbers find the starting point. By simply looking at the maps, the access point isn't always clear to me. Also, the decommissioned roads don't always show up on the map. So I could have easily missed this trailhead if not for the GPS track in hand.
It's been cloudy all morning. So I didn't expect to see any sunshine today. Then it began to drizzle the minute we started moving. But glad that it never turned into rain. We followed the nicely kept trail and quickly hiked past Mount Lillian through sections of burned forest. Soon, we were at the lowest point by Howard Creek.
See more trip photos here.
Bentrim Hill Summit via Southwest Slopes
We meandered through the meadows. Then we continued to travel southeast toward Grouse Spring. The trail gained moderate elevation on the gentle terrain. Soon, we were at the southwest slopes of Bentrim Hill. Then just outside the Colockum Wildlife Area, we left the trail and headed north.
Following the grassy terrain, we made our way up the slopes. Then we intersected a service road from the south and walked it up to the summit. As expected, views were minimal. Occasionally, the clouds cleared up to let us see into the south. Mission Peak was the only notable high point in the area.
See more trip photos here.
Outro
We didn't stay long on top. After a short stay, we then made our way down. It drizzled again as we went down through the western slopes to the main trail. The sounds of targeting in the nearby canyons regularly interrupted the calm. The sun finally came out as we hiked the final half a mile back to the trailhead.