Anderson Mountain stands to the northwest of Lyman Hill in north Puget Sound. It's also on the Washington State Peaks with 2000 feet of Prominence list.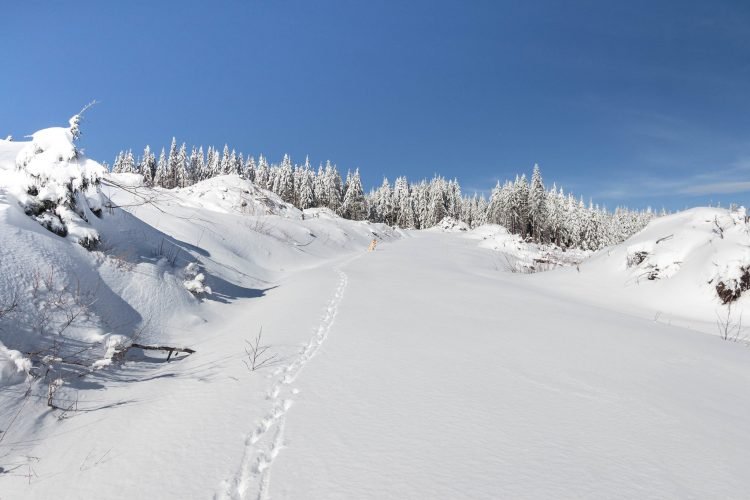 See more trip photos here.
Anderson Mountain at a Glance
Access: SR 9 milepost 64.5
Round Trip: 11.5
Elevation Range: 280′-3364′
Gear: microspikes, snowshoes
GPS Track: available
Dog-Friendly: yes
The Road Walk
I wanted to avoid wintry conditions over the mountain passes. So Anderson Mountain in Prairie, WA it was. There were several spinouts on the freeway because of ice.
We parked by the gate and then started walking in sunshine. I used microspikes on ice in the lower elevation. Then I switched to snowshoes before the bridge at 1800′. By now, it was mostly cloudy.
See more trip photos here.
Windy Ridge
I wanted to make good use of the packed snow in the forest. So we shortcut through a few switchbacks. Then we came out onto the road by the clearcut at 2800′. We were now in soft snow.
Later, we came up to the road junction at 3000′. Then we took a break to be out of the wind for a while. By now, the sky had cleared up quite a bit. So we saw peaks over in the Mount Baker area.
See more trip photos here.
The Final Stretch
The middle road stayed on the ridgeline. Then it took us right back into the forest. The temperature dropped significantly now that we were in the shade again.
At the next junction, we made a right and went up to 50′ below the top. From there, we fought our way through the dense growth. Then we made our way up to the woodsy summit.
See more trip photos here.
Anderson Mountain Summit
Since there were no views, we then continued north on the ridge. I hoped to find a clearing somewhere along the way. But sadly, the north summit was just as woodsy.
But then I found a tiny opening to the northeast. It barely gave a glimpse of Mount Baker and parts of the Sisters Range. So we left after taking some photos.
See more trip photos here.
Outro
Back at the real summit, I looked to the west through branches. There I was able to photograph parts of the Puget Sound. Soon, we followed our route back down the mountain.