Lookout Mountain 2677 by Galbraith Mountain near Bellingham stands above Lake Whatcom. Meanwhile, its prominence takes up over 80% of the mountain's height. The place is trendy among mountain bikers.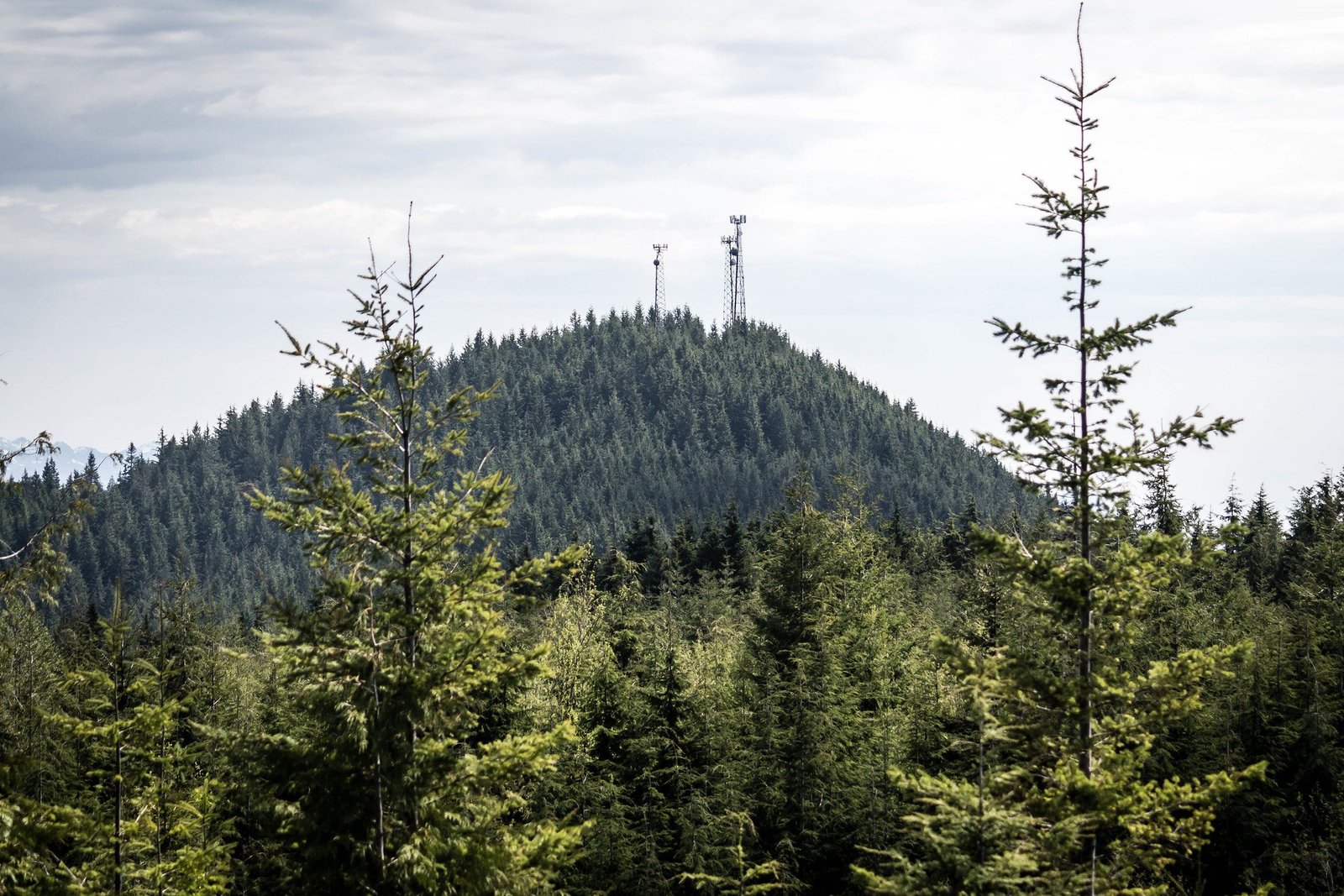 See more trip photos here.
Check out this post for Lookout Mountain by Cascade River Road.
Lookout Mountain 2677 at a Glance
Access: Lookout Mountain Preserve Trailhead
Round Trip: 10.7 miles
Elevation Range: 580′-2677′
Gear: none
GPS track: available
Dog-Friendly: yes
Lookout Mountain 2677 Preserve Trail
We spent most of the time on the road. So snowshoeing would perhaps make the trip less tedious. The weather had improved by the mid-morning. Then it's sunny for the rest of the day.
The pup and I reached the gate with a dozen cars in the lot. En route, I chatted with a gal walking with her Golden Retriever. The two SUVs we later saw were likely the nearby residents with an access key.
See more trip photos here.
Hiking the Bike Trails
To relieve boredom and avoid cars, we left the road at mile two. We scrambled up the north-northeast ridge to the radio tower after first hopping over many down trees. Then we stumbled on a bike trail and used it instead.
The trail went up steep hills with ramps–that's some technical riding! The path moved away from the ridge at times but generally went in the direction we needed. Later the tracks went out onto the roadway at 2600′ below the summit tower.
See more trip photos here.
Lookout Mountain 2677 Summit Views
Views were minimal here, but I caught a glimpse of Puget Sound islands. Behind us to the west, Mount Baker's top came through a tiny opening in the dense forest. We left shortly to the nearby radio facility.
The lower radio tower looked like the happening place with panoramic views! Many Puget Sound islands were visible between the Strait of Georgia and Skagit Bay but hazy. Chuckanut Mountain stretched across the other side of Lake Samish.
See more trip photos here.
Onward to the South Peak
There was still time. So I decided to visit the south peak. We later walked down the road to the saddle between the two summits. There we found another bike trail going up the north ridge. So that saved us from having to hike up from the south side.
Later we went up two steep sections to reach the top. Other than radio towers, we saw nothing interesting. So we paced back and forth, looking for openings through the trees. But we found none. So we went back to the road and hiked down to the parking lot.
See more trip photos here.