We went to Eastern Washington last week. I thought about going there again this weekend and seek out new places. But then I needed a scenery change. So instead, the pups and I braved the weather and went up to Galbraith Mountain. But it rained while we walked.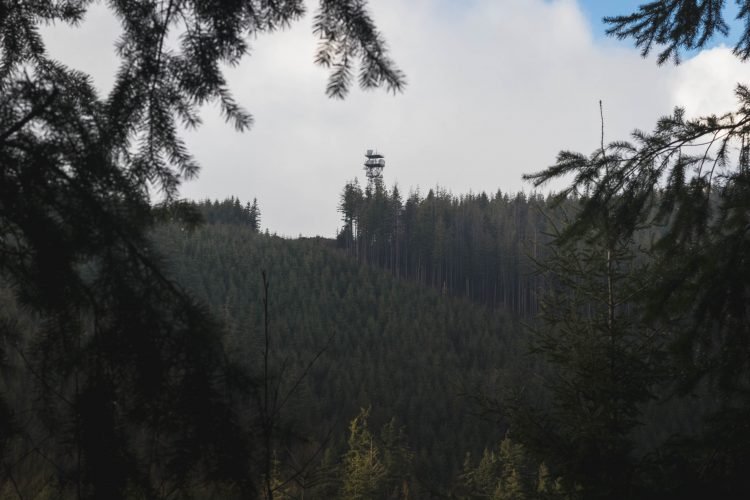 See more trip photos here.
Galbraith Mountain at a Glance
Access: Lake Samish Park and Ride
Round Trip: 7.8 miles
Elevation Range: 480′-1780′
Gear: none
GPS Track: available
Dog-Friendly: yes
Galbraith Mountain Biking Trails
Galbraith Mountain is part of the Lookout Mountain range. It lies between Lake Watcom and Interstate 5. The mountain also has a radio facility at the top like its next-door neighbor Lookout Mountain.
There is one fascinating thing I found. The mountain has a vast network of world-class mountain biking trails. There are over 50 miles of singletrack that weave through 3000-plus acres. The Whatcom Mountain Bike Coalition (WMBC) builds and maintains all of the trails.

See more trip photos here.
Not the Galbraith Road Approach
At first, we were going to start on Galbraith Road. But a trip report I came across warned against it. They mentioned that the homeowners had put up signs and closed all nearby entries. But I couldn't imagine that would have kept out the foot traffic as well.
One hiker had put up a GPS track of their trip. They didn't seem to have issues with the alternative route. So we followed their way and entered from the south. It was just eight miles roundtrip with 1300′ elevation gain. It was longer than going through Galbraith Road. Though, not by much.
See more trip photos here.
Galbraith Mountain Summit
By coming up from the south, we bypassed all but .5 mile of the biking trails. But we needed to hike through two of them to connect up the roads. Somewhere online, it also mentioned that hikers and runners should not be on the bike trails. It was for safety reasons.
The radio facility was up in a forest. So no views there. But if there were, then the top of Mount Baker and Sisters Mountain would be visible. Several bikers came through here while we took a break.
See more trip photos here.
Outro
Since there wasn't much to see, we walked over to the southeast summit. So we could be out of the bike traffic. Right before we left, I talked with two bikers from Bellingham. They said that they came up now to avoid crowds during the high season. Our dogs then played together for a bit.
On a clear day, through trees, we could get some views to the south. I saw from another hiker's photo of the tip of Mount Rainier. But today the weather wasn't on our side. So better luck next time!
See more trip photos here.