Hallelujer! Go and preach it on the mountain! The Pulpit was our first sunny and a new climb in three weeks. We were in Eastern Washington for the past three weekends. That also included the most recent trip to Moses Coulee Preserve.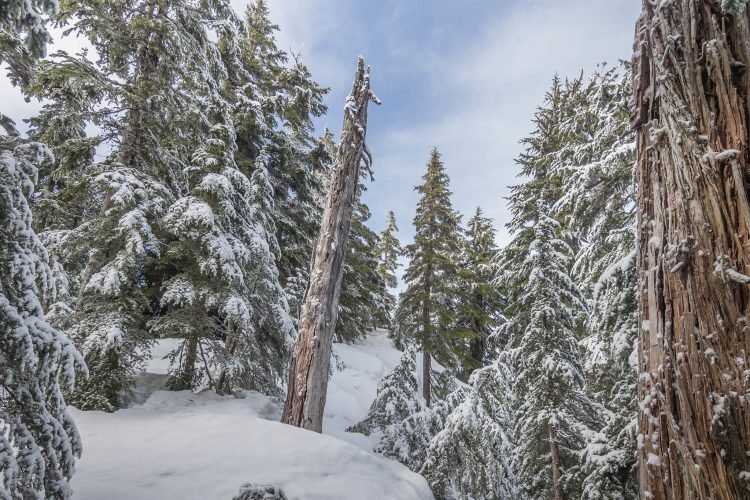 See more trip photos here.
The Pulpit at a Glance
Access: Middle Fork Snoqualmie Trailhead
Round Trip: 9 miles
Elevation Range: 1040′-4523′
GPS Track: available
Gear: snowshoes
Dog-Friendly: with guidance
The Pulpit
I can't remember the last time we spent three weekends in a row out east. But it was all an effort to dodge the constant rain in the mountains. It's been almost six years since I last set foot on Rainy Lake Trail. Back then, I went up to Preacher Mountain.
The trail was bare until snow patches appeared at 2000′. Then at 2400′, we lost the path to more snow and down trees. So the pup and I started moving toward Rainy Lake. But Rainy Creek was always within earshot. Not much view in this old-growth forest.
See more trip photos here.
Point 4400
By the time we reached 2800′, we were in heavy snow. So I put on snowshoes at 3000′ when the terrain flattened a bit. Then we followed the southwest branch of Rainy Creek and slowly made our way up through steep slopes. Later, we reached the south ridge of Point 4400 at 4100′.
Despite the sunny weather, we couldn't see the sun or feel the heat. Not until we went up on the ridge. So far, we haven't seen much in the forest. But we continued west toward The Pulpit. It's now a quarter of a mile away. During which, we bypassed two outcrops from the south side.
See more trip photos here.
The Pulpit Summit
The top was narrow. Compared with the neighboring Preacher Mountain, The Pulpit lacked the sweeping vistas. Too bad, because it was at such an excellent vantage spot. The summit had an opening. But it was only wide enough to get glimpses of peaks across the valley.
Massive clouds moved through the area. Since they blocked our views, I barely saw Preacher Mountain through the mist. But I saw Moolock Mountain and South Bessemer through branches. Then I spent some time fighting through the dense growth for photos.
See more trip photos here.
Outro
We stayed on top for 45-minute. Then we used our tracks to go back down to the trail and hiked out.