We first came to Moses Coulee Preserve a year and a half ago. It was a surprise find on our way home from out east. But it's since become my favorite part of the coulee.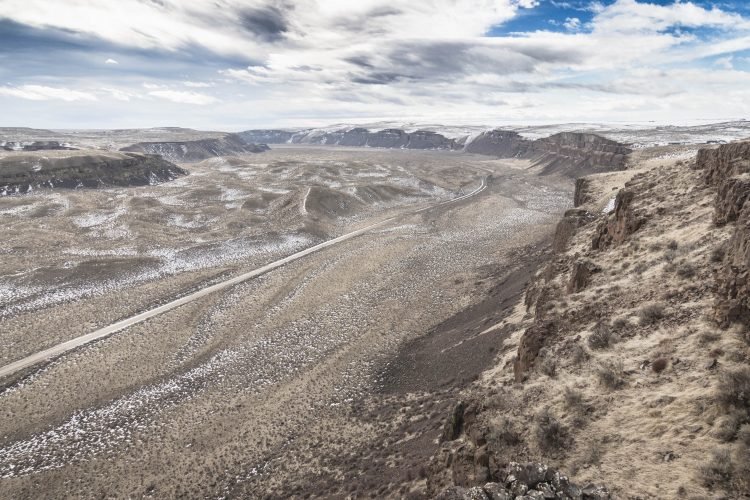 See more trip photos here.
Moses Coulee Preserve at a Glance
Access: Jameson Lake Road
Round Trip: 5.5 miles
Elevation Range: 1760′-2340′
Gear: none
GPS Track: available
Dog-Friendly: yes
Escaping the Rain
Winter is mostly rainy here in the Pacific Northwest. So it's the best time to visit Eastern Washington. Not only can we dodge mountain rain. But at the same time, we can avoid seeing snakes!
East of the mountains also has lots of open space to roam around. Besides, we rarely see anyone out here. The moderate elevation gain is also great for getting in a quick hike.
See more trip photos here.
Moses Coulee Preserve
We used the same way as the first time. I parked right off Jameson Lake Road. It's also south of Dutch Henry Falls. Then a trail took us to the bottom of the waterfall. A faint path to the left let us walk below the cliffs up to the pool.
But going up to the plateau from the pool required some exposed moves. It also wasn't feasible for the pup. So it's best to go up to the rim from the southern end of Jameson Lake. A couple of notches there would provide access.
See more trip photos here.
En Route to Jameson Lake
Later we walked east along the coulee rim. Behind us to the south was the grand coulee curvature. So I couldn't help but turn around constantly to take photos of it. Views were great along the plateau. But to the north it was mostly flat land.
Clouds slowly faded as we moved closer to the lake. I didn't expect to see anyone here in the off-season. Then we walked north above the cliffs until a fence stopped us from going farther. It looked like private land past that point.
See more trip photos here.
Outro
We enjoyed a peaceful time. Later we went down to Jameson Lake Road from the southern end of the plateau. The notches among the basalt rocks provided access. Then we walked back to the car on a warm, sunny afternoon.