I came across Noble Knob last night while researching. Since we don't get to South Cascades much, I thought we'd pay a visit.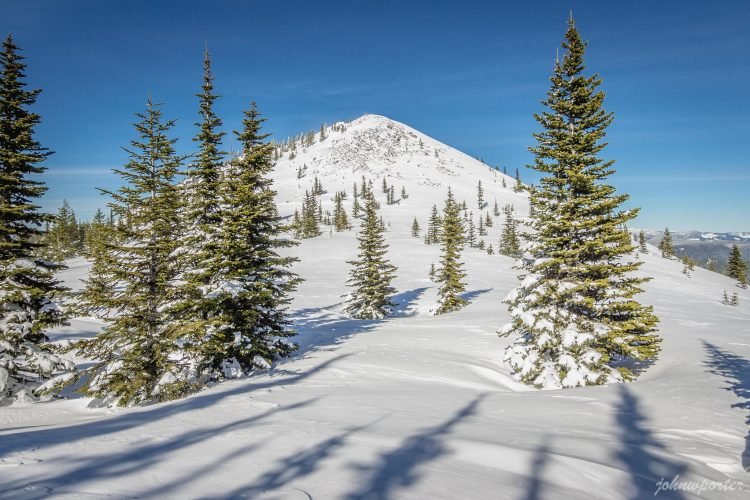 See more trip photos here.
Noble Knob at a Glance
Access: Deep Creek Trailhead
Round Trip: 11.6 miles
Elevation Range: 1832′-6011′
Gear: snowshoes
GPS Track: available
Dog-Friendly: yes
Finding the Starting Point
I had missed the NF-7170 turnoff at first. So instead, I turned left into the Alta Crystal Resort via Road 7172. Then I spent the next 10 minutes driving around the area while checking the GPS.
Later I went back to NF-7170. There was no place to park along this road because there were cabins on either side. So I parked right next to Highway 410 by the stop sign. On the south side was a "Dead End" sign on a tree.
See more trip photos here.
Deep Creek Trail
Usually, one would first drive to the end of the road. At the end of the roadway is the last cabin. Then a few hundred feet past the cottage is the trailhead.
Before we reached the cabin, I noticed another path. So we followed it. But later, I realized that it went toward the other side of the ridge. So the pups and I scrambled up the ridgeline to go on the summer trail.
See more trip photos here.
Snowshoeing in Cascade Concrete
Snow started at 3900′. Then we were in packed snow when we reached 4000′. So I put on snowshoes there. It was quite warm, so the snow wasn't as firm. But we weren't postholing terribly.
We were in fresh powder at 5500′. It grew windy then. Before long, we were moving at snail speed in Cascade Concrete. Not only the slush weighted my snowshoes with every stride. But it also stuck to the bottom.
See more trip photos here.
Final Stretch on Noble Knob
Later we stopped on Point 6176. So I could get a better look at Noble Knob. Soon, we made our way down the other side. In fresh snow, the east of the ridge looked full of cliffs.
We stayed below the west of the crest in the trees. Then we went back on the ridgeline once the terrain flattened. It grew windier when we reached the saddle 300′ below the top. So we took the western slopes to avoid the east wind.
See more trip photos here.
Noble Knob Summit Plus Outro
The wind blew in all directions on top. But we managed to stay away from it by sitting in the trees. The peaks in the area were all visible. Plus, Mount Rainier was as beautiful as usual.
We used our tracks to go back down to the saddle. Then we went up to Point 6176, and later we walked out at sunset.
See more trip photos here.