Mutton Mountain by Noble Knob on Dalles Ridge may not be famous as its neighbor. But the views from this taller peak are still comparable. Besides the dramatic sight of Mountain Rainier, Mount Adams is also visible on a clear day.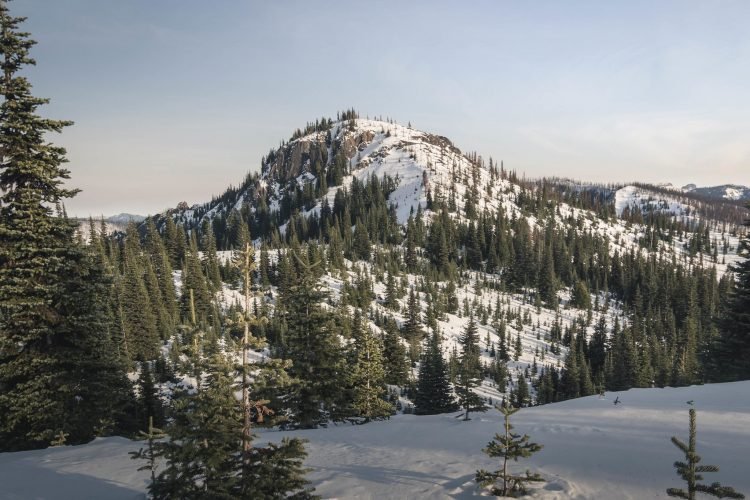 See more trip photos here.
Mutton Mountain at a Glance
Access: Deep Creek Trailhead
Round Trip: 8.4 miles
Elevation Range: 2800′-6856′
Gear: snowshoes
GPS Track: available
Dog-Friendly: yes
Mutton Mountain
We had one fewer option closer to home after yesterday's trip. Then with a late morning start, there was only a couple of choices. So I thought we would revisit this area.
During our trip to Noble Knob in the spring of 2016, we forewent Mutton Mountain. We had another late start then. Plus, the snow conditions were much less than ideal.
See more trip photos here.
Deep Creek Trailhead
There was a trail closure sign at the trailhead from this summer. Then it dawned on me that the area had undergone Norse Peak Fire. The aftermath was visibly noticeable from the get-go.
Lots of charred tree trunks strewed the path. Besides, we couldn't go through one switchback without going around at least one down log. So it was quite tedious.
See more trip photos here.
In the Meadow
Finally, at 5200′, there was enough snow on the ground. So I put on snowshoes in calf-deep powder. But the tree hopping continued uphill for another 500′.
Soon we reached the meadows right before the trail junction. There we caught the sight of Mount Rainier fully emerged from the southwest. Deep Creek Trail officially ended at the fork.
See more trip photos here.
The Final Stretch
We made a right onto Noble Knob Trail. Then we kept the same elevation for another quarter of a mile. Later the trail slowly moved its way onto Mutton Mountain's west saddle.
From the saddle, we then scrambled the west ridge. Soon, we reached the broad summit adorned with a small cairn. There were lots of dry rocks on top because of the snowmelt.
See more trip photos here.
Mutton Mountain Summit
We don't get to South Cascades often. So I could only name Mount Rainier, Mount Adams, Noble Knob, and Crystal Mountain. The familiar high points north of I-90 were also visible.
The pup and I enjoyed a 45-minute break. Then we left the top afterward. By then, it was nearing sunset. But starting late does have its perks. It allowed us to catch the vibrant colors at the day's end.
See more trip photos here.
On the flip side, a late start meant that we would go out to the car after dark. But that's why we bring headlamps, no?