I have wanted to check out Sorcery Mountain in the wintertime. But I wasn't sure if the road was still accessible this time of the year. So thanks to a recent report of NorthBen that answered my question.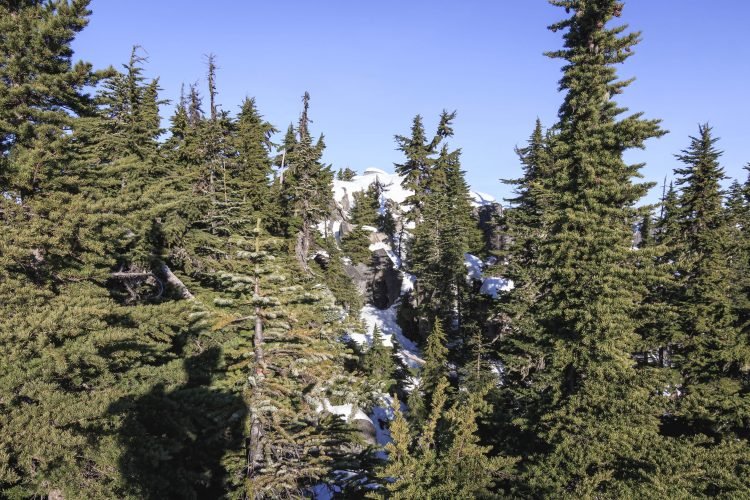 See more trip photos here.
Sorcery Mountain at a Glance
Access: Dingford Creek Trailhead
Round Trip: 8 miles
Elevation Range: 1400′-5273′
Gear: snowshoes, microspikes
GPS Track: available
Dog-Friendly: with guidance
Dingford Creek Trail
Road conditions worsened once we left NF-5600. There were two deep ruts in the roadway. But I could still go through slowly in a low-clearance vehicle. Three cars were in the lot when we came in the late morning.
We first hiked this trail on the way to climbing Mount Price last year. There was snow and ice right after we crossed the waterfall gully. Then we left the path on the other side of Goat Creek.
See more trip photos here.
Horseshoe Lake
We followed days-old boot tracks into the forest. At the same time, we stayed east of the creek. Surprisingly, a trail appeared past the first group of brush. So we followed it until it disappeared under massive down trees.
Microspikes came in handy in light but slippery snow at first. Then I switched to snowshoes at 3600′ when postholing became annoying. It was still brushy in places because of light snow coverage. But it wasn't as irritating as if there weren't any.
See more trip photos here.
Sorcery Mountain West Ridge
Later, we made it up to the serene Horseshoe Lake Basin. The frozen water provided direct access to the peninsula. From there, we went right back into the forest. Soon, we worked our way up to the west ridge.
We sometimes crossed old snowshoe tracks in the trees. Then we avoided several rock bands from the north. Later, we came up to a couple of outcrops that looked impassable at first. But we got above them using hidden ledges and vegetation.
See more trip photos here.
Summit Ridge
Later, we made it up on the southwest end of the summit ridge. Then the real summit was only 100′ away on the opposite side. But we had to drop 20′ and then go through dense shrubs.
Then we were able to climb through the boulders to get up on top. Big Snow Mountain was practically in our faces the minute we were on the summit. It was also the closest we were near it.
See more trip photos here.
Sorcery Mountain Summit
This summit was another vantage point with views of big mountains. Numerous lakes were nestling in the basins below. Lots of familiar peaks on the southern horizon included Mount Thomson, Red Mountain, Lundin Peak, Snoqualmie Mountain.
Plus the sight of Bryant Peak, Chair Peak, Kaleetan Peak, Mount Roosevelt, Caroline Peak, and Preacher Mountain. Oh my! Even Mount Rainier and Glacier Peak joined in the lineup on this crisp and clear day.
See more trip photos here.
Outro
Temperatures were in the high 50s, and it was windless. So it was warmer and calmer than the forecast. We stayed a while before using our steps to go back down to the lake. Then we followed our tracks and the trail back out to the car.