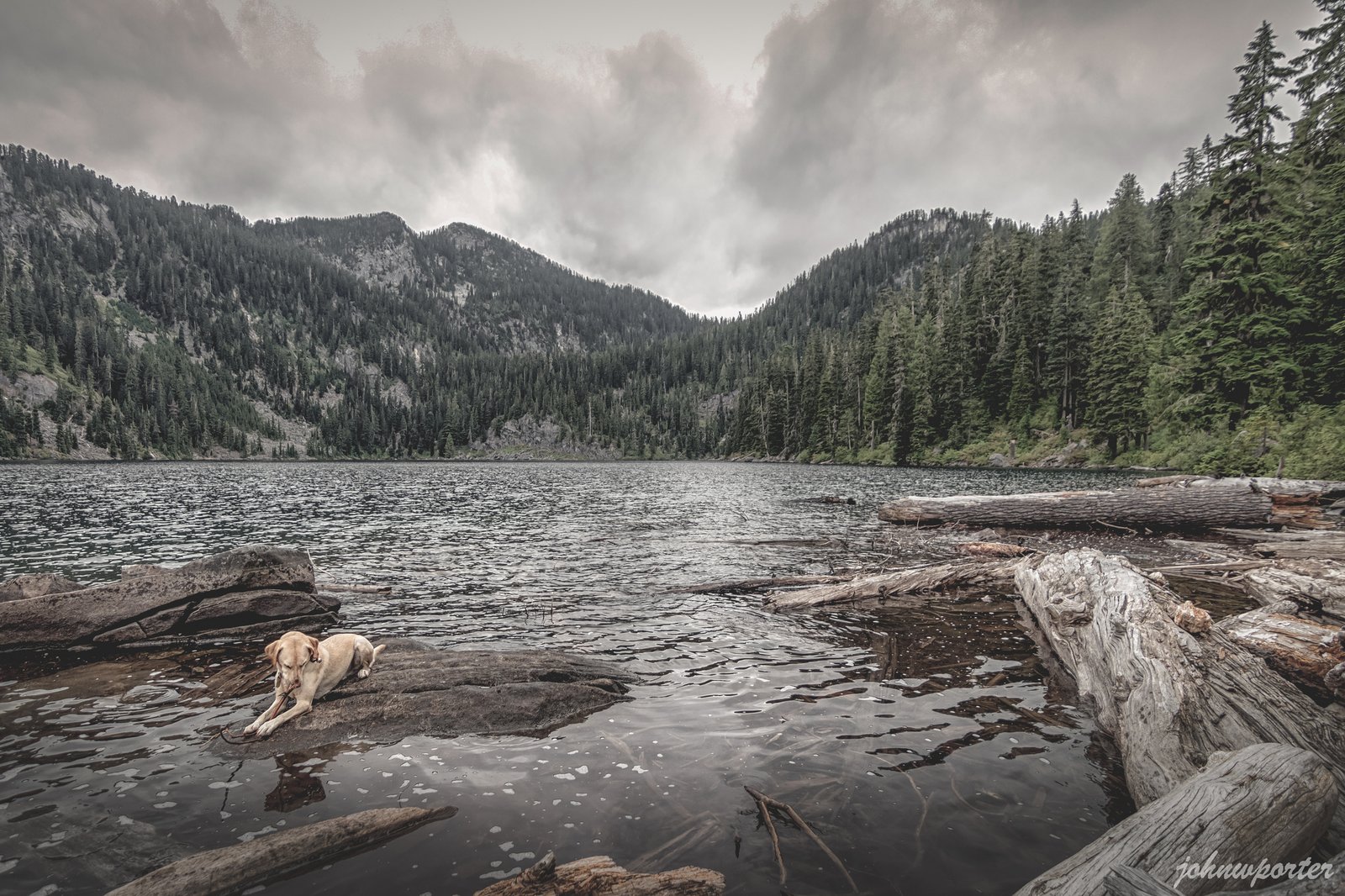 Photos from this trip can be found here.
After years of staring at this mountain from various summits south of Middle Fork Snoqualmie River, it finally happened. For some reason I thought the trek started at Middle Fork Campground so I never looked into it. Many cars parked at the Dingford Creek Trailhead when pup and I arrived. Also found out from a hiker that this trailhead was also the starting point to Goldmyer Hot Springs.
Six miles of hiking later we finally arrived at the outlet of Hester Lake. When the trail ended past a couple of camp spots, we walked along lake shore looking for a climbers path, but everywhere we looked had brush and slide alder. Initially we scrambled higher up, but then I remember in the report I read that it was better to stay low and close to the shore. Without snow coverage it made for some interesting traverse.
Eventually made it to the talus and tried to stay alongside it to avoid brush and cliffs between the the two lakes. By the time we came to the outlet of Little Hester Lake the clouds had taken over the area and we couldn't see the lake in its entirety. We walked clockwise along lake shore to the west end, then miraculously clouds that had just floated on top of the lake 20 minutes ago sudden lifted. This was a good sign I thought.
Upon reaching 4,080′ saddle, we started working out way up Price's northwest ridge. Half of the time we were able to stay on ridge crest, but there were a couple of areas with cliffs made up of ginormous boulders. We stayed right of crest (west) when necessary, as the east face dropped precipitously. From the meadow at 5,200′ I could finally see the summit. Section between meadow and the summit steepened with thick growth, so lots of veggie belay for me. About 50 feet below the summit terrain started to taper and we finished the climb with an short, enjoyable walk.
Views were good on all sides except the north. I worked my way up and down the east ridge to get photos of peaks from where I'd see Price Mountain, but only got a glimpse Chair Peak and a tiny bit of Snow Lake. Big Snow Mountain wan't fully visible because of clouds. Hester Lake was very impressive and Little Hester looked bigger from the top.
I gave ourselves just enough daylight to make it back down to Hester's outlet before dark. At least now we had a trail and hiked six miles back to the car…in the dark.