We came to climb Troublesome Mountain after a trip to the Alpine Lakes Wilderness. The plan was to go in from Blanca Lake Trailhead. Then we would work our way down the ridge and also go up to Toil Peak and Double Toil.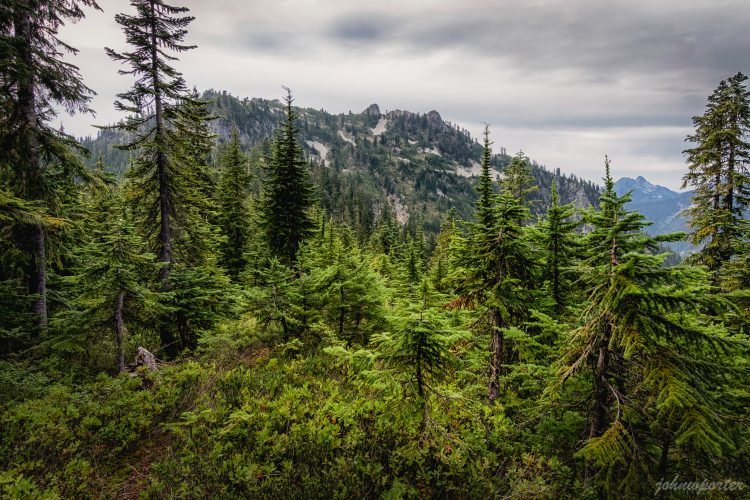 See more trip photos here.
Troublesome Mountain at a Glance
Access: Index-Galena Road
Round Trip: TBD
Elevation Range: 1560′-5433′
Gear: helmet
GPS Track: available
Dog-Friendly: no
Index-Galena Road
Since this trip was a last-minute idea, we didn't start until noon. On top of that, Road 63 was impassable. A gate was right next to the stop sign. But of course, I only found out about the closure when we arrived.
But I was happy to settle for just one peak. So I drove west on Index-Galena Road for a mile and parked. Then we proceeded to go up the northeast-trending gully. It had a dry stream bed.
See more trip photos here.
Taking the Gully Route
We needed to bypass slide alder at 3400′. But I made the mistake of veering too far right of the gully. Then we ended up going into a different swatch of a messy situation.
Once we made it out of the alder, we continued up through to the tree line. Then we followed the talus slopes and went onto the ridge at 5000′. From there, the rest of the route was visible.
See more trip photos here.
Ridge Traverse
While moving west on the ridge, I noticed a faint path. So we followed it to the notch west of Point 4800. Then we drop down to the north of the ridgeline. Low enough to bypass the buttresses that came off the southeast ridge.
Later, we moved northwest and aimed at the summit. For the final stretch, we went directly up to the top through the east face. But we took the south ridge on the way back. So going up through there would have been a better choice.
See more trip photos here.
Troublesome Mountain Summit Plus Outro
Views were great up here. I even saw a sliver of Blanca Lake. Other notable high points included Kyes Peak, Silvertip Peak, Spire Mountain, and Glacier Peak.
We left the summit an hour later. Then we made it back to the 2400′ talus field right after dark. From there, we continued down the sandy slopes and then back to the car.
See more trip photos here.