The way to Kaleetan Peak was more straightforward than I thought. It's a class 2-3 climb at the most. But its pointy profile has fooled me this whole time. Glad the pups could also make it up to the top with some guidance.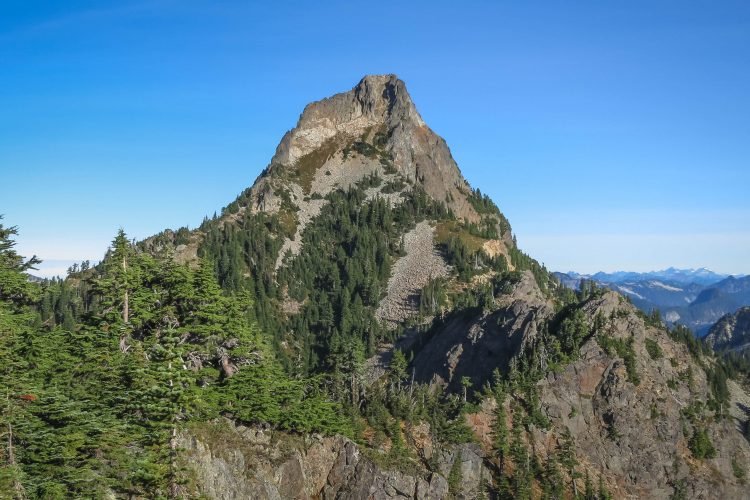 See more trip photos here.
Kaleetan Peak at a Glance
Access: Denny Creek Trailhead
Round Trip: 11.5 miles
Elevation Range: 2280′-6259′
Gear: helmet
GPS Track: unavailable
Dog-Friendly: with guidance
The Preface
Yesterday, friends from Mountaineers and I went climbing up north. Then today, the pups came with me to Kaleetan Peak. The crux of the climb was the long way to Melakwa Lake via Hemlock Pass.
Past the lake, we got on the standard route on a defined path. Then we initially gained most of the elevation above the water. Later we reached Point 5700, and then I saw the rest of the way from there.
See more trip photos here.
The Final Stretch
We dropped down the west of the ridgeline first. Then we traversed the western slopes. Sadly, later we needed to gain back the elevation lost. Soon, we stood at the bottom of the steep gully entrance.
The gully was my biggest concern. But it turned out to be more enjoyable than I expected. It was mostly a class 2 scramble in with some class 3 moves. I kept the dogs close. So they wouldn't kick down any loose rocks my way.
See more trip photos here.
Kaleetan Peak Summit Plus Views
What a glorious day out in the wilderness! We started hiking early when the trailhead was still empty. So we got to spend alone time on top. Chair Peak was right across the basin. But Melakwa Lake looked so much farther from up high.
Our views also included Mount Defiance, Revolution Peak, and Russian Butte. Then to the north were Caroline Peak, Preacher Mountain, and Mount Roosevelt. Not to mention the impressive Mount Thomson and Snoqualmie Mountain.
See more trip photos here.
Outro
Not sure what I was thinking. But on the way back to Point 5700, I decided to go down into Melakwa Lake Basin. Several places felt like they borderlined exposed class 3. But glad we all made it down safely.
Later it was a long slog back through Denny Creek and out to the car.
See more trip photos here.