Snoqualmie Mountain is directly north of Snoqualmie Pass. It's also one of the few places here accessible from its foothills. I especially enjoy the peak because it's close to the freeway.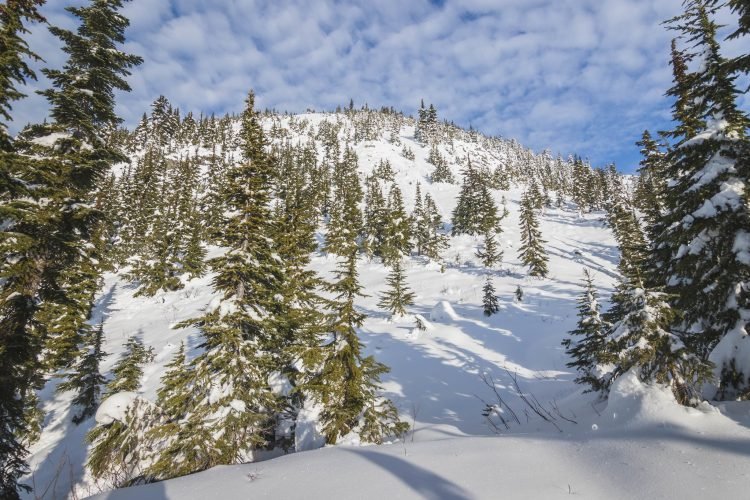 See more trip photos here.
See other Snoqualmie Mountain trips here.
Snoqualmie Mountain at a Glance
Access: Snoqualmie Alpental Ski Area
Round Trip: 3.2 miles
Elevation Range: 3120′-6278′
Gear: microspikes, snowshoes
GPS Track: available
Dog-Friendly: yes
Snoqualmie Mountain
Today was the fourth and final day of our Thanksgiving week hiking streak. So the pup and I went to one of my Snoqualmie Pass favorites. It's been four years since my last visit, so it's long overdue.
Snoqualmie Mountain is the tallest peak in the area. It overlooks South Fork Snoqualmie River with its awe-inspiring views. The nearest higher neighbor is still three miles away.
See more trip photos here.
Breaking Trail
Someone had carved out a trail since the recent snowfall. So we followed the path past the junction. But it soon faded before the 4400′ gully by the headwall. It looked like everyone had turned around there.
I put on snowshoes on the other side of the gully. Then we went up the steep slopes. Soon, we went out of the forest at 4800′. Then for the next 1500′, we plowed through fresh snow on the south ridge.
See more trip photos here.
South Ridge
The wind started as the terrain steepened. So we would sometimes dodge the gusts by moving over to the leeward side of the crest. But then we would be in deep powder.
The wind was more tolerable in the final 300′. So we were able to stay on the crest in shallow snow. Later from the summit ridge, we traversed northwest and reached the top shortly.
See more trip photos here.
Summit Plus Views
This mountain remained one of the great vantage points to see other places in the Alpine Lakes Wilderness. That includes the high points along the Pacific Crest Trail east of here.
Some notable high points viewable from the top were Chair Peak, Snow Lake, and Mount Thomson. We could also see Alta Mountain, Mount Rainier, and the Stone Kingdom. Oh my!
See more trip photos here.
Outro
Kimber and Carl from Tacoma showed up an hour later. Glad they could benefit from our tracks. The weather was so great that we spent a long time on top. Later we plunge-stepped our way down the mountain.
The inversion swept over Snoqualmie Pass and Snow Lake Basin. It grew even more dramatic as the day progressed. Later the rising clouds overtook the lower places. So we soon dropped into the misty forest.
See more trip photos here.