North Spectacle Butte rests above Ice Lakes next to its well-known neighbor South Spectacle Butte. Because of its modest stature, the peak didn't make it on Washington State's first 100 highest peaks list. However, it had earned a spot on the second 100 highest.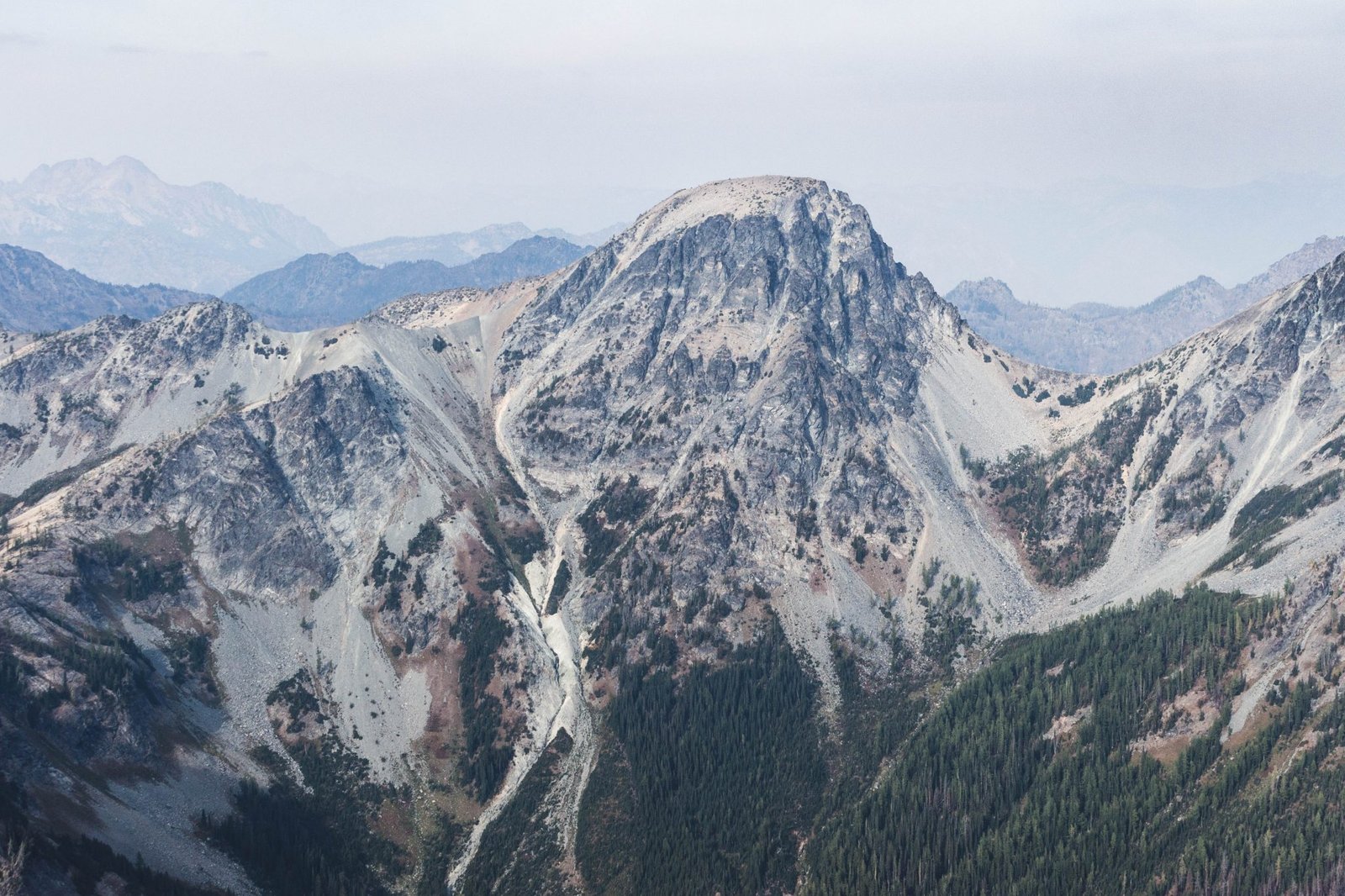 See more trip photos here.
North Spectacle Butte at a Glance
Ice Slam = Chilly Peak + Ice Box + North Spectacle Butte
冰點滿貫=寒冷峯+冷藏庫+北奇觀孤峯
Access: Phelps Creek Trailhead
Round Trip: 24 miles
Elevation Range: 3520'-8112′
Gear: helmet
GPS Track: available
Dog-Friendly: no
The Preface
We enjoyed our trip to the Entiat River Valley last weekend. Then Friday night, the pup and I drove up to Phelps Creek Trailhead. Hunting season has begun, so it was no surprise to see many big trucks here.
The road to Phelps Creek Trailhead was just as rocky, if not rockier than usual. Half a mile before the end of the roadway, a section had disappeared into a layer of dust. So it was nearly impassable in my compact car.
See more trip photos here.
Carne Mountain Trail
For this trip, I've also included Chilly Peak, Ice Box, and Freezer. As I anticipated an entire day moving through the long ridgeline, we started bright and early the following day.
A short walk on Phelps Creek Trail, and we were at the fork to Carne Mountain from six years ago. Then three years earlier, I came in to climb Mount Fernow and Copper Peak. Before long, we were up in the 6100′ basin.
See more trip photos here.
Rock Creek Basin
We passed a corral in the meadow. All three grazing horses there were on full alert of our arrival. Later we reached Carne Mountain's south saddle and took a long break. I got my first view of our first stop, Chilly Peak, across the Rock Creek Basin.
Later, Andy, the deer hunter, came up to the pass. Then we chatted a while about his hunting trip. He had been in the basin and mentioned the lack of water. Seeing I didn't bring enough, he offered the rest of it from his jug.
See more trip photos here.
North Spectacle Butte via Chilly Peak
Afterward, we moved down to the dividing ridge of Box Creek and Rock Creek. From there, we went north then into Rock Creek Basin at 7000′. In need of more water, we dropped 200′ to the tiny stream below the rock field. It would be the last source until Box Creek Basin.
Soon, we continued traversing as we moved east on steep heather and scree. Later we reached the west gully at 7200′. A strenuous traverse through choss put us up on the north saddle. Then another short climb through boulders put us at the top.
See more trip photos here.
Chilly Peak Summit Views
From the top, I scouted out our next goal–Ice Box, which still looked far away. To the north, Mount Maude and Spectacle Buttes were the main attractions. Meanwhile, the hazy Buck Mountain held up the west end.
A restful half-hour on top, we returned to the gully. Then we made a rising traverse northwest, aiming for Point 7919's east saddle. Later we bypassed the high point from the north and down to the 7500′ pass.
See more trip photos here.
North Spectacle Butte via Ice Box
While on a break, I noticed a bear cub on the snowfield north of the pass. It slowly moved away when it heard the pup's bear bells. So I grabbed the dog and quickly left the scene before mama bear showed up.
To bypass Point 7800, we first dropped 100′ on the south slopes. Then we rounded the ridge up to the north saddle. Later we moved north and stayed on and west of the crest. Soon, the rock bands and buttresses forced us to bypass via the rocky west.
See more trip photos here.
Ice Box Summit Views
Soon, we reached Ice Box's south saddle at 7600′ and finished the final 500′ up to the top. Views slowly improved as we moved closer to the top of Ice Creek Basin. The haze persisted, but it wasn't as bad as our recent trip to Pasayten Wilderness.
We needed to make it into Upper Ice Lake before nightfall in a little over two hours. But the ridge to Freezer didn't look suitable for traversing. So we dropped onto the steep west slopes. Soon, we joined the Carne High Traverse Trail at 6900′ in Box Creek Basin.
See more trip photos here.
A Night at Upper Ice Lake
We passed Chipmunk Creek Basin and left the trail at 6800′. Then we went north up to Freezer's west rib two hundred feet below Maude-Freezer saddle. There a steep path took us up to the pass with an excellent view into Ice Lakes Basin.
The area looked empty. But then we saw a tent just before we crossed the lake's outlet. Later we reached our old campsite amd turned in shortly after dinner as it grew windy. But it turned out warmer than the forecast.
See more trip photos here.
North Spectacle Butte Climb
There was a 40% chance of rain and snow after 11 AM. So to avoid the bad weather, we left early for our final goal–North Spectacle Butte. From camp, we dropped 350′ to Lower Ice Lake and crossed the water by the outlet.
Later we made it up to the east-trending gully at the northeast end of the basin. The route gave direct access to the west saddle as well. Soon, we were on the steep, rocky west hill to finish the final 600′ of the climb.
See more trip photos here.
North Spectacle Butte Summit Views
The top was flat and broad, just like how it looked from other places. The view of South Spectacle Butte on the other side of the saddle was quite impressive. Buckskin Mountain to the north looked much farther in person.
The Mount Maude, Seven Fingered Jack, Mount Fernow, and Copper Peak lineup was just west of here. It still looked stunning despite the haze. Meanwhile, the wind persisted since before we reached the top.
See more trip photos here.
The Bonus: Freezer
On the way down, I saw a trail on Lower Ice Lake's north shore. So I wanted to try using it to go up to camp. It ended up being more direct than the other route. Soon, we left the basin at 11 AM right after packing. But I was glad that the rain never came.
Later we dropped our gear on the Maude-Freezer saddle and walked up to Freezer. The top offered great views into the Ice Lake Basin. We saw Chilly Peak and Ice Box to the south as well. Many of the Washington highest peaks were also visible.
See more trip photos here.
Outro
After a short break, we went back to the pass. Then we hiked out via Leroy Basin for a loop trip. Right below the basin, we met two campers, then two hunters. So I chatted with them about their adventures for a bit.
It later rained past 3 PM before we reached Phelps Creek Trail. So we quickly walked the last four miles back to the car.
See more trip photos here.