I was grateful to have great weather, optimal physical conditions, and new climbing partners this season. Then the late snowfall allowed me to visit the Copper Slam. But it wasn't nearly as exhausting as our trip on Ragged Ridge last week.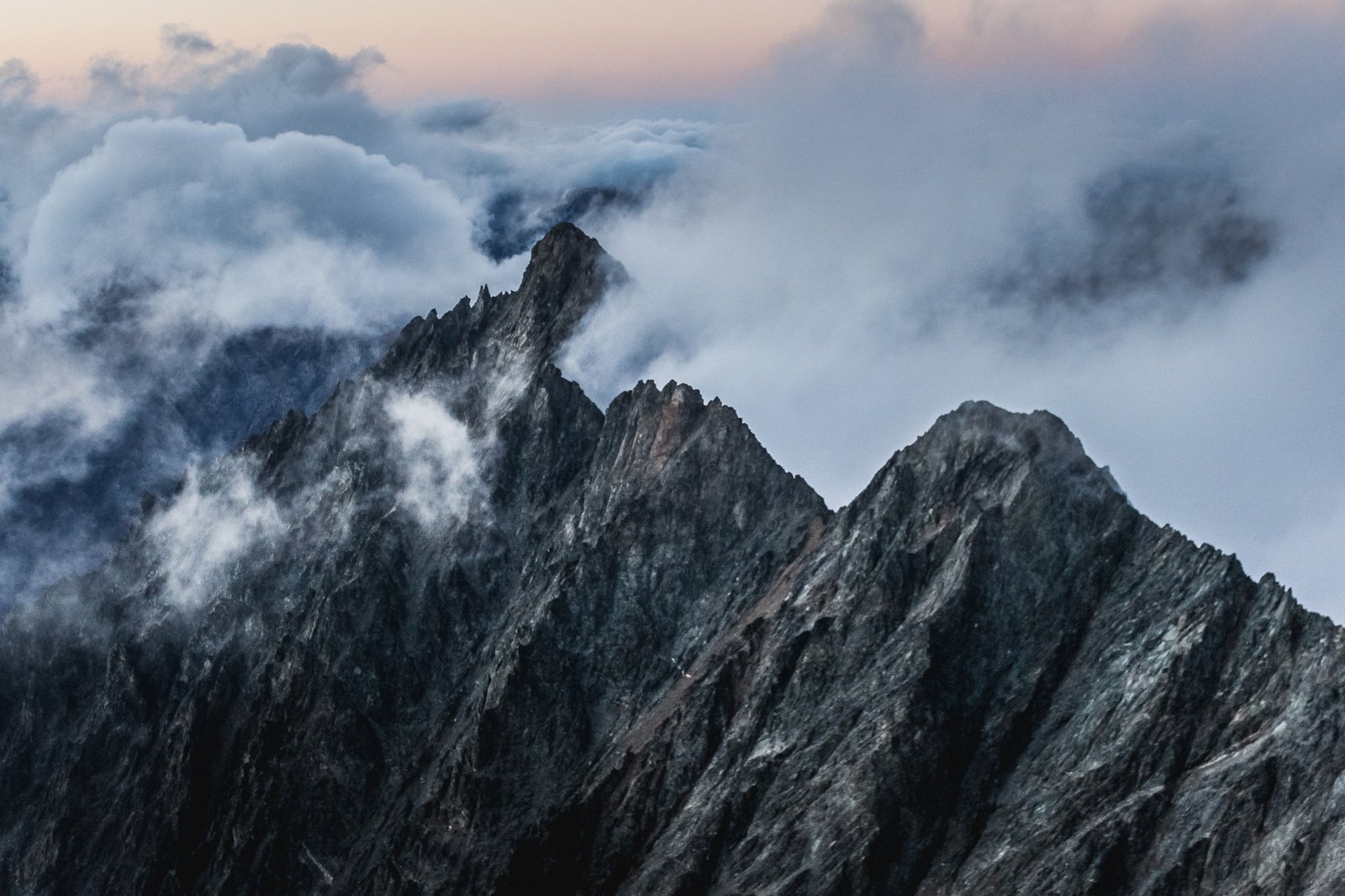 See more trip photos here.
This weekend's forecast wasn't ideal. But I still set my heart on climbing the Copper Slam. I wasn't super eager about not having views on the first day. But on the other hand, I very much looked forward to the stellar weather outlook on day two.
Copper Slam at a Glance
Copper Slam = Mount Fernow + Copper Peak
紅銅滿貫=費諾爾山+銅峯
Access: Phelps Creek Trailhead
Round Trip: TBD
Elevation Range: 3520′ -9249′
Gear: helmet, rope
GPS Track: available
Dog-Friendly: on the trail
Going up to Mount Fernow
I slept at the trailhead the night before. Then the next morning, I hiked up to Leroy Basin under the partly cloudy sky. Seven Fingered Jack and Mount Maude were just as impressive as I remembered. Later, more clouds rolled into the area. Soon, I made my way down to Gloomy Basin from the notch.
Before long, clouds obscured Mount Fernow. So I couldn't see much past the waterfalls above the basin. This trip was my first time camping without the pups. I knew I was most likely not alone on this mountain. But it was hard to shake the uncanny feeling.
See more trip photos here.
In Search of the Access Keyhole
The west wind blew fiercely. Then I slowly made my way up to the south ridge in weak visibility. But at one point, it became so unbearable that I ducked behind a big rock. Even after half an hour, the gust showed no signs of stopping. So I decided to move again before losing more daylight.
The "keyhole" was just like the reports described. There was only enough room for one person to crawl through to the other side. Oddly, the minute I got on the ridge, the wind speed drastically decreased. But the visibility was still weak. So I relied on the few cairns to lead the way. Soon, I was at the base of the summit.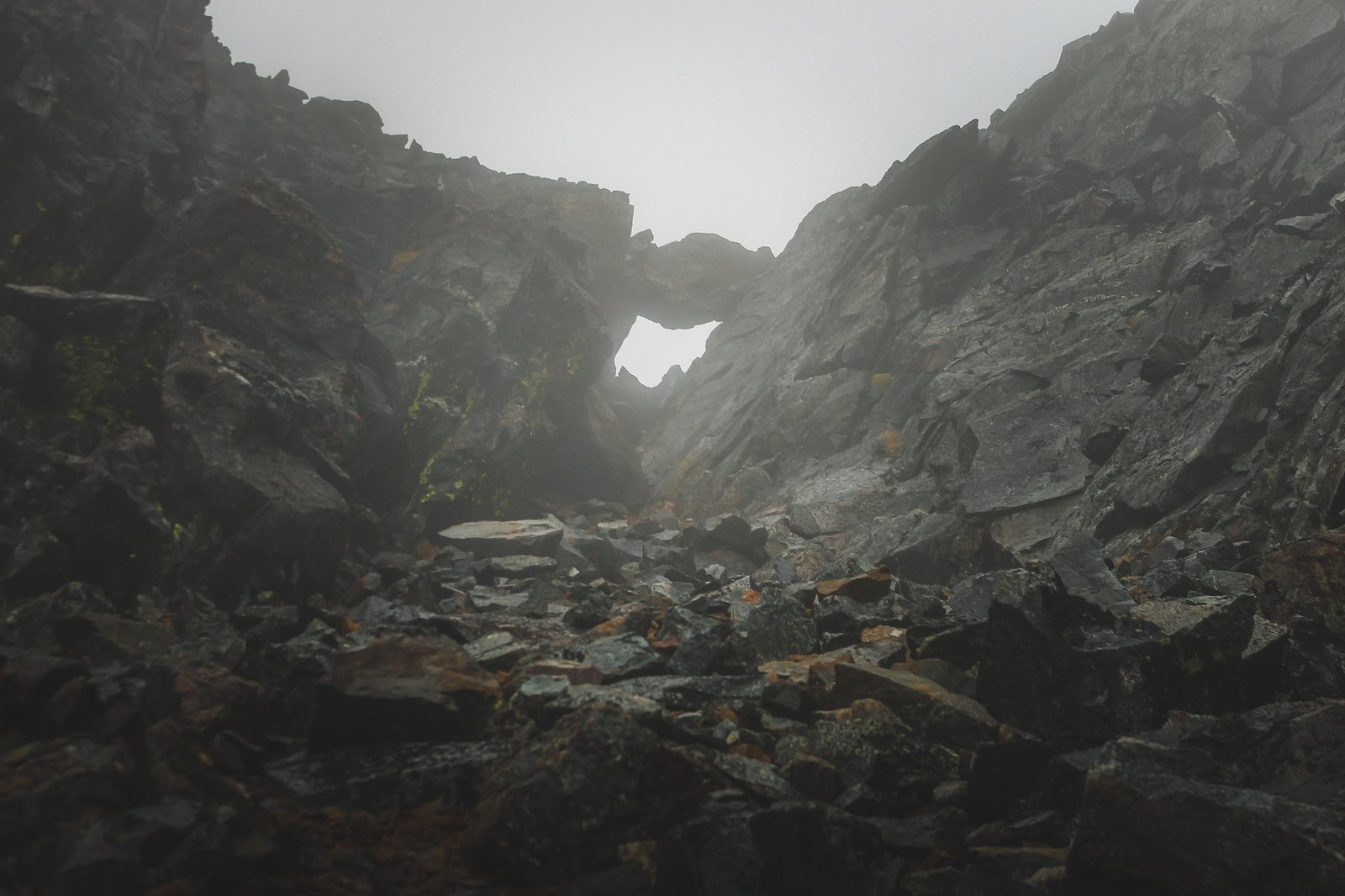 See more trip photos here.
Mount Fernow of Copper Slam
Someone had built a bivy fort below the summit. I dropped off the overnight gear and then went up to the east ridge. The climb was straightforward. But the west wind started back up again at the top. So I moved to the east and waited 15 minutes. Then the gust died down for good.
I stayed until sunset. Slowly, clouds shifted downward and then formed a temperature inversion. It was one of nature's most significant phenomena! So I saw some of the highest peaks before the clouds moved upward. Copper Peak looked bleak, especially in this weather.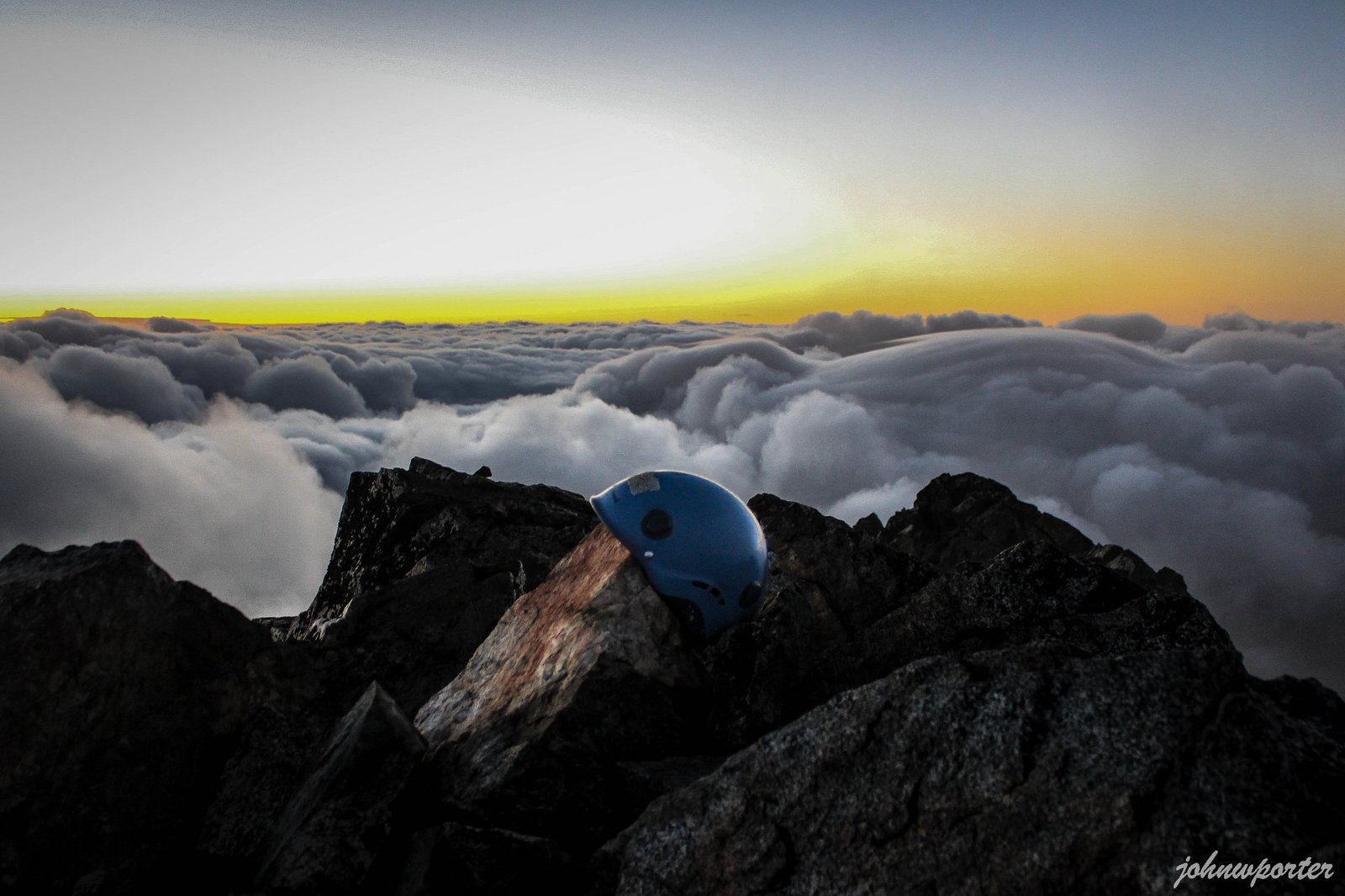 See more trip photos here.
Summit Bivy
After sunset, I made my way back down to the bivy spot and ate dinner. The thought of spending the night alone for the first time above 9000′ felt uneasy. Glad I had brought music to take my mind off horror films and urban legends.
Shortly, a pika appeared from behind a pile of rocks while hunting for dinner. It then tried to chew through my bivy sack and steal my food. But I was happy to have another living thing around to keep me company.
See more trip photos here.
Copper Peak Climb on a Glorious Morning
Next morning I got up before sunrise and spent some time savoring the sky colors. Then after breakfast, I climbed up to Mount Fernow's east summit. From there, I scoped out the two routes to Copper Peak based on the two reports in hands. One climber climbed the peak via the receding glacier east of the connecting ridge. While the other traversed the crest itself.
An hour of finding a way to get down onto the glacier was a total waste of time. So in the end, I resorted to the ridge route. This alternative plan a much better option as I had decided not to pack snow gear for this trip. Also, by staying high would, in turn, offer excellent views.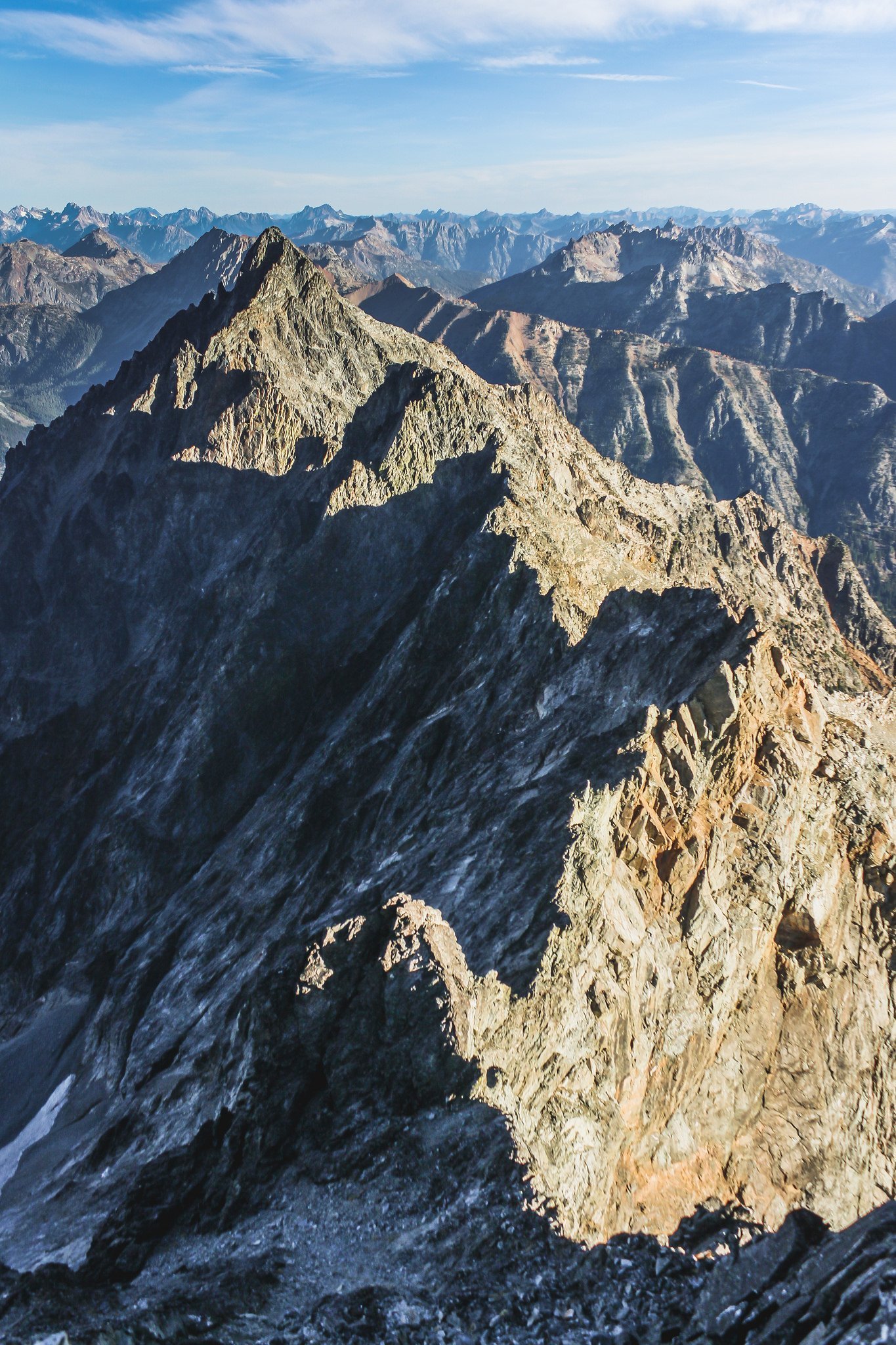 See more trip photos here.
The Ridge Traverse
At first, the mile-long Copper Slam ridge traverse from Mount Fernow to Copper Peak looked intimidating. In one report, the climber traversing from Copper Peak to Mount Fernow and back. So I was pretty confident that there wouldn't be too many issues in terms of route finding.
It was hard not to constantly glance back at the jagged ridgeline and feeling the airiness at every turn. I took a good look down into Holden Village. Then I start remembering us making a stopover there on the way to climbing the Bonanza Slam.
See more trip photos here.
Route Finding Fun
Overall, this was a fun and thrilling traverse. There were a few class 4 moves along the way, plus a couple of places to rappel over cliffs. On the 8500′ notch below the south ridge, I contemplated dropping down into the east gully. From there, I could climb via the east ridge/face. But then I decided to remain on the ridge crest.
Getting up to 8600′ via a steep, loose gully was a bit tricky. The choice turned out to be more technical than anticipated. But I took my time looking for solid holds to avoid any mishaps.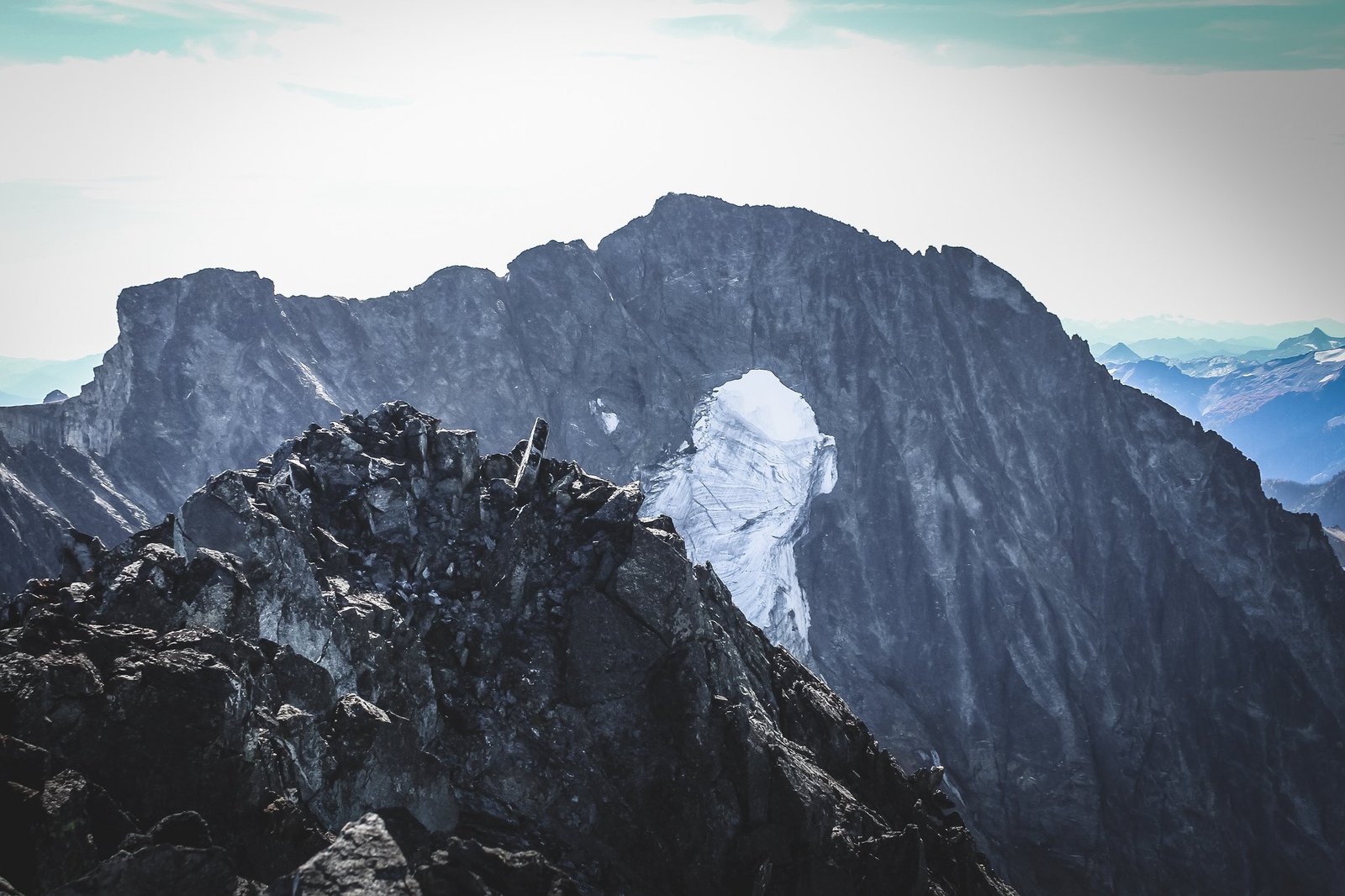 See more trip photos here.
Copper Peak Summit
Three and a half hours of intense rock scrambling later, I finally made it to the summit of Copper Peak. I felt a great sense of pride and accomplishment as I looked all around me. Tears began to swell up in my eyes. But mostly, I felt a sense of gratitude I to have made it out here alive. But now that I've made it here, I just needed to do it all again to complete the Copper Slam!
Dang, there wasn't a pen in the summit register, and I didn't think to bring one to sign it.
See more trip photos here.
Back to the Other Side
There was plenty of daylight after sunset to get back to Gloomy Basin without using the headlamp. I had initially planned on hiking out to the car. But as soon as I noticed a pair of blinking eyes at dusk, I quickly changed my mind. Some animal was near the access notch over Leroy Basin. I prayed for what it was to stay put.
It was a moonlit night. And as I lay underneath the stars, I replayed images in my mind from the past two days of climbing. Hm, I wondered whether I could squeeze in another climb before snowfall.
See more trip photos here.