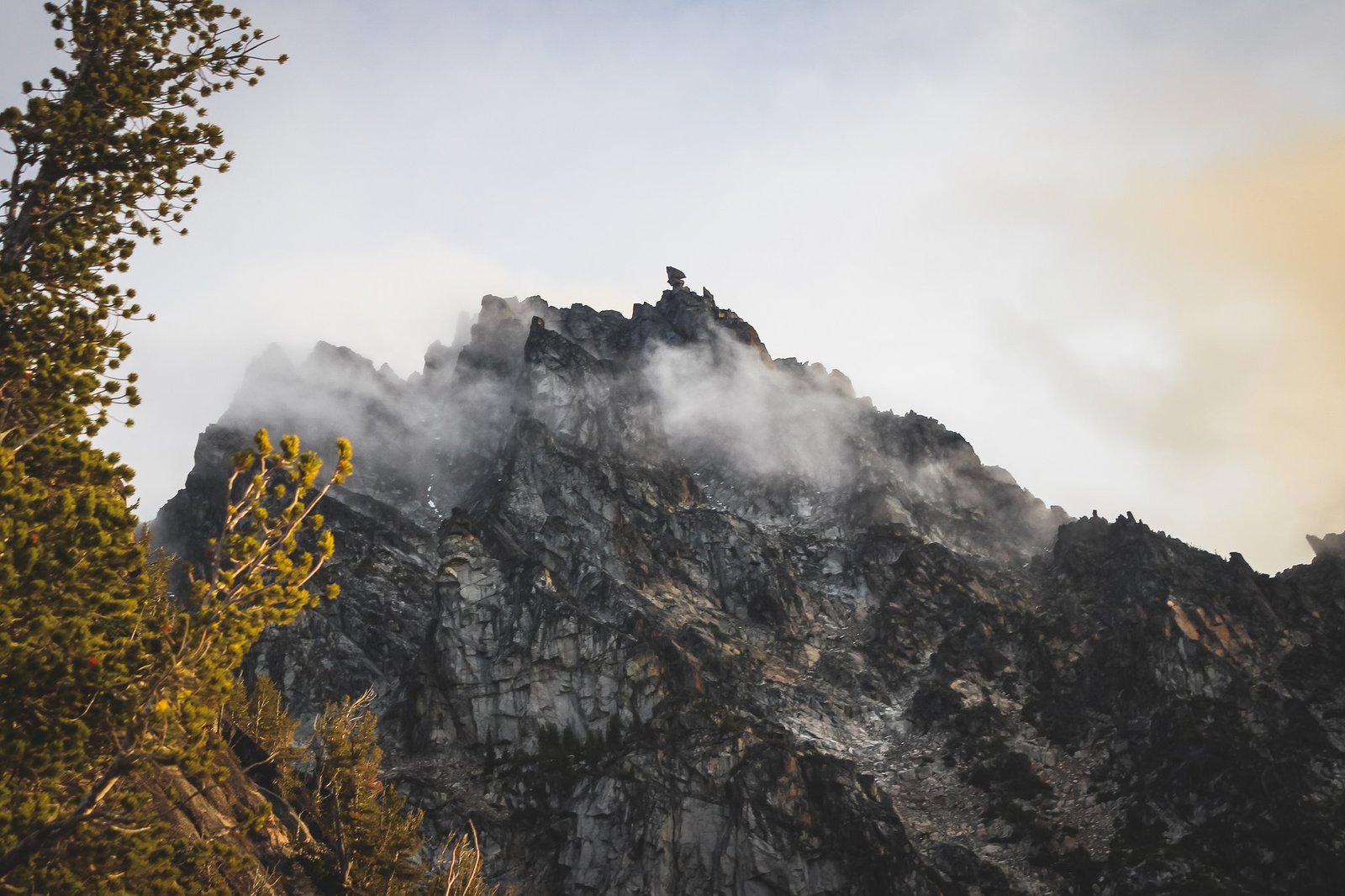 Photos from this trip can be found here.
Sherpa Peak was my last Enchantments Bulger List peak to bag, and late snowfall this year made for a possible and a much safer climb. Although a scenic approach, the exit was one of those most seemed to dread–ascending back to Longs Pass after descending to Ingalls Creek.
Iffy weather started to form the minute I arrived at Longs Pass, and Sherpa Peak (as well as Mount Stuart) was visible for a brief moment before quickly disappearing into clouds. After a quick descent to Ingalls Creek and hiked east on Ingalls Creek Trail for a bit before heading up south slopes at the first major clearing.
After spending few hours climbing up the long-running buttress just west of Sherpa's south basin, I arrived at a good bivy spot at 6,800′ and set up camp. More clouds moved into the area and still no signs of Sherpa Peak, but I was hopefully for next day's awesome weather forecast.
Next morning I woke up to clear skies on the Teanaway side, wasn't sure what it was like on the north side of Stuart Range. Summit clouds slowly dissipated just before 8 AM. I was quite anxious to get going after seeing Sherpa Peak's very own crown jewel, Balanced Rock revealing itself. The rock is a special feature that sets Sherpa Peak apart from the rest of the Stuart Range/Enchantments peaks.
After trying for a couple of months securing a partner for this trip and to no avail, I finally decided to go solo via east ridge. Trip reports are funny in a way, the "obvious" gully is never obvious to me. Usually ended up relying on my own route finding skills with the help of maps and GPS. It was a relief to see some rappel slings while climbing up east ridge to know I was still on the right track. A few cairns were spotted along the way to guide me in the general direction while checking out Sherpa-Argonaut connecting ridge below me.
Glad I took took a photo of Argonaut, Colchuck, Dragontail, and Cannon to the west while getting up on the ridge, as it would be the last time seeing parts of The Enchantments before clouds completely overtook the Stuart Range. Still fascinating to think that one-tenth of the WA top 100 peaks are located in The Enchantments.
It was really cool to see Sherpa Peak summit with Mount Stuart in the background while negotiating the Balanced Rock from the north side. Sketchy traverse through new snow and wet rocks to Sherpa's summit began at bottom of the rock. Once I got closer to the base of the summit block, I turned around and got a good look at the Balanced Rock. That thing was waaaaaay bigger in person, even its supporting rock was at least twice my height.
South of Stuart Range was bright and sunny, in contrast with the unyielding bleakness to the north. Other than sounds of south wind constantly blowing, the only other sound I heard was my own heavy breathing. I very much enjoyed solitude on this peak and gorgeous views into Teanaway backcountry. Mount Stuart was even that much more imposing seen from this summit. I spent lots of time on top before descending as this would be my last big peak to tackle before ending the season. Two rappels down the west ridge plus some down climbing and I was in the south gully.
It took a while to get through the seemingly never-ending talus field in south basin before arriving back at camp, and all the while I thought I heard people talking above me in the direction of Stuart. I didn't spend much time at camp, mostly packed and took a power nap before heading down the mountain.
Down by Ingalls Creek I met a couple who had just come from skiing south face of Stuart. Then it dawned on me that the voices I heard earlier was theirs. Better than feeling bored and unmotivated by the ascent back to Longs Pass, I asked to hike out with the couple. It turned out that our only mutual friend was one who just became the youngest person to complete the Bulger List. Small world!