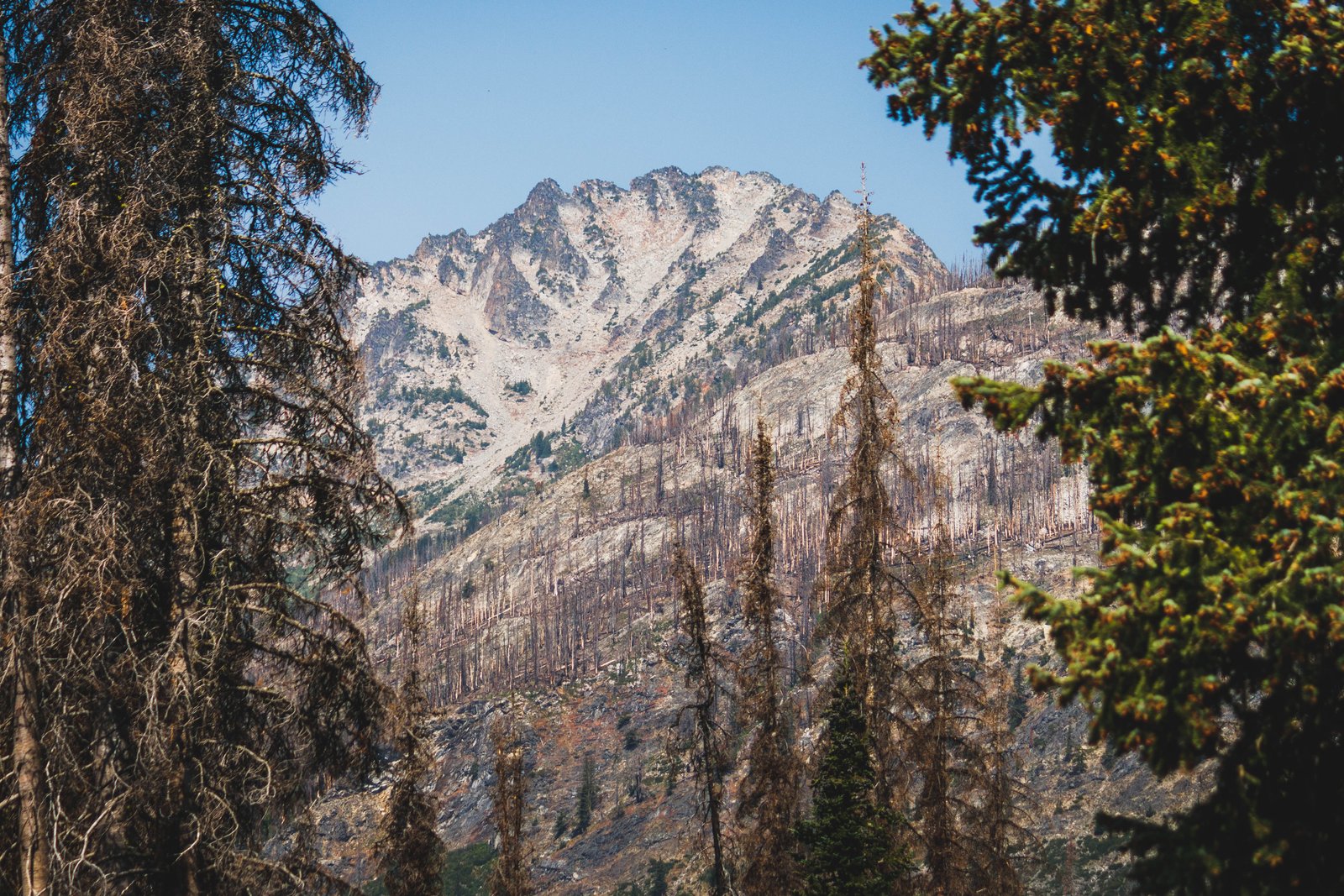 Photos from this trip can be found here.
First time I took notice of the beautifully glaciated Entiat River Valley, I had just topped out on my first of the Washington highest peaks. Being new to hiking, it was unbeknownst to me that a trail actually existed and lead to the head of the valley through Entiat Meadows. But sadly, I never got the chance to hike the nice trail before Wolverine Fire drastically devastated the area, sending portions of the trail under an enormous quantity of down trees.
Pup and I hit the trail early Saturday morning under the iffy weekend weather forecast. I was pretty stoked to check out the Entiat Meadows, and kept my fingers crossed for the sky to clear up. The nice and sandy Entiat River Trail took us past the junction where we turned off to climb Gopher Mountain and Choral Peak last year. In a year-old report indicated that the trail had been cleared of down trees up to Candy Creek
Photos from this trip can be found here.
The trail between Snow Brushy Creek and Aurora Creek was arid and strewn with chopstick like dead trees. But we were treated with constant views of South Spectacle Butte, Mount Maude, Freezer, and Icebox throughout this section. Thankfully the low morning temperatures kept the mosquitoes at bay. Once we hiked past Candy Creek, things started to become laborious.
Initially we were able to follow game trails weaving in and out of massive down trees. But somehow we missed the hikers trail when we came out onto the first clearing by being too far east of the river. We relocated the trail before the river bend, as the trail took a turn due west below Tinpan Mountain. There we experienced the worst section of down trees. To top it off, swarms of mosquitoes finally decided to come out and feast.
Photos from this trip can be found here.
At the second clearing at 5,100′ directly below the south face of Buckskin Mountain, we set up camp and rested for a while. I had contemplated climbing the mountain early next morning, but the bloodthirsty mosquitoes had me think otherwise. Afternoon was still young, and my guts told me we would probably make the summit and be back before dark.
I took notice of some rain clouds congregating to the west as we set off on the gentle south slopes. Several north-trending ribs extended above the meadows, naturally we picked one with the least amount of down trees and resistance to head straight up. Supposedly there was an old trail that went across the ribs up to the east ridge, but we never located it.
Photos from this trip can be found here.
The scramble went surprisingly smoothly and it took much less time than anticipated to get above timberline. At one point it started to drizzle, and we took refuge under a group of big trees to wait out the light rain while the dramatic view of North and South Spectacle Buttes. Luckily rain only lasted 10 minutes or so.
Instead of attaining east ridge at 6,600′ and then traverse west, as mentioned in a couple of reports, we climbed up the snow-free, steep south gully for a much direct approach. To avoid potential rockfalls in several places, we stayed to the right of the gully on mixed heather and scree terrain. At one point we got too far to climbers right and nearly got cliffed out by the buttresses extending down from the east ridge.
Photos from this trip can be found here.
After getting back on track and continued to go up in the main gully, we eventually attained the east ridge at 7,900′. We got our first look at the northern peaks to the north of Holden Village and the view was already breathtaking. Another 200′ of steep ridge scrambling and we finally topped out at 8,124′. To the west, the rain clouds that I took notice earlier looked to have doubled in size.
Out of the corner of my eye I felt a flash of lightning, and soon afterward the sky began to rumble. Holy isht, we did not need to be struck by lightning right now! As I felt the hair on my arms started to stand on end, I quickly gathered all of the metal objects, including the dog collar, and stashed them under a big rock off to one side of the summit. Then pup and I crouched under a big boulder on the other side and waited.
Photos from this trip can be found here.
Lightning accompanied by the roar of thunder continued for another 15 minutes before quieting down. Soon afterward the sky began to let out small openings and the evening light seeped through. Fascinating how quickly everything transpired from a thunderstorm to partly sunny sky. Yet the 15-minute wait time felt like an eternity. First time for everything…
Not wanting to spend any more time than necessary on the summit, after a quick photoshoot pup and I proceeded to make a fast descent. It didn't look like the thunderstorm was coming back anytime soon, but I wanted to get off the mountain fast now that weather had calmed down. Getting down 3000′ on scree and slippery slopes wasn't exactly what I'd call fast, but we made it down safely, woot!
Photos from this trip can be found here.
After a restful night in the meadows, the next morning we packed up for the 14-mile trek out as temperatures began to rise. By the time we got back to the arid trail between Snow Brushy Creek and Aurora Creek, the ground had already been cooked under the morning sun for a good while. Pup cleverly avoided parts of the scorched trail by walking among scrubs alongside me.
Small pools of water in several dying streams provided momentary relief before moving on. Back at Snow Brushy Creek we took a long lunch break, so pup could enjoy a good soaking under the log jam.
Photos from this trip can be found here.
Access: Entiat River Trailhead
Gear: helmet