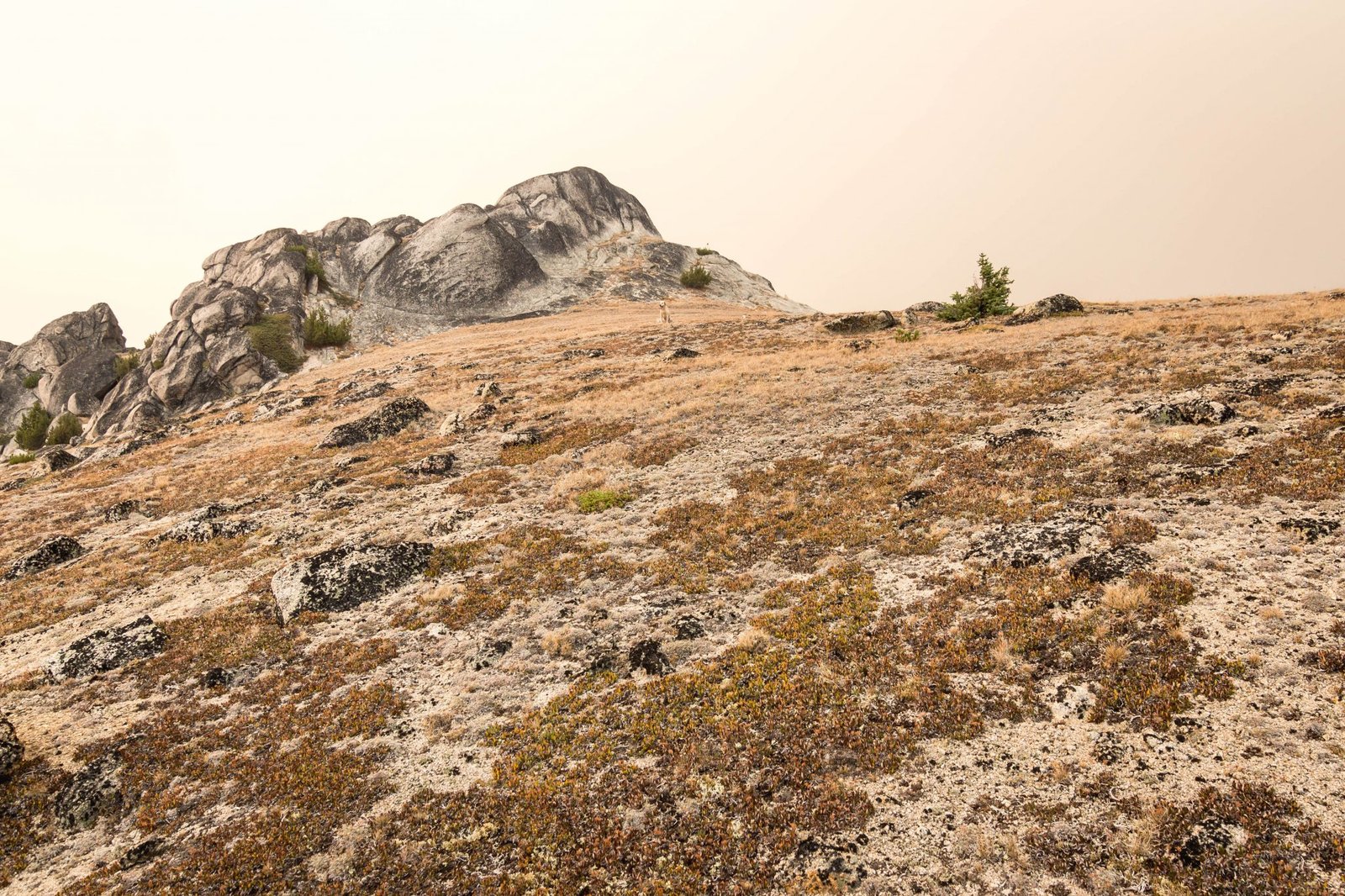 See more trip photos here.
The Lowdown on Boundary Slam
Boundary Slam = Wolframite Mountain + Bauerman Ridge + Arnold Peak + Horseshoe Mountain
Environs = Teapot Dome + Haig Mountain + Rock Mountain 7641 + Armstrong Mountain SE Peak + Pick Peak + Topaz Mountain
邊界滿貫=鎢錳鐵山+鮑爾曼脊+阿諾德峯+馬蹄山
周圍地區=茶壺巨蛋+海格山+石山+阿姆斯壯山東南峯+皮克峯+黃晶山
Access: Cathedral Driveway Trailhead
Round Trip: TBD
Elevation Range: 4280′-8137′
Gear: none
GPS Track: available

Logistics Overview
September 1-4, 2017
Overview > Day 1 > Day 2 > Day 3 > Day 4
Day 1 – Friday, September 1
Approach to Tungsten Mine
Night 1 – Trail #534 by Cinch Creek
Day 2 – Saturday, September 2
Wolframite Mountain + Bauerman Ridge + Teapot Dome
Night 2 – Teapot Lake
Day 3 – Sunday, September 3
Haig Mountain + Rock Mountain 7641 + Armstrong Mountain SE Peak + Arnold Peak
Night 3 – Sunny Pass
Day 4 – Monday, September 4
Horseshoe Mountain + Pick Peak + Topaz Mountain
Exit
---
The two things I did differently on this trip both had worked out well. First, I made my breakfasts and lunches; I only ate "Mountain House" for dinner. Second, knowing we'd spend most of our time on the Boundary Trail, I wore hiking boots instead of backpacking boots. As a result, I had zero foot issues on this trip.
The section of Boundary Trail from Tungsten Mine to Horseshoe Basin elevation ranged from 6800′ to 7200′. Being above 7000′ most of the time meant the elevation gain to any summit was no more than 1000′. But by the end of the trip, we had inhaled more wildfire smoke than all of the previous years combined.
Day 1
Approach to Tungsten Mine
Overview > Day 1 > Day 2 > Day 3 > Day 4
See more trip photos here.
Hazy Evening Approach
Pup and I started hiking from Cathedral Driveway Trailhead (#510A). The same trail we used to access Cathedral Slam peaks in 2014. We started moving at 5:30 PM with just over two hours until sunset. The smoke permeated the western sky was captivating. Depending on the amount of light through the thick smoke, the ghostly sun sometimes resembled a full moon.
Due to wildfires, a sign by the Fire Creek Trail junction denoted the closure to the west of Cathedral Pass. After a short exchange with two hikers and their three dogs exiting from Remmel Lake, we got on Trail #534. Since all of our climbing objectives were east of the pass on the Boundary Trail, I wasn't too concerned. We hiked for another hour after sunset and then found a campsite next to the trail by Cinch Creek.
Day 2
Wolframite Mountain + Bauerman Ridge + Teapot Dome
Overview > Day 1 > Day 2 > Day 3 > Day 4
See more trip photos here.
Bluebird Morning Start
We started hiking early the next morning to enjoy the bluebird weather. Tungsten mine was just how I remembered it: deserted and eerily quiet. I filled my summit pack with necessities and then hung the rest of the gear behind the main house. Then pup and I hiked westbound on the Boundary Trail to Wolframite Mountain.
The trail took a sharp turn heading south at the head of Tungsten Creek at 7000′. So from there, we scrambled east toward Wolframite's west ridge. By then the wildfire smoke from out west had crept in, it was only mid-morning! The smoke engulfed Cathedral Pass, and most peaks were no longer visible. Similarly, the smoke caught up to us a few hundred feet below the summit.

See more trip photos here.
Invasion of the Wildfire Smoke
Summit views consisted of ghostly outlines of mountains. At the same time, the sun was trying to let in more light. We traversed the summit ridge to all the high points. Rather than reversing our route on the way down, we took a shortcut by heading southwest. We bypassed cliffs on the south slopes and rejoined the trail halfway between the mine and the trail bend.
After a quick stop back at the mine, we continued eastbound on the Boundary Trail. Our next objective was Bauerman Ridge. The season must've been incredibly dry! Due to the dryness, we couldn't find a single drop of water between the mine and Bauerman Ridge.
See more trip photos here.
Strolling Through the Boundary Trail
Along the way, the intermittent streams alongside Boundary Trail had all dried up. Likewise, pools usually filled with water were now bare and cracked. Feeling dehydrated while getting our hopes up searching for water gully after gully, we left the trail and scrambled northeast.
We got up to the high point on the smoke-free Bauerman Ridge. But it didn't take long before smoke caught up to us once again. A while later we dropped onto the north slopes to see Scheelite Lake. It was tempting to walk over to the northwest high point, but later I changed my mind.
See more trip photos here.
Another Hazy Evening
Most high points were the eerie outlines of their typically grandiose selves. Similarly, the blood-tinted sun behind the façade of low crawling smoke conjured up a unique sense of aesthetics. Or perhaps it was my nausea from the lack of fresh oxygen.
Two and a half hours until sunset and we were still without water. We moseyed along Bauerman Ridge toward Teapot Lake (unofficial) to spend our second night. As luck would have it, we stumbled upon a few snow blocks in a deep notch. Despite the layer of ash on top, we very much needed the snow to hold us over until the lake.
See more trip photos here.
End of Day Two
Teapot Lake hasn't received any rain in recent months. So the lake has become stagnant with a thin, filmy layer of ash on top brought in by the smoke. But beggars couldn't be choosers. After all, this was our only water source until we found the next one.
Yikes! Immediately, I noticed some insect-like creatures swimming in the water. They all quickly moved away right when I scraped off the ash. So, other than what I had put in my bottle, I didn't drink any more water from the lake.

See more trip photos here.
Sunset Climb on Teapot Dome
After dropping off gear, we went up to Teapot Dome and caught the last glimpse of daylight. Bauerman Ridge, where we had just come from, was still visible. However, everything beyond the ridge was nothing but a blob of smoke. The enormous silhouette southeast of here was none other than Windy Peak.
We left the summit at sunset time and then got back to camp before dark to make dinner. The 12-hour day went by in the blink of an eye after tagging three high points. Deep into the night, the smoke cleared up as we lay underneath a sky full of stars.
See more trip photos here.
Day 3
Haig Mountain + Rock Mountain 7641 + Armstrong Mountain SE Peak + Arnold Peak
Overview > Day 1 > Day 2 > Day 3 > Day 4
See more trip photos here.
Back on Boundary Trail
The sun was shining after 7 AM as we welcomed another beautiful morning. But the good weather would all go away in the matter of a few hours. Scrambling along the massive buttress extending from Teapot Dome got us back down to the Boundary Trail.
I was so sure that we'd find water on the trail. But the decision to not pack more lake water turned out to be a big mistake. We passed several more dry stream beds and a good camp with dry water pools along the way. So perhaps getting more water from Teapot Lake wasn't a bad idea after all.
See more trip photos here.
Another Bluebird-Turned-Hazy Morning
A little while later on the south of Haig Mountain, we unexpectedly came upon a stream bed trickling with water. We took a break and packed enough water to get through to the next water source. Southeast of the summit at 7200′, we left Boundary Trail and hiked under a mile to the summit.
The bright morning skies quickly became hazy before 10 AM. And soon, more smoke crept in from the west surrounded us. There wasn't much to see past Bauerman Ridge. The high points east of here had become hard to discern.
See more trip photos here.
En Route to Horseshoe Basin
Back on the trail, we continued to hike east toward our next objective: Rock Mountain. Along the way, another big pond next to a group camp has dried up, of course! Not sure if I'd camp here in this droughty weather. Our mouths began to run dry again.
Fortunately, a short while later we found water at an intermittent stream south of Mount Regard. Then from the north slopes of Rock Mountain, we scrambled 600′ to the top. A giant boulder marked the high point. From here we got excellent views of today's last two objectives: Armstrong Mountain and Arnold Peak.
See more trip photos here.
A Human, a Horse, and a Dog
Down on the trail, we ran into a horseman traveling eastbound with his dog and three pack horses. They had come in from Iron Gate Trailhead and went to Remmel Lake area and back. The horseman has been here every year since he was a child, and was very knowledgeable about the area. Our pups played a while before the group went into the basin and disappeared into the haze.
To my dismay, the Loudon Lake I was excited to see was completely dry as well. Boo hoo! We left the trail past the lake and scrambled uphill into the vast and endless lush meadow. I stashed my pack at 7200′ south of Snehumption Gap, and then we scrambled up to Armstrong Mountain's south ridge.
See more trip photos here.
Dramatic Evening Clouds
The top of the southeast peak was flat; the east end was the high point. The summit was two hundred yards from the sheer east face. It only took minutes to walk over to Monument 104. From there, we checked out the fascinating international crop line. Standing on the border was one of the highlights of this trip.
Smoke stopped just short of Rock Mountain in the late afternoon. Then it rose high into the sky and created a head-like formation. The Carpenters song Top of the World by suddenly came into mind. But it was still sunny east of here. The Snowy Protected Area in Canada looked terrific, perhaps even prettier with snow.
See more trip photos here.
Last Summit of the Day
To the southeast, Arnold Peak looked enormous. To get there, we first scrambled down to Snehumption Gap at 7500′, and then climbed 500′ up the west slopes. A rock fort marked the highest point on this broad summit. By now it was getting windy; the wind was blowing in all directions.
We stayed long enough to get photos of the beautiful evening colors before heading back down. I just realized I had left one camera lens behind on Armstrong Mountain. So, finders keepers!
See more trip photos here.
En Route to Camp
Lush all around! I've finally come to an area backpackers have been raving about this whole time. From the top of Arnold Peak, we moved southwestward down to the meadow. We then hiked down to Horseshoe Pass at 7000′ after getting back on the trail.
Since we had another half hour before dark, I decided to just keep moving. I wanted to find a camp spot near tomorrow's objective: Horseshoe Mountain. Eventually, we found a decent site on Sunny Pass and settled in for the night.
See more trip photos here.
The smoke that hovered above all evening had suddenly dropped and stretched itself across the basin. Soon the blanket of smoke took away our view of the sky as the darkness fell.
Day 4
Horseshoe Mountain + Pick Peak + Topaz Mountain
Overview > Day 1 > Day 2 > Day 3 > Day 4
See more trip photos here.
The Final Glorious Morning
We woke up to a hazy basin on our last day. The weather forecast called for sunny. But since the smoke has been hovering, we didn't see much of the sun. The BBQ smell in the air no longer fazed us. We began hiking shortly past 7 AM toward Horseshoe Mountain's summit. The actual high point wasn't visible from the lower elevation.
Some deer were spying on us from the ridge as we moved across the meadow. Apart from chipmunks and grouses, they were the only big wildlife we saw on this trip.
See more trip photos here.
Smoky Views on Horseshoe Mountain
Horseshoe Mountain also had a broad summit like the other peaks. Of all the mountains we visited in the past few days, this was the only one with a register. Smoke had since trapped itself inside Horseshoe Basin. A thick haze had blanketed Armstrong Mountain and Arnold Peak.
Neither of us felt like moving after we got to the top. So pup took a beauty nap while I sat by the cairn reading through register entries from years past.
See more trip photos here.
Working Our Way South
Back on Sunny Pass, we repacked and hiked down to north saddle of Pick Peak at 7200′. From the saddle, the summit was just 400′ elevation away. Windy Peak looked much more intimidating from this vantage point. Everywhere we looked was still smoky.
After getting back to the saddle, we scrambled west to Windy Trail (#342). Then we hiked southbound through the humid Big Horn Creek Basin. There hadn't been a single drop of water since we left Sunny Pass. The water in the basin was stagnant, so we didn't drink any of it.
See more trip photos here.
Parched Throats in Need of H2O
Luckily, we came upon two small streams halfway to the Windy Peak-Topaz Mountain saddle. The streams were our last water source until later in the Windy Creek Basin. We turned right at the junction onto Trail Basin Creek Trail (#360) and hiked to our final destination: Topaz Mountain.
From the saddle, we came to the ridge and hiked up to the northeast slopes. The face comprised primarily of giant boulders and slabs. At first glance, the terrain looked technical. But with a bit of route finding, we found a sandy path and followed it to the top.
See more trip photos here.
Our Final Summit
Because the two high points looked equal in height, we traversed the summit ridge southwestbound and back. Windy Peak across Basin Creek Basin was the only visible structure. Everything to the north was perpetually under a thick haze.
I tried identifying peaks we were on the past few days. But then I became distracted by the amount of smoke in the way of my name-that-peak game.
See more trip photos here.
Outro via the Old Stomping Ground
We hiked back down to Windy Trail after lunch and a photo session. Then we followed the trail and got around the gentle western slopes of Windy Peak. We took a right at the 7,800′ junction and descended into Windy Creek Basin.
The trail crossed the creek a few times, but it mainly stayed to the east. Lots of down trees in the last 400′ descent before we reconnected with Trail #510. Another half a mile uphill hike later, and we were finally back at the car.
See more trip photos here.
Forest service had placed a blockade at trailhead had a blockade after we went in. They also put up a new sign with additional trails added to the closure list.