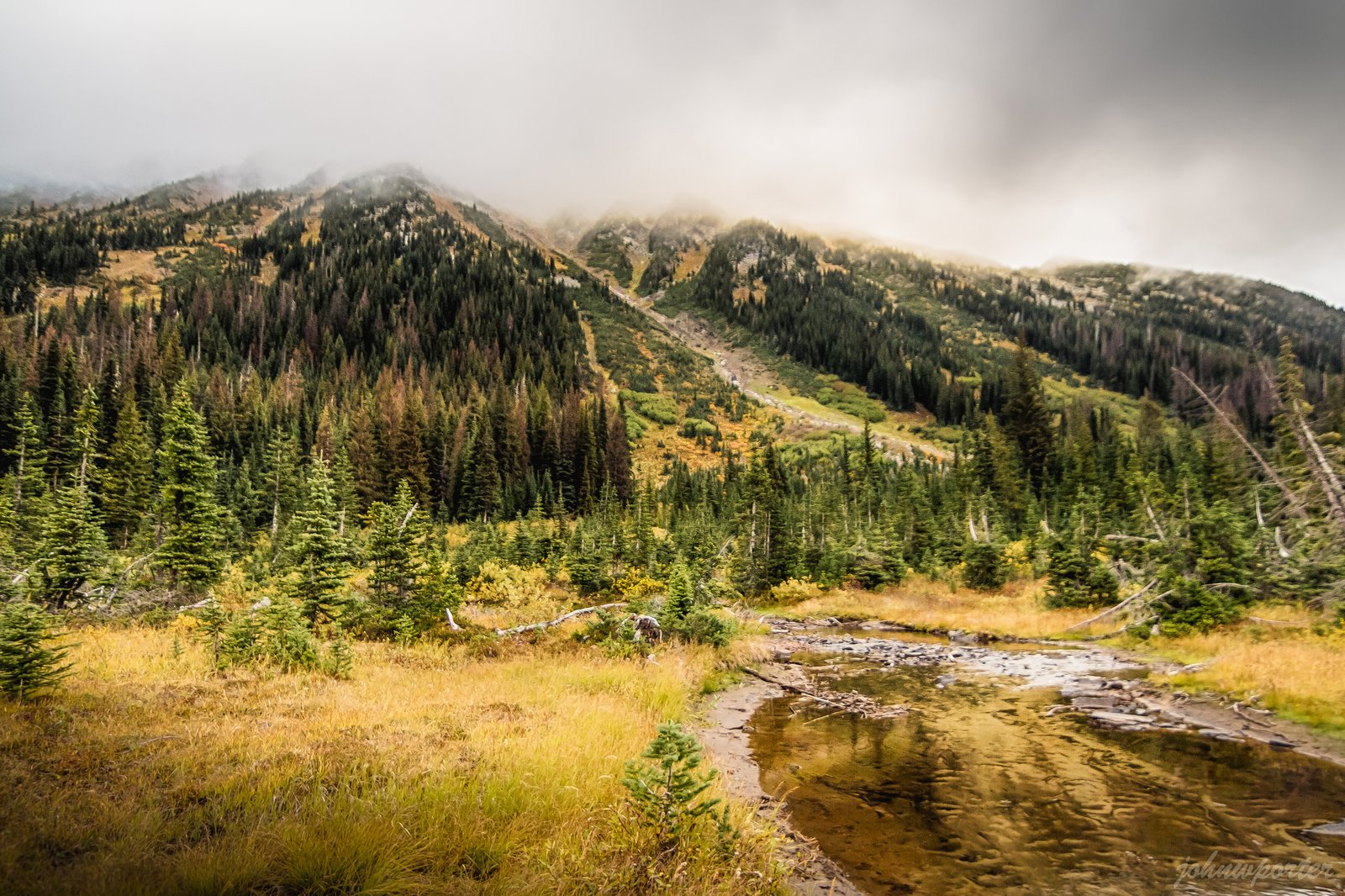 Photos from this trip can be found here.
Last backpacking trip to wrap up the climbing season, which had been a great one. I got to spend more time outdoors with the pups (or at least one of them) once I finished the Bulger List first weekend in July.
Yellow pup and I went into Northern Picket Range first time in June and climbed Luna Peak. It turned out to be one of our most memorable trips, as we got to ride water taxi on Ross Lake for the first time and witnessed the most rugged Cascade terrain.
Back in August while climbing West McMillan Spire, partners and I talked about going up Hozomeen Campground by water taxi, so they could climb Hozomeen Mountain and I'd go after Castle Peak. But Labor Day weekend turned out to be a complete wet one, so that plan fell through. However, last weekend in September weather looked promising, so pup and I approached from Castle Creek instead of paying $350 RT on water taxi through Hozomeen Campground.
Monument 78 Trail was in pretty good shape except for one washed out section, with enough flagging guiding the way. Not much to see from the trail but the occasional views of Windy Joe Mountain as trail wrapped around its south side. Before long we were at the border camp and took a breather there.
Just east of the PCT (Pacific Crest Trail) bridge next to the border camp, we immediately began bushwhacking and down tree pole vaulting. This approach was quite comparable to some of the worst bushwhack jobs on Bulger List. Pup and I spent most of our time travelling in forest with occasional clearings, first one being the international border/crop line. We saw a couple of people (presumably PCT finishers) standing by the northern terminus monument east of Castle Creek. Two more clearings ahead provided momentary relief from bushwhacking, albeit muddy and swampy.
The approach was relatively flat until Castle Creek took a turn due west at 4,500′, where we started heading uphill while negotiating lots of down trees. A report warned to not stay too high on north side of creek, but of course we did just that and got ourselves in endless alder madness. Eventually we fought our way through to 5,500′, good water source and camp with view of Castle Creek Basin.
It rained overnight, and next morning Castle Peak's summit was nowhere to be found. Since views up top were probably going to be nonexistent, I contemplated packing up and heading out, until suddenly I remembered the long and painful approach and scratched the silly idea. Shortly after leaving camp and getting to the base of the wide gully on Castle's south slopes, weather looked as if it were taking a turn for the better by letting in some sunlight through thick clouds.
At 6,800′ we took a northeast-trending gully and aimed for the 7,400′ notch, but ended up being 200′ higher on the ridge. From there, we stayed on the south side of southeast ridge and slowly worked our way up the ridge through slabs, giant boulders, and snow fingers to the south face of summit block. A short scramble put us on the summit of Castle Peak.
Wish we had views! I was really looking forward to looking into Canada and getting photos of the surrounding peaks. The view of Hozomeen would have been quite impressive from this summit. Alas, another time.
On the descent pup and I went down southwest ridge and got a quick glimpse of Freezeout Creek Basin, quite impressive! I scoped out Castle's south face from the ridge and it looked totally doable, just lots of the typical Cascade choss and scree. At 6,800′ we reconnected with our up track and safely got back to camp at 1,300′ below.
On the way out, I discovered by following Castle Creek on its south side, we bypassed all the alder we dove into on the approach. At 5,400′ we found a good place to cross the creek to the north side and bypassed the 5,200′-5,300′ cliffs on the south side. At the bottom of the cliffs at 5,200′, we headed northeastward to 5,000′ and reconnected with our up track. Then got back down to 4,500′, where Castle Creek took a turn due north. From there, it's just more of the same bushwhack but in reverse.
We got into the border camp just after dark, set up camp and quickly turned in for the night. Next morning we followed Monument 78 Trail south to check out PCT northern terminus monument. Two through hikers arrived at the monument shortly after us, I congratulated them for their hard work and effort to get all the way from Mexican border to here. Lots of respect for PCT through hikers.
We got back to camp an hour later, then packed up and proceeded to hike out on a sunny Monday morning. The aesthetic drive west through BC Manning Provincial Park and Sunshine Valley had me in awe of the gorgeous Canadian mountains ranges and valleys at almost every turn. We will be back!