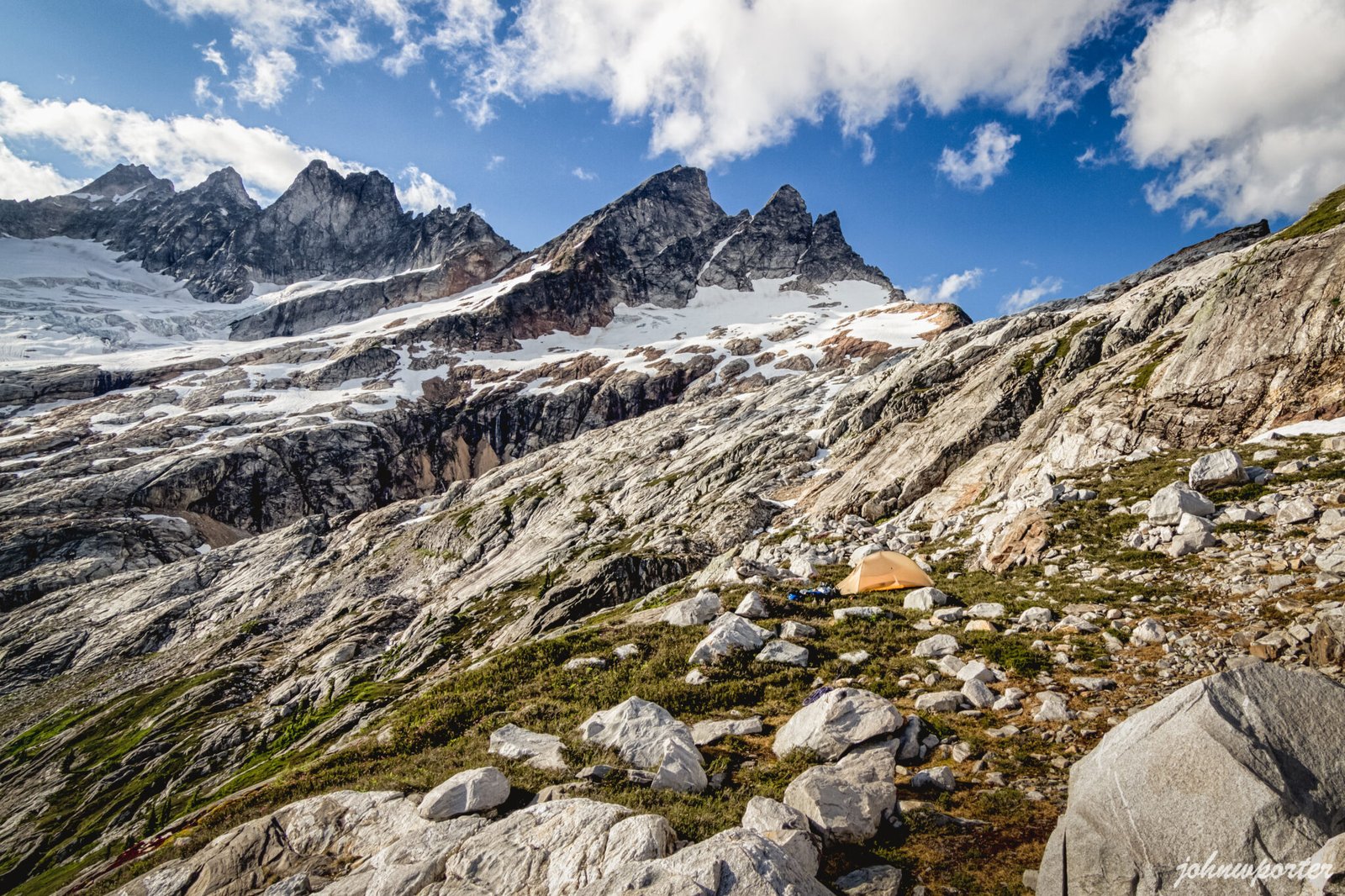 Photos from this trip can be found here.
After witnessing the beauty of the Picket Range from Luna Peak earlier this season, I couldn't wait to see more from another perspective. West McMillan Spire offers the least technical climbing in the Southern Picket lineup. Two friends joined me on this trip after their Northern Picket traverse plan fell through. It was our first approach from Goodell Creek.
Upon leaving Goodall Creek Trail, the approach was more or less straight up! Terrain flattened out at the meadows, proving breathtaking views into eastern half of the South Pickets. The western half wasn't visible because of The Barrier, a ridge that extended southward from the base of Mount Degenhardt.
We lost the climbers trail at one point, but eventually reconnected with in the upper meadows and made our way to the notch that provided access into upper Terror Basin. The views just kept getting better the closer we got to camp. Weather was gorgeous all of first day of the approach; clouds started to roll into the area after dark.
We wanted to get a head start the following morning to tackle both Inspiration Peak and West McMillan Spire. But when we got up at 4 AM, we could see nothing but clouds around us. Three hours went by and we unanimously decided to head up to the glacier and hope that the weather would turn better. Low clouds began to dissipate the closer we got to Terror Glacier, but the high clouds were too stubborn to leave the mountain tops alone.
Since we already lost some precious time getting to this point, we poked around Inspiration and knew there wasn't enough time to climb both peaks given the amount of hours we had left. We soon made our way next door to McMillan so we could at least get one peak out of this trip. Getting from the snowfield up to southwest ridge of McMillan was a lot of work on steep snow. But once we were on the ridge it was just your typical boulder/choss scramble to the top.
There were some views at the top, but we never saw Inspiration even though it's right next door. Luna, Prophet, Fury, and Elephant Butte would show up at different times depending on direction the clouds were moving. After about an hour at the top, we started heading down back to camp. Getting down the steep snow was a little nerve-racking, kinda hoped I had my ice tools with me to make things easier.
Next morning weather turned back to bluebird, so two of us went up the ridge separating Terror and Stettatle Basins to get a closer look of East McMillan and Little Mac Spires. From the ridge we also got a great view of Azure Lake at head of the Stettatle Basin. There just wasn't enough time to soak in all this goodness, will for sure return at some point.