I first witnessed the beauty of the Picket Range from Luna Peak earlier this season. I couldn't wait to experience more ruggedness from another angle. Then to prepare for our West McMillan Spire trip, my partner and I went up to Mount Pugh.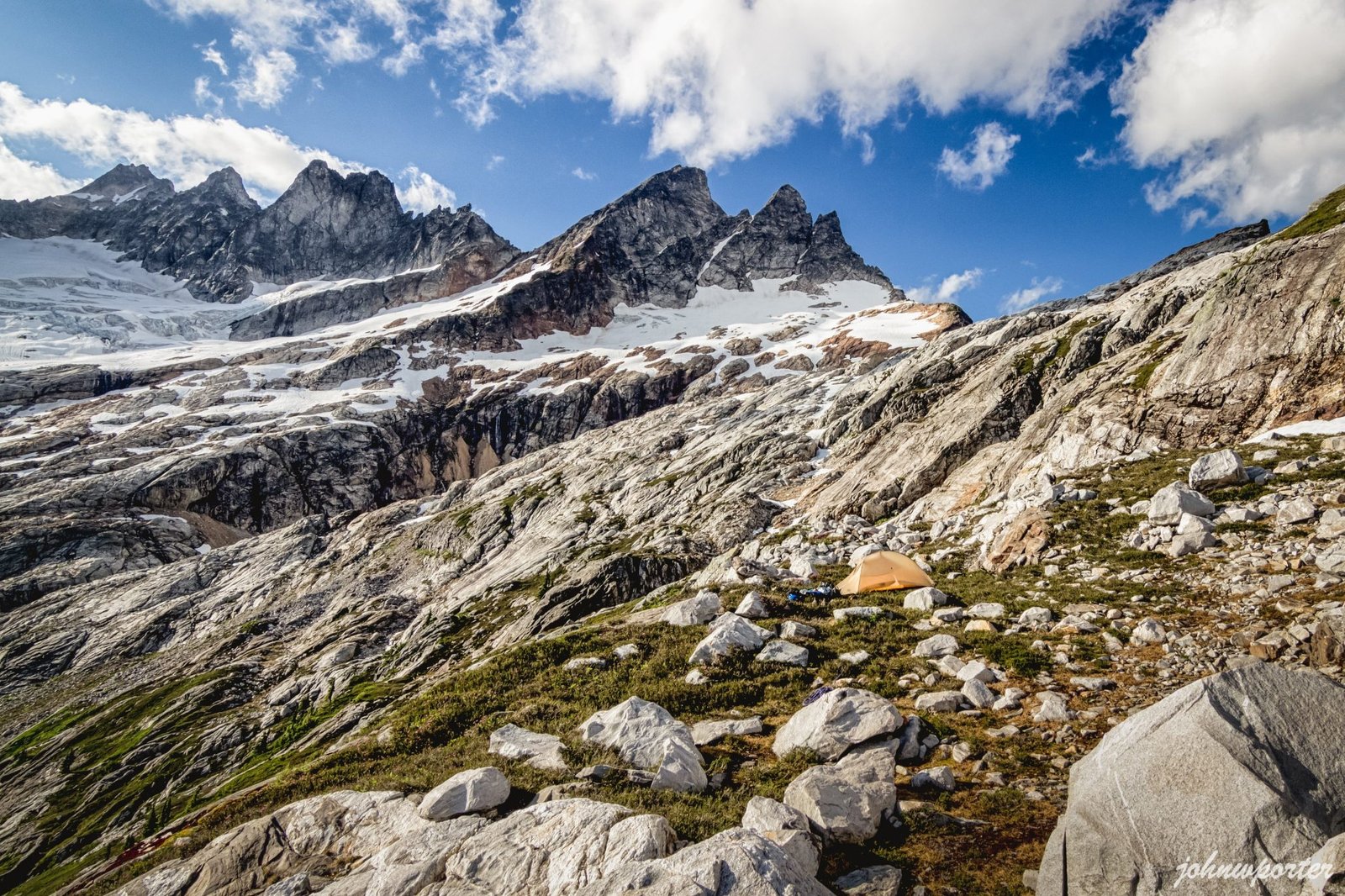 See more trip photos here.
West McMillan Spire at a Glance
Access: Goodell Creek Cross-Country Zone Access Trailhead
Round Trip: TBD
Elevation Range: 600′-8000′
Gear: helmet, rope, rock
GSP Track: available
Logistics Overview
July 30 – August 1, 2016
Overview > Day 1 > Day 2 > Day 3
Day 1 – Saturday, July 30
Approach to Terror Creek Basin
Night 1 – McMillan Camp at 5800′
Day 2 – Sunday, July 31
West McMillan Spire
Night 2 – McMillan Camp at 5800′
---
Day 1
Approach to Terror Creek Basin
Overview > Day 1 > Day 2 > Day 3
Hiking to Terror Creek Trail Junction
After researching, I learned that West McMillan Spire offered the least technical climbing in the Southern Pickets. So when my friends' picket traverse plan fell through, they joined me on this trip. It was also my first time in the Goodell Creek drainage.
Because of down trees, it took us a while to get through Goodall Creek Trail. Then the climb went straight up from the junction! The terrain eventually flattened in the first meadow. So from there, we had fantastic views into the eastern half of the Southern Picket Range. But the other half wasn't visible because of The Barrier. It is the ridgeline that extends down from the base of Mount Degenhardt.
See more trip photos here.
Getting to McMillan Camp
We somehow lost the climbers' trail at one point. But then we found the path again in the upper meadows. From there, we then slowly made our way up to the access notch. In turn, it allowed us to go into Terror Creek Basin. The closer we were to our campsite, the better the views. The weather was also beautiful on day one.
But the clouds began to roll into the area shortly after dark.
See more trip photos here.
Day 2
West McMillan Spire
Overview > Day 1 > Day 2 > Day 3
Terror Glacier in a Whiteout
The goal was to get an early start the next morning. So we could climb both Inspiration Peak and West McMillan Spire. But when we woke up at 4 AM, clouds had filled the area. So we waited for three hours inside our tents. Then we decided to walk up to Terror Glacier and hoped for better weather later in the day. But just as we got to the edge of the glacier, low clouds began to move. But the high clouds persisted.
Since we had burned so much daylight, there probably wasn't enough time to climb both peaks. We also had a hard time locating the start of the climb on Inspiration Peak. So we knew for sure that getting on both peaks today was out of the question. So we made our way next door to McMillan. We wanted to climb one mountain on this trip, at least.
See more trip photos here.
West McMillan Peak Climb
Going from the snowfield up to the southwest ridge of West McMillan Spire took some time. It took more effort to climb on steep snow. But we managed to get up to the crest eventually. Then it was just the typical scramble in chose to reach the summit.
There were spotty views on the summit. But we never saw Inspiration Peak even though it's right next door. But depending on the direction of the wind, Luna Peak, Mount Prophet, and Mount Fury would appear at different times. After spending an hour on top, we started to head down. But getting down the steep snow was a bit nerve-racking. I wish I had brought my ice tools with me.
See more trip photos here.
Overview > Day 1 > Day 2 > Day 3
Outro
The next morning, the weather went back to sunny. So two of us went up to the ridgeline separating Terror Creek Basin and Stettatle Basin. We wanted to get a closer look at the East McMillan and Little Mac Spires. From the ridge, we also got to of Azure Lake at the head of the Stettatle Basin. There wasn't enough time to take in all of this goodness. So I will, for sure, return at some point.