Mount Degenhardt of Picket Range by Mount Terror stands at 8000′ as the 10th tallest peak here. The peak rests at the north end of The Barrier, which also marks the midpoint of Southern Pickets. In turn, it separates the two basins–Terror Creek and Crescent Creek.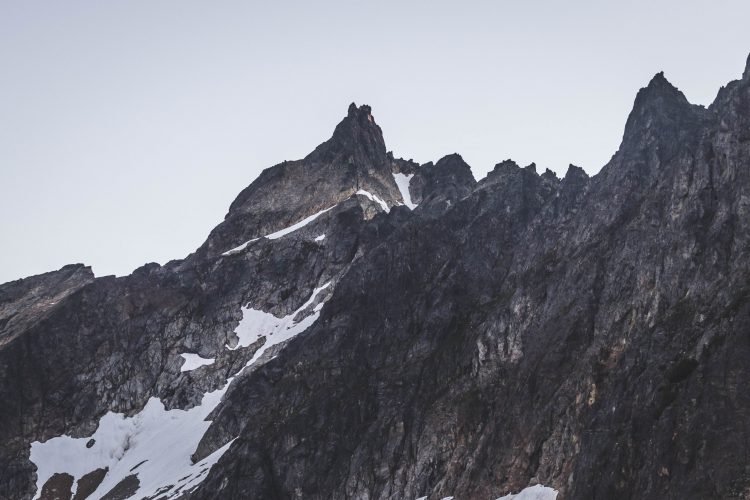 See more trip photos here.
Mount Degenhardt at a Glance
Access: Goodell Creek Cross-Country Zone Access Trailhead
Round Trip: 18.7 miles
Elevation Range: 600′-8000′
Gear: helmet, ice ax, crampons
Route Info: Relic, Matt Burton, Steph Abegg
GPS Track: available
Dog-Friendly: no pets
Logistics Overview
July 7-9, 2020
Overview > Day 1 > Day 2 > Day 3
Day 1 – Friday, July 7
Approach to Crescent Creek Basin
Night 1 – Chopping Block Camp at 6400′
Day 2 – Saturday, July 8
Staying Put
Night 2 – Chopping Block Camp at 6400′
Day 3 – Sunday, July 9
Mount Degenhardt + Exit
---
Day 1
Approach to Crescent Creek Basin
Overview > Day 1 > Day 2 > Day 3
Mount Degenhardt
The trip up Mount Degenhardt involved the same logistics as before. First, I looked for a decent weather window. Then it was getting a permit from the only ranger station in operation this season.
The only difference was that I had an approach partner this time. They had reached out through my blog back in April. But their main goal was photography. Then they would either hang out or exit depending on the weather.
See more trip photos here.
Goodell Creek Trail
It's my third time going into the Picket Range this way. The first time was the West McMillan Spire trip. Then it was Mount Terror in 2018. From what I saw, nothing much had changed on this trail. The down trees were all still intact.
It had rained the night before. So the brushy trail was still damp. My partner regretted not bringing rain pants. But I, on the other hand, waited for the cloudy weather to improve. So everything would dry off later.
See more trip photos here.
Terror Creek Plus Steep Terrain
We made our way down to Terror Creek using cairns and flagging. Later we crossed the water on a big log at 500′ upstream. We dove right back into devils club on the other side. Then we went downstream and took a water break.
Soon, we followed the steep trail and went up the slope. While standing and chatting, I felt my right calf snap all of a sudden. Then I realized that I had torn a muscle. But I was still able to walk without much pain. So we continued.
See more trip photos here.
The Barrier South Ridge
Later we rested on the ridge crest at 3640′. So I checked out my leg. But I still couldn't tell whether it was just a strain on the muscle. I had become used to walking on my toes to lessen the discomfort. Though, the walking had slowed down a bit.
Now leading the way, my partner did an excellent job in following the faint trail. They even learned to look for flagging. Right below the tree line was a brushier section. But we stayed on the ridgeline until we broke out into the open.
See more trip photos here.
South Basin
Once we went out of the trees, we began to move northwest. Then there was the constant view of Pinnacle Peak (aka Chopping Block). This time, many of the gorgeous slabs in the basin were under the snow. But we were able to bypass most of it lower down.
Eventually, we needed to walk through a few snowfields. But they were all moderate enough to traverse without traction device. We both brought crampons just in case things became spicy. Though, the gear would come in handy on the way down.
See more trip photos here.
Chopper Block Camp @ 6400′
The sun came out for a short while when we rested down on the ridge. But it quickly went back to cloudy for the rest of the afternoon. By the time we reached the bivy site, the clouds had obscured the Southern Pickets entirely. In other words, the forecast had worsened since a couple of days ago.
Later we set up camp and then hung out. Then after dinner, more clouds moved into the area. It was also windier than I would've liked. So we were a bit concerned about the next day's weather outlook. We both went into our bivy sacks just before dark.
See more trip photos here.
Overview > Day 1 > Day 2 > Day 3
No Mount Degenhardt Today
I set my alarm for 5 AM. Later I took a peek outside, and the entire area had submerged in a sea of clouds. The visibility was just a few yards. "Damn!" I thought to myself. So that meant there would possibly be no climbing today.
After sleeping for another couple of hours, I awoke to find the same weather condition. But I kept my fingers crossed for the mist to dissipate in the late morning. If the weather wouldn't clear up by noon, then I would have to alter my climbing plans.
See more trip photos here.
Hanging Out at Camp
Today's weather reminded me of the Fourth of July weekend. The clouds seemed like they hadn't moved an inch! Later we decided that we would hang out at camp. There wasn't a whole lot to do or views to photograph. But a few marmots came to visit us throughout the day.
When 5 PM rolled around, the sky had let out some sun rays. But the Southern Pickets remained misty. I went up to the bump west of our camp and watched the shifting clouds. Then my partner joined me later for spotty views of Mount Despair before sunset.
See more trip photos here.
Overview > Day 1 > Day 2 > Day 3
Mount Degenhardt Climb
We woke up to a blue sky with a temperature inversion in the Goodell Creek Valley below. The plan for the morning was for me to climb Mount Degenhard. Then my partner would make their exit shortly. They needed to be back home at a reasonable hour.
Soon, we bid farewell to each other. Then I took off for the rocky Crescent Basin. Like before, I avoided the snow slopes below the ridge. Later I traversed the basin and put on crampons when I encountered more snow.
See more trip photos here.
Mount Degenhardt Northwest Ridge
I moved through the moderately inclined snowfields. Then I made my way up toward the ridge between Mount Degenhardt and Mount Terror. It was surprising to find a small glacier at the top of the snow. But I was able to bypass it to get up to the rocks.
Later I moved through class 3 and 4 terrains without any issues. My only concern was the tiny streams dripping over the rocks. So I was extra mindful of my foot placement to avoid any slipping. Soon, I reached the ridge and checked out the other side.
See more trip photos here.
Summit Ridge Traverse
I enjoyed the sight of Mount Fury from last weekend. Then I continued southeast toward the summit block. I wasn't sure whether the tower above me was the real summit. But along the way, I tested out a few notches. My goal was to go around the eastside using Beckey's descriptions.
Then at the final notch below the top, I went around the tower with class 4 moves. I knew I was on the right track when I spotted the rappel anchor on the other side. From there, I climbed up from the south side and went straight up to the summit.
See more trip photos here.
Mount Degenhardt Summit
Glad after a day of waiting, there was excellent weather on the last day. But I wish my partner was able to enjoy the views on the way down, at least. After orienting myself, I began to identify the nearby peaks. Mount Terror was practically in my face!
Ther were even more familiar peaks farther out. But I couldn't take my eyes off the Northern Pickets, especially Mount Fury. I still couldn't believe we had climbed the gnarly looking massif!
See more trip photos here.
Outro
Like on any summit, when the weather was fantastic, I didn't want to leave. Though, I must have taken panoramic photos in every direction. Later I looked over at West McMillan Spire and saw people on top. A group of three were walking on Terror Glacier.
Even though I had brought a rope, I downclimbed instead. Soon, I made my way back down to the snow. Then I made the arduous traverse through Crescent Basin and up to the ridge camp. Later by the trail junction, I met the group that had climbed West McMillan Spire.
See more trip photos here.