The pup and I climbed Gunn Peak after an my enjoyable trip in the Pickets. It has been on the back burner list for a few years. But I finally had time to for it this season. Though, we had a super late start at half past noon.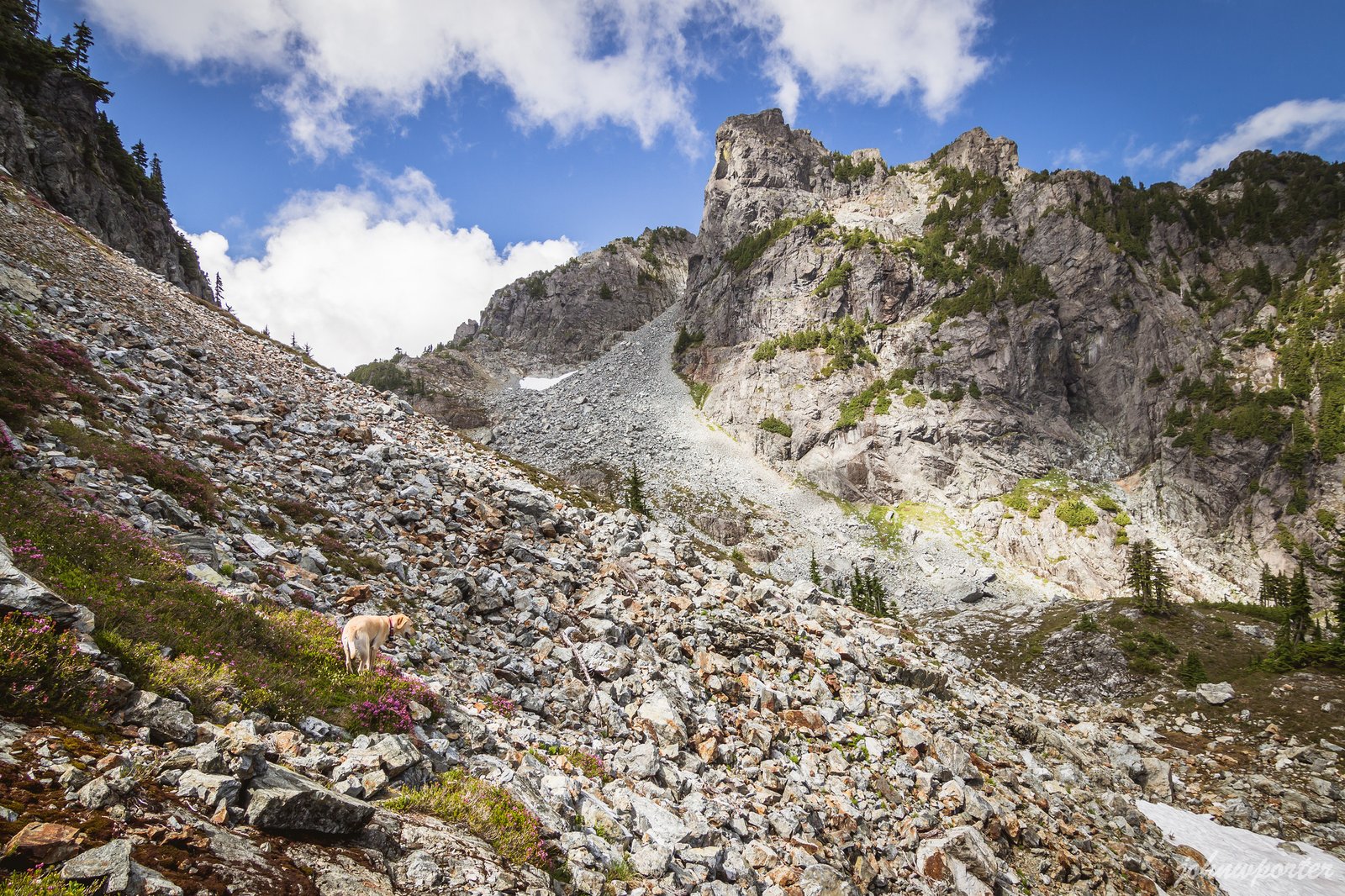 See more trip photos here.
Gunn Peak and Tailgunner at a Glance
Access: Barclay Creek Road (NF-6024)
Round Trip: TBD
Elevation Range: 2180′-6240′
Gear: helmet
GPS Track: available
Dog-Friendly: on the trail
Going up to Tailgunner
The crux of the climb was probably finding the access trail. But fortunately, Redwic has a comprehensive write-up on SummitPost that I recently discovered. It even had a detailed, hand-drawn map to help with getting to the starting point.
The lower part of the climb was fairly steep. The pup and I somehow lost the climbers trail near the upper basin. So we nearly walked straight into the large alder swatch. Once we went up to the meadows below Tailgunner, the terrain then eased up quite a bit. From there, we got our first look at Gunn Peak.
See more trip photos here.
Gunn Peak Summit Plus Lake View
We carefully made our way up the south side of the peak. There were lots of scree to get through. Shortly, we took the hidden ramp and went up to the notch. From there, we then went around to the north side of the peak. The narrow ledge leading up to the summit could be a potential crux when the snow is present. Glad that it wasn't a concern this time of the year.
Clouds rolled into the area just before we got up to the top. So the views were minimal. We hung out for a while, hoping for the mist to dissipate. Meanwhile, we could see Gunn Lake at the bottom of the cliffs. Sunlight occasionally broke through the clouds and glistened the lake water. I couldn't see Gunnshy Peak through the mist.
See more trip photos here.
Outro
On the way down, the clouds slowly went away. We had missed the view of the southern peaks earlier from the top. So we stopped on the south side to take photos. Afterward, we made our way down to the meadow. Then we made a pit stop on Tailgunner. I wanted to get a good look at Gunn Peak from there. The nearby peaks were Merchant Peak, Baring Mountain, and Townsend Mountain.
While making our way down, I wanted to see how we had missed the trail earlier. As it turned out, I was just not paying attention at all. There were even cairns out in plain sight! Afterward, we made our way down through the steep part of the trail. Then we got down to the car shortly after dark.
See more trip photos here.