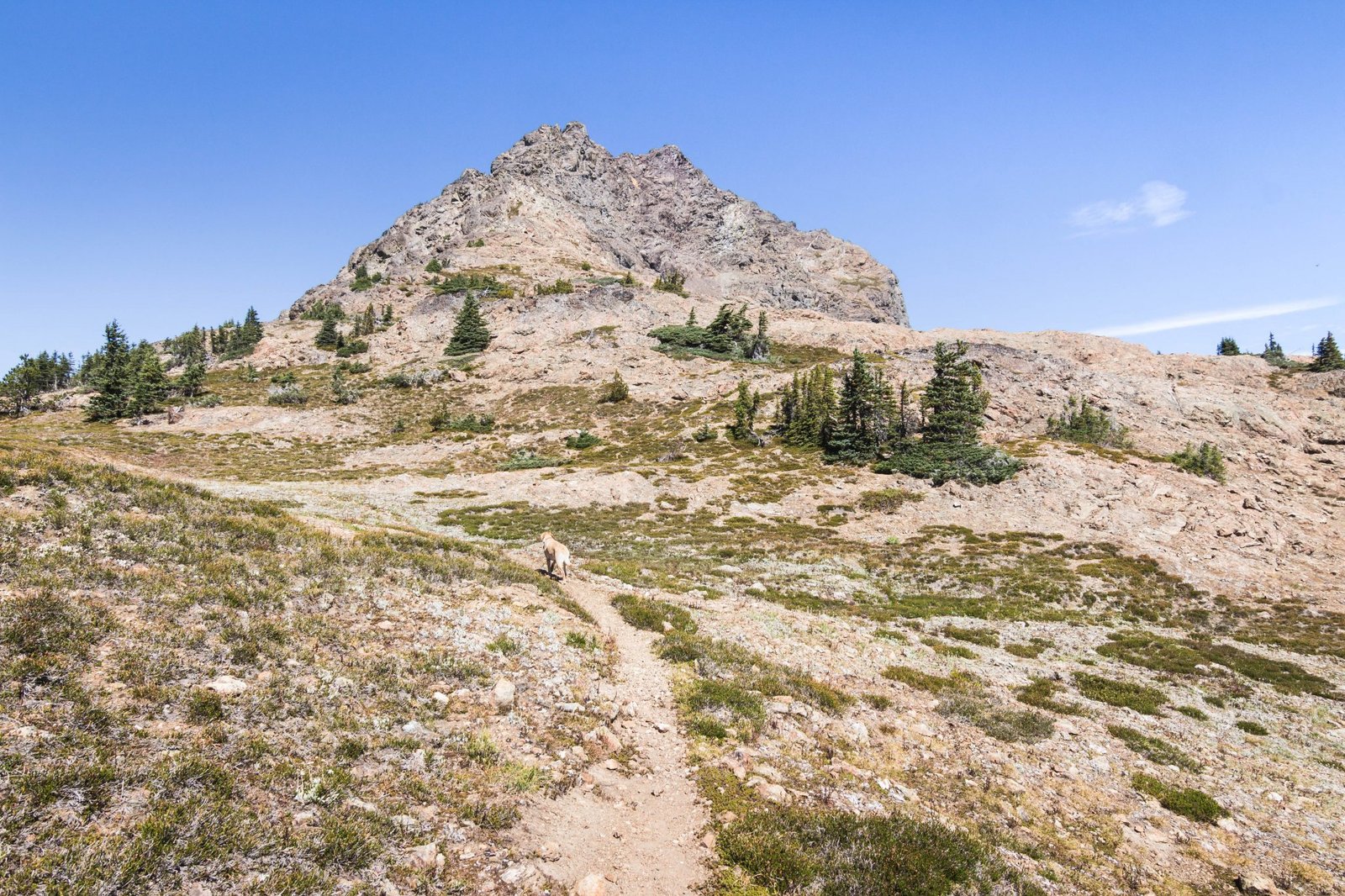 See more trip photos here.
Crater Mountain was our last-minute plan. We came off Freezeout Ridge the evening before, then spent two hours driving to the west end of Pasayten Wilderness. There we car camped near the Canyon Creek Trailhead. In the morning, we pulled into the parking lot with over a dozen parked cars.
The Lowdown on Crater Mountain
Access: Canyon Creek Trailhead
Round Trip: TBD
Elevation Range: 1080′-8128′
Gear: helmet
GPS Track: available
Jackita Ridge Trail Approach
Jackita Ridge Trail (#738) was just as steep as I remembered it from two years ago. We first crossed two bridges over Granite Creek and Canyon Creek. Then after a couple of long switchbacks, the trail immediately went straight up the south slopes.
The elevation eventually tapered off at 5000′. Then we made a left onto the Crater Lake Trail by the junction. Another mile of hiking through the sometimes brushy trail and we were standing in front of Crater Lake. Sadly, not much left of the lake after an arid summer.
See more trip photos here.
En Route to Crater Mountain
We followed the hikers' trail heading west. Then we got onto the southeast ridge after meandered through the wilderness boundary. Steep terrain for another 400′, eventually the elevation tapered at 6800′. Then the trail changed direction to head north. Only the false peak was visible from below; the true summit sat behind it. We continued to follow the path until it got around to the west of the ridge crest.
The path weaved in and out of several cliff bands. Then it entered a narrow, steep gully at 7600′. There was lots of choss here. It's easy to get off route and cliff out through this section without the help of cairns. The reported yellow markings led us through steep ramps and ledges. The crux for the pup was the big step by the big yellow "x" before getting onto the south ridge. A defined and chossy path appeared on the crest.
See more trip photos here.
Hazy Views on Crater Mountain Summit
We bypassed the false peak from the west. Then, a long and moderate rising ascent through several short switchbacks put us on the summit. Right about now, wildfire smoke had made its way north. It permeated into the valleys below just before we arrived at the top. Remnants of an old structure was a stark reminder of this former lookout site.
Views to the south over Highway 20 weren't great. Though, it would have been much grander if weren't for the smoke. On the other hand, views to the north were great, including the enormous Jack Mountain. The day was still young. So we enjoyed a good hour on top before making our way back down.
See more trip photos here.