Bonanza Peak is Washington State's highest non-volcanic peak, placing #8 on Washington Bulger List. Also, the unique feature marks the highest point in Chelan County, with Martin Peak at one joining ridge away.
See more trip photos here.
Bonanza Peak and Martin Peak at a Glance
Bonanza Slam = Bonanza Peak + Martin Peak 8511
富礦滿貫=富礦峯+馬丁峯8511
Access: Holden Lake Trailhead
Round Trip: 22 miles
Elevation Range: 3240′-9511′
Gear: helmet, ice ax, snow, rock & rope
GPS Track: available
Dog-Friendly: no
July 19-22, 2014
Overview > Day 1 > Day 2 > Day 3 > Day 4
Day 1 – Saturday, July 19
Ferry – Fields Point Landing to Port of Lucerne
Bus1 – Port of Lucerne to Holden Village
Holden Lake Trail to Holden Pass
Night 1 – Holden Pass
Day 2 – Sunday, July 20
Bonanza Peak
Night 2 – Holden Pass
Day 3 – Monday, July 21
Martin Peak 8511
Holden Lake Trail to Holden Village
Bike2 – Holden Village to Refrigerator Campground
Night 3 – Refrigerator Campground
Day 4 – Tuesday, July 22
Ferry – Port of Lucerne to Stehekin
Bike – Stehekin dock to Stehekin Bakery and back
Ferry – Stehekin to Fields Point Landing
1 Service operates on Saturday and Sunday only.
2 Foot traffic on the road after 7 PM due to mining remediation.
---
Day 1
Ferry + Bus + Holden Lake Trail
Overview > Day 1 > Day 2 > Day 3 > Day 4
The Preface on Bonanza Peak and Martin Peak 8511
Bonanza Peak and Martin Peak held many first experiences for me. I had my first ferry ride on Lake Chelan, plus my first bus ride to a climb. Also, my first visit to the remote Holden Village and Stehekin.
The logistics were even more confusing than in my past outings. So it was essential to ensure everything aligned perfectly up until the climb. But glad the two veterans in the group had done it only the year before.
See more trip photos here.
Ferry Ride to Lucerne
The five of us climbed Chickamin Slam together two weeks earlier. Then we teamed up again to tackle Bonanza Peak, the tallest non-volcanic peak in Washington State. But only three of us went up to Martin Peak.
Lady of the Lake ferry left Points Field at 9:45 AM and arrived in Port of Lucerne two hours later. We fit all five bikes on the bus and then rode 10 miles to Holden Village. Most people we met were either volunteers or mining remediation workers.
See more trip photos here.
Holden Village to Holden Pass
The bus later pulled up to the main lodge, with seasonal workers warmly greeting us. We stashed our belongings behind a large shed and ate at the dining hall before it closed. Then we set off for Holden Pass in some sunshine as the weather worsened.
It rained hard before Holden Lake. But we all agreed to press on to Holden Pass to be near our goals. Then we went through the wet brush and a large alder swath with cairns and flagging past the lake. Later the rain stopped, so we used the evening drying off clothes.
See more trip photos here.
---
Day 2
Bonanza Peak
Overview > Day 1 > Day 2 > Day 3 > Day 4
Bonanza Peak Climb
We woke up to a cloud-capped Bonanza Peak with a blue sky the following day. Soon, we left camp after breakfast, all full of excitement. The waterfalls didn't pose any issues as we moved through carefully.
Clouds slowly moved away as we roped up on Mary Green Glacier. The moats we had read about turned out not to be much of a concern. Then one by one, we leaped onto the rocks safely.
See more trip photos here.
The Final Stretch kn Bonanza Peak
Bonanza Peak was my favorite rock climb to date. We encountered minor rockfalls along the way. But overall, most holds and rock quality were excellent. Finding a cave midway up was my favorite part.
We soon belayed through a couple of steep sections. Meanwhile, the group stayed close together, trying not to kick down rocks. Then we continued to work our way up the northeast ridge.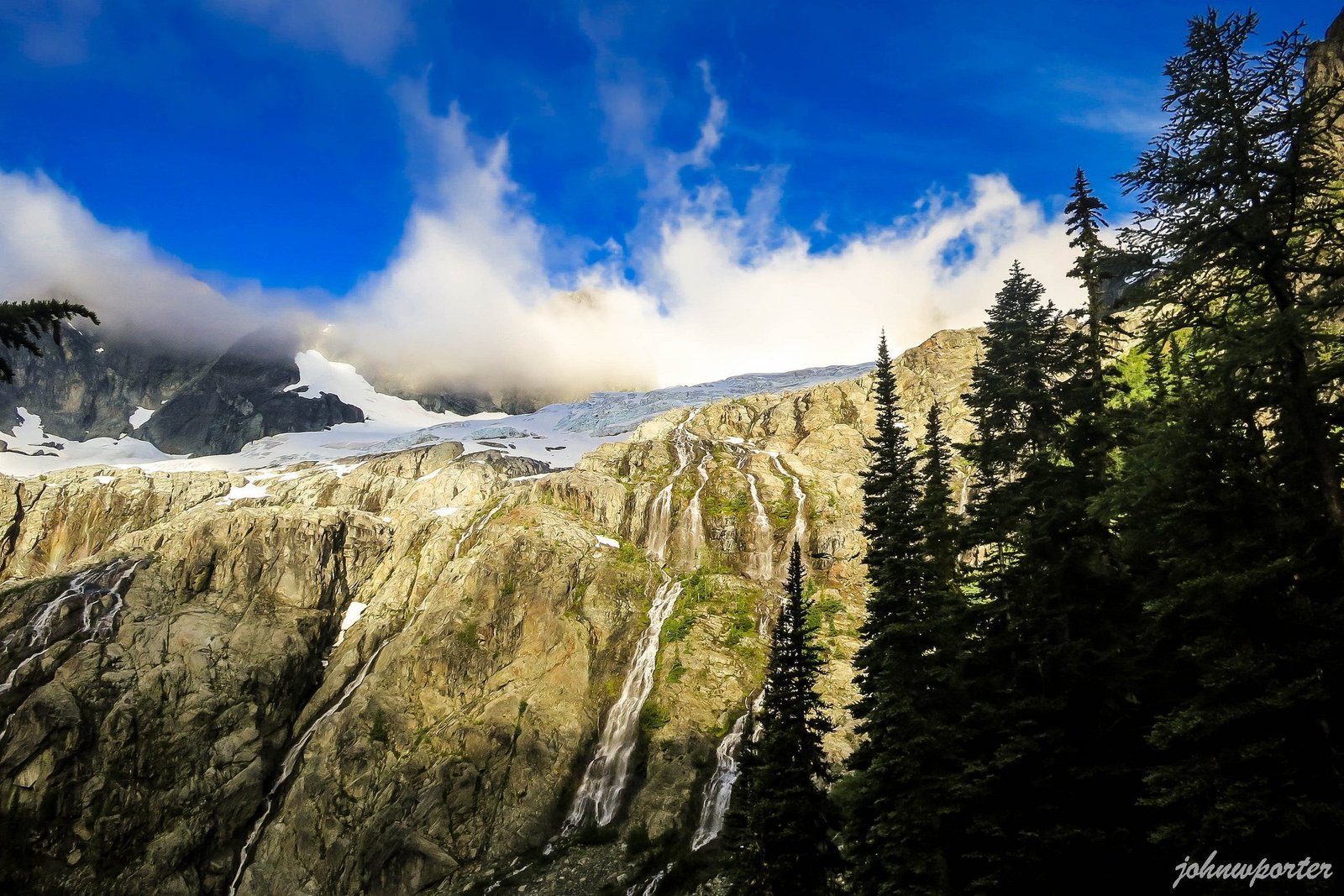 See more trip photos here.
Bonanza Peak Summit Views
Our extended visit allowed us to take in views and name peaks. Standing on top of Washington State's tallest non-volcanic peak felt surreal. But everyone was ecstatic that everything had worked out as planned.
Earlier on our way up, Patrick had jammed a cam in the rock. So on the way down to the glacier, we made a pitstop to see if we could take it out. But despite everyone's effort, the gear wouldn't budge. So finders keepers!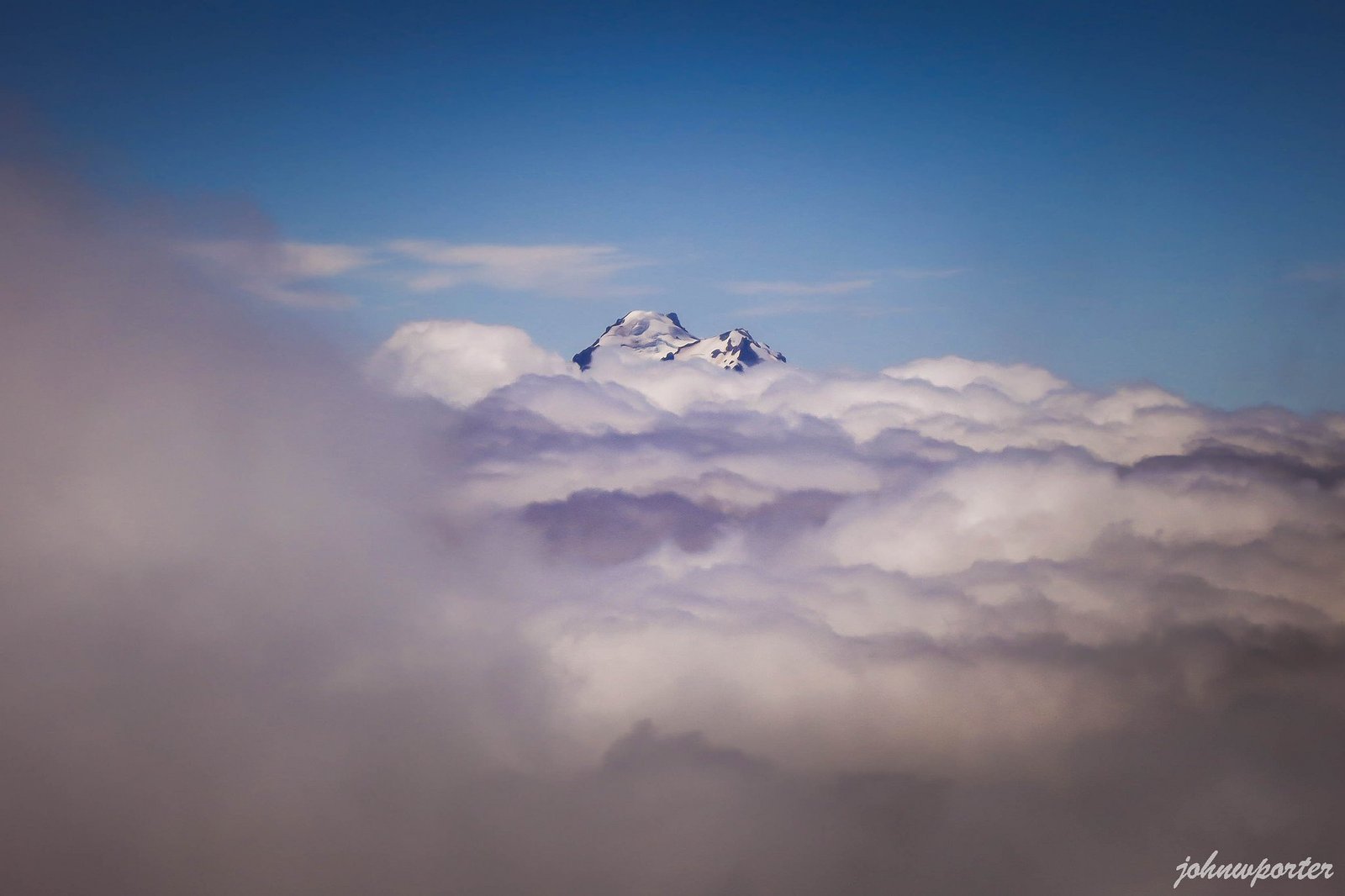 See more trip photos here.
Leaving Bonanza Peak
The afternoon sun had lit up Martin Peak with beautiful colors. The thing that stuck out was Mary Green Glacier, which looked smaller in person. So we all enjoyed the scenery as we walked down the snow.
We chatted the night away and got the much-needed rest after a day's climb. So glad that the weather had worked out in our favor. But I couldn't wait to see what the next day's outing had in store.
See more trip photos here.
---
Day 3
Martin Peak 8511
Overview > Day 1 > Day 2 > Day 3 > Day 4
Martin Peak 8511 Climb
We woke up to the sunshine and were eager to start the day! So Lindsay, Mike, and I left early to climb Martin Peak, but Kenny and Patrick had climbed them last year. So they slept in and joined us back at the village.
It was another exciting rock climb like yesterday. Only two class 4 moves en route needed special attention. Before long, we reached the broad summit and enjoyed another extended visit.
See more trip photos here.
Marting Peak 8511 Summit Views
Despite being 1000′ lower than its neighbor, views were nonetheless. To the west, Bonanza Peak was today's main attraction. But we couldn't see much past it because of its sheer size.
However, we looked closely at the eastern high points, including Devore Slam. Other T100 peaks in the Lake Chelan-Sawtooth Wilderness were also visible. But no summit stay would be complete without the name-that-peak game!
See more trip photos here.
Outro
After a smooth traverse to camp, we met up with Kenny and Patrick back at Holden Village. We hung out until after 7 PM, when we could be on the road again. But the bikes made the 10-mile ride down to the lakeshore go by fast!
It was another night full of chats and laughter. We stayed at the empty Refrigerator Campground next to Lucerne. So we could be ready to catch the ferry first thing in the morning to Stehekin.
See more trip photos here.
---
Day 4
Exit
Overview > Day 1 > Day 2 > Day 3 > Day 4
Ferry Ride to Stehekin
On our final morning, we took the ferry up to Stehekin. It was my first visit, so I was beyond ecstatic! The 90-minute layover gave us plenty of time to ride our bikes to Stehekin Bakery. There I enjoyed some of the most exquisite pastries in the state.
The group went straight back to the ferry dock on the way back. But I made a pitstop at "The Garden" off the main road. Then I had to rush back to the pier after the whistle sounded. Eek!
See more trip photos here.
Back to Fields Point Landing
The three-hour ride down to Fields Point went by in the blink of an eye with a few naps. But what a great trip we had! Glad we all made it back home safely. I will return a few more times for the other Bulger peaks.
Tata for now!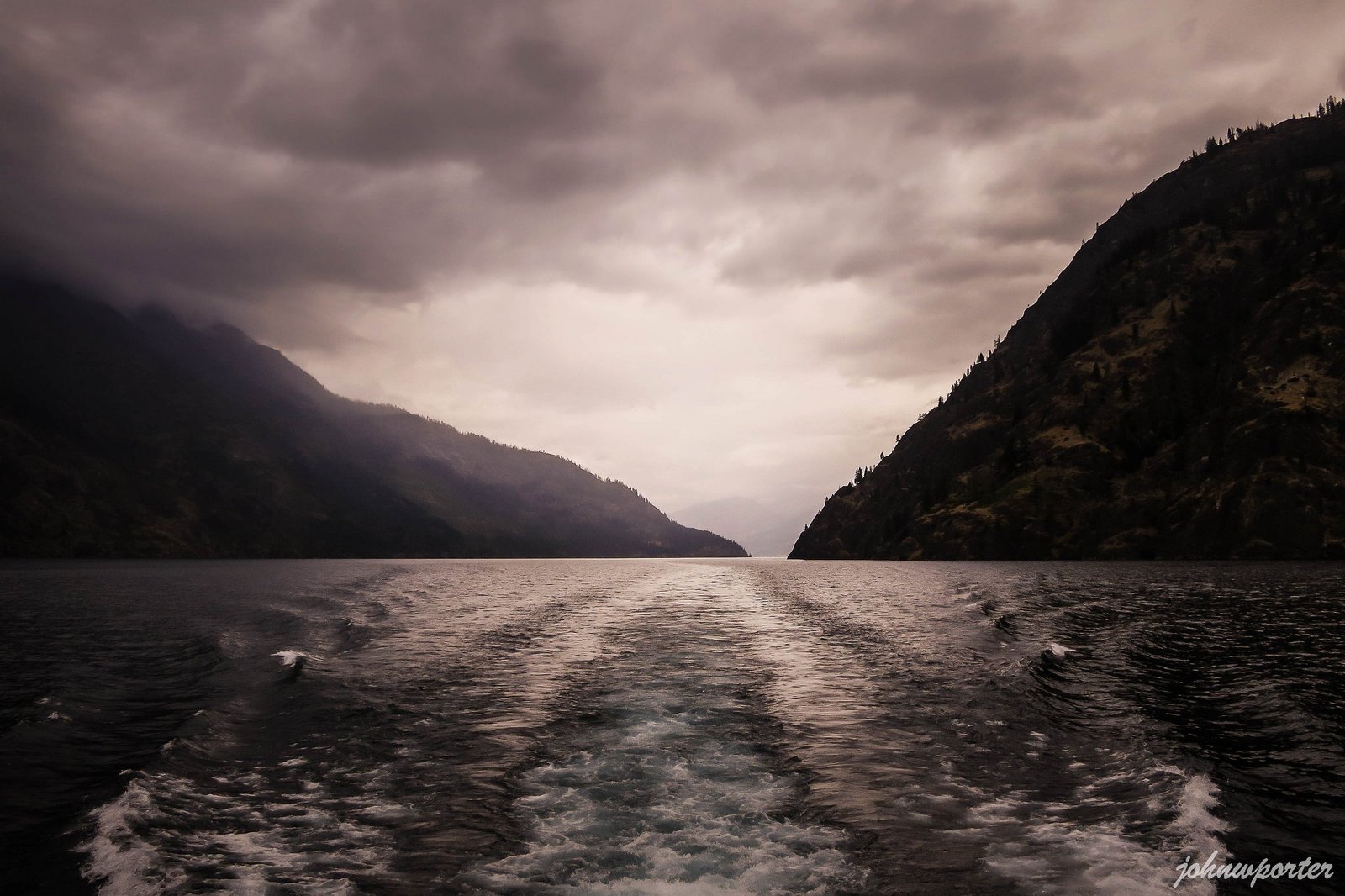 See more trip photos here.