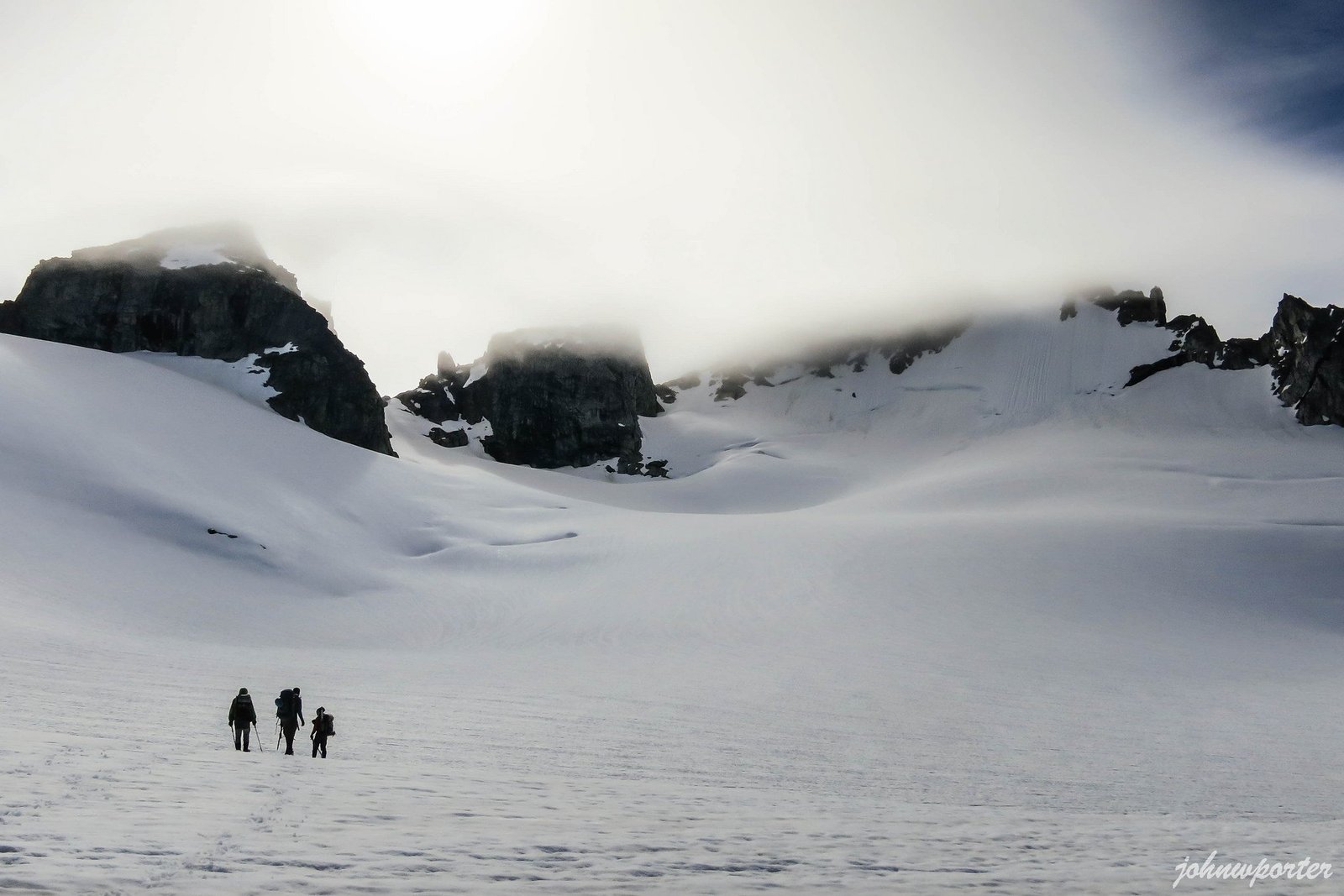 Photos from this trip can be found here.
Chickamin Slam = Dome Peak + Sinister Peak
奇卡民滿貫=巨蛋峯+邪惡峯
Logistics Overview
Overview > Day 1 > Day 2 > Day 3
Day 1 – Friday, July 4
Bike – Downey Creek Trailhead
Downey Creek Trail to Cub Lake
Night 1 – Cub Lake
Day 2 – Saturday, July 5
Sinister Peak + Dome Peak
Night 2 – Cub Lake
---
Day 1 – Bike + Downey Creek Trail
Overview > Day 1 > Day 2 > Day 3
Photos from this trip can be found here.
One of the most scenic climbs with good company in the heart of the Cascades. The not-so-fun part was the eight-mile bike ride with full packs, on Suiattle River Road that was to be reopened four months later. I had initially bought my bike few years back to access Green Mountain, but that never happened due to other plans.
Approach to Six Mile Camp on Downey Creek Trail was rather uneventful with minimal views out through thick forest. The recommended log crossing took sometime to locate, but glad we didn't have to ford the raging Bachelor Creek. The occasional flagging through down trees, slide alder, and heavy brush guided us in the general right direction up Bachelor Creek Basin. Views started to open up in the upper basin, also started to encounter snow there.
Photos from this trip can be found here.
Getting down to Cub Lake from the pass took some group effort, as the slopes were steeper than anticipated. At the bottom we traversed eastward on north lake shore to east end and set up our home for the next two nights. Weather over Itswoot Ridge looked a little iffy in the evening, but we crossed our fingers and hope the forecast would turn for the better.
Just before bed we had a quick birthday celebration of the youngest Bulger finisher, Lindsey Warren, with a little birthday treat from Patrick.
Photos from this trip can be found here.
Day 2 – Sinister Peak + Dome Peak
Overview > Day 1 > Day 2 > Day 3
Photos from this trip can be found here.
Next morning we woke up to some blue skies overhead, as well as dark clouds to the south. And after making a steep ascent up and through Itswoot Ridge, the sky cleared up quite a bit to let the sun in. Sunny weather took us all the way through Dome Galcier, the access col to the east side, and finally onto the top of Chickamin Glacier.
Getting down the initial steep part of the glacier and around a bergschrund was another crux. Kenny and Patrick turned around here a year ago because of the bergschrund had already opened up. Tjis year they moved the trip up to this weekend to avoid encountering same ordeal again. We set up a rappel and made good steps going down, as we would need to use these steps again on the return. It took just one 60-meter rope length to get down far enough and over the crux. I looked to both sides and man, this bergschrund sure could really break the deal had we come any later in the season.
Photos from this trip can be found here.
To get to Sinister from below of the crux required losing even more elevation on Chickamin Glacier. Although Sinister Peak looked really close on maps, it sure was much farther in real life with all the zigzagging through crevasses. Mike stayed behind on the glacier due to sickness while rest of us continued on.
Underneath Sinister's daunting north face, it took some careful planning and rerouting to get through the steepest and most unnerving section, with hidden bergschrunds both above and below. Bade of the north ridge, Kenny and Patrick opted to get around to the back side and climb through scree and rocks, while Linsey and I took on a steep snow finger from the north side to attain the ridge.
Photos from this trip can be found here.
We set up a hand line through few sketchy and exposed sections on the ridge, then finished the climb with a nice and easy class 2, grass walk-up to the top. Effect of Tylenol PM from the night before hadn't completely worn off, so the final walk-up with a 60m rope in the pack felt like an eternity. Light rain began to fall just as we arrived at the summit.
Views on top were scarce, but Dome Peak was finally free of clouds during our short stay and right before weather system slowly crept in from the north. On the way back we picked up our friend on Chickamin Glacier. Clouds rolled into the area creating super low visibility as we climbed back up the crux toward Dome-Chickamin col.
Photos from this trip can be found here.
Kenny and Patrick climbed Dome Peak last year, so they headed back to camp while the three of us made our way toward Dome Peak's summit block. Pinpointing direction of the summit due to poor visibility was rather difficult even with a GPS in hand. We noticed some webbing used for rappel and the arete leading to the summit. Linsey quickly grabbed her rope and scooched her way toward the summit. The arete was impossible to protect, so she set up a hand line at the top while I scooched my way over. Mike came up last using the hand line.
As luck would have it, clouds suddenly broke away the minute we got on the summit. We were given at least a good 15-minite window of clear sky with temperature inversions just below the summit. Clouds obscured nearby peaks and not a whole lot to see, but heat from the sun overhead was pure bliss. We made our way down the mountain soon as clouds started to swarm in.
Photos from this trip can be found here.
Visibility was a whole lot better getting back to the col and down the south side. As a matter o fact, once we got on Chickamin Glacier, all the clouds had lifted to show nearby mountains like Glacier Peak. A couple of sections to get through and we were back on Itswoot Ridge just after dark. By then snow had softened significantly, and we slowly postholed our way back to camp.
Day 3 – Exit
Overview > Day 1 > Day 2 > Day 3
Photos from this trip can be found here.
We took our time packing up before heading out. I constantly looked up at Itswoot Ridge, still hadn't yet processed all that we crammed into one long day just the day before. Reversing our route back to Bachelor Creek Basin was a lot more straightforward. A few breaks over the long exit, we eventually made our way back out to Suiattle River Road.
So thankful to have brought our bikes for the approach. At least now we got to ride downhill…for the most part.
Photos from this trip can be found here.
Overview > Day 1 > Day 2 > Day 3
Access: Downey Creek Trail
Gear: rock and snow