I first saw Mount Roosevelt from the top of Kaleetan Peak. Back then, I didn't know much about it. But I knew I would want to climb it at some point. So today, I asked my two partners to come along for the ride.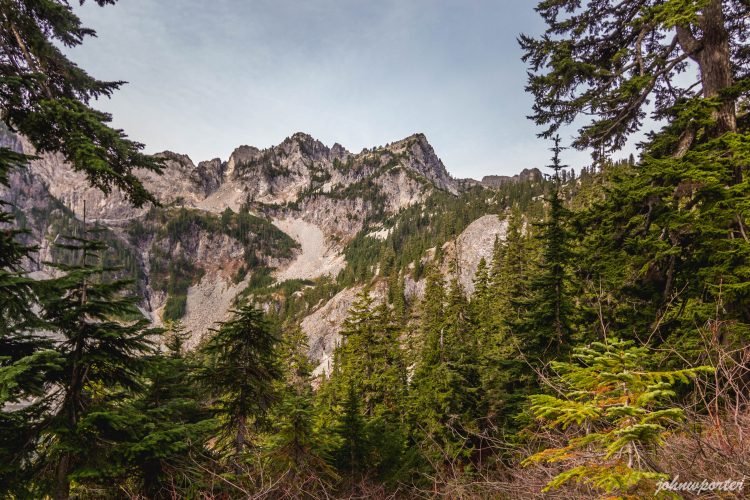 See more trip photos here.
Mount Roosevelt at a Glance
Access: Snoqualmie Alpental Ski Area
Round Trip: 7 miles
Elevation Range: 3120′-5835′
Gear: helmet
GPS Track: available
Dog-Friendly: with guidance
The Preface
Mount Roosevelt sat at an excellent vantage point. Plus, it was a great place to see the impressive Chair Peak and Kaleetan Peak. Both of them looked especially pointy from this angle. But everything else in the area looked just as grand.
Though, I've seen both peaks from the south. And they looked just as majestic as close up. One can't miss the spectacular view from Interstate 90 before Snoqualmie Pass.
See more trip photos here.
En Route to Mount Roosevelt
Though, the only catch to see this view was to go past the crowds on the way to Snow Lake. But we had an early enough start not to see too many people on the trail.
Several groups were photographing Snow Lake from the pass. But once the pups and I went around the water, we didn't see anyone again. Later on our way down, we met two climbers as they came up the scree.
See more trip photos here.
Summit Plus Outro
The views were excellent overall. But it was gratifying when I was able to look down at the peaceful Snow Lake. I had wanted to do that when I first researched the mountain.
So glad that the weather cooperated the entire day. In turn, it allowed us to enjoy the amazing scenery. Later we retraced our steps to go down the mountain. Then we went out through Gem Lake below Wright Mountain.
See more trip photos here.
Gotta love the Alpine Lakes Wilderness!