I first saw Devils Peak from Helena Peak four years ago. The north face looked gnarly and intimidating. So I never pursued climbing it. But through researching, I discovered the standard east route. So I set off to climb the peak while the pups stayed home after a trip out east.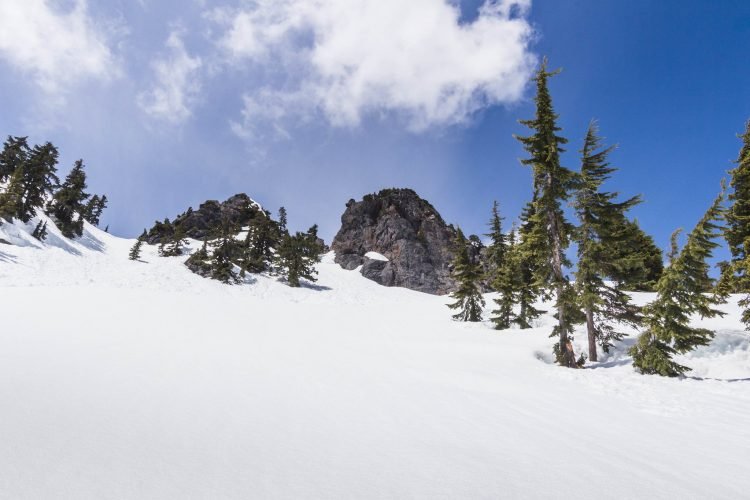 See more trip photos here.
For Devils Peak in the Pasayten Wilderness, check out this post.
Devils Peak at a Glance
Access: NF-4052
Round Trip: 7.3 miles
Elevation Range: 2000' -5456′
Gear: snowshoes, ice ax, rock
GPS Track: available
Dog-Friendly: no
Road 4054
It was another late morning start. The Road 4052/4054 junction was empty but adorned with beer cans. Snow appeared at the first switchback on Road 4054. So I left the roadway and shortcut up to the third switchback. Then from there, I went uphill while staying on the south side of the creek coming off Devils Basin.
At 3000′, I put on snowshoes when I encountered slush. Then after I made it up to the basin at 3800′, I got the first glimpse of today's destination. The snow had been in direct sunlight all morning, and it had become wet. But I continued to travel northwest to 4400′. Then I went west and made it up to the steep east slopes. Marshmallow snow was weighing down the snowshoes with every step.
See more trip photos here.
Devils Peak Summit Plus Views
Soon, I arrived at the south notch below the summit. There I stashed my snow gear by a big boulder. Then I proceeded to go up the south face. I moved through the 20-25 feet of class 4, exposed section using solid holds. That, in turn, put me on the narrow ledge. From there, I carefully walked up to the end of the ramp. Then I made a left next to a set of rappel bolts. The final stretch to the top was on class 2 terrain.
Views up here were incredible. But, of course, I would say that about any place when the weather is decent. I saw many familiar peaks from up here. Plus, all the usual suspects around Mountain Loop Highway were visible. It felt great to see all the places the dogs had climbed with me. They included Helena Peak, Marble Peak, Long Mountain, and others.
See more trip photos here.
Outro
After getting back down onto the ledge, I set up my rappel off a live tree. There was lots of webbing around it. But I backed up with extra to play safe. My 60m rope was just enough to get me back onto the snow at 200 feet below. Along the way, I made a side trip up to the notch and retrieved my snow gear.
Afterward, I plunge-stepped down the east slopes. Then I put on snowshoes back in the trees. The snow quality had worsened significantly in the late afternoon. So it was nonstop sliding and falling forward entertainment. Low clouds rolled in just as I made my way out of the basin. Then back at the car, I collected the nine empty Bud Light cans and then drove home.
See more trip photos here.