We stayed the night in Wenatchee after yesterday's trip. Then today, we went up to Spencer Peak south of Keystone Point across from Spencer Canyon. There were many roads in the canyons. So one could make a loop trip of many variations.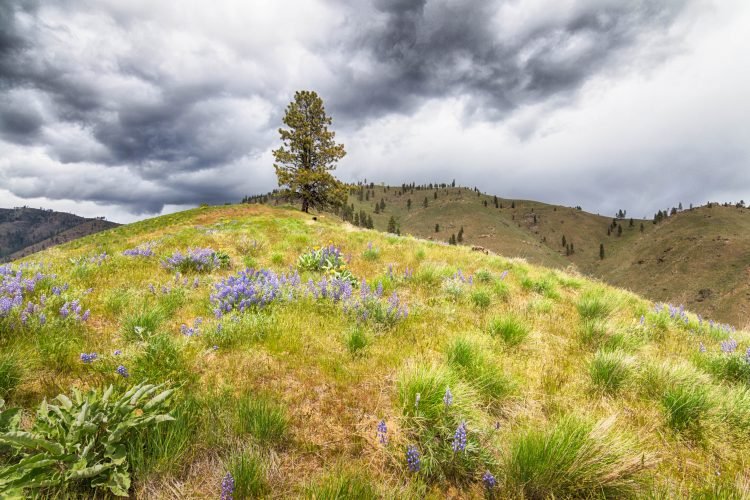 See more trip photos here.
Spencer Peak at a Glance
Access: Tenas George Canyon
Round trip: 6.3 miles
Elevation Range: 840′-3881′
Gear: none
GPS Track: available
Dog-Friendly: yes
Tenas George Canyon
We drove past Swakane Canyon. Then I made a left onto the road leading to the opening of the gorge. Soon, it ended in the residential area. Just past the fork in the roadway was a large grassy area. So I looked for private property signage, but I didn't see any. Then I parked just outside the fence and walked through to the other side.
At 500′ beyond the fence was an old road. So we took it and then hiked north into the canyon. Shortly, we left the dry streambed at 1100′. Then we went onto the south ridge. From there, we went straight up toward the top. But the steepest section of the ridgeline went from 1600′ to 2200′.
See more trip photos here.
Spencer Peak Summit Plus Outro
We had our first glimpse of the summit at 3000′. Then before long, we made it up to the top. The south side had the best view. We also saw the Columbia River weaving its way through the City of Wenatchee. A microflector marked this summit. It was also the second one we had seen on a trip. The first one was on Mount Ross up by Newhalem.
As we made our way up to the summit, it rained for 10 minutes. But later, just after we went back down onto the old road below, it poured!
See more trip photos here.