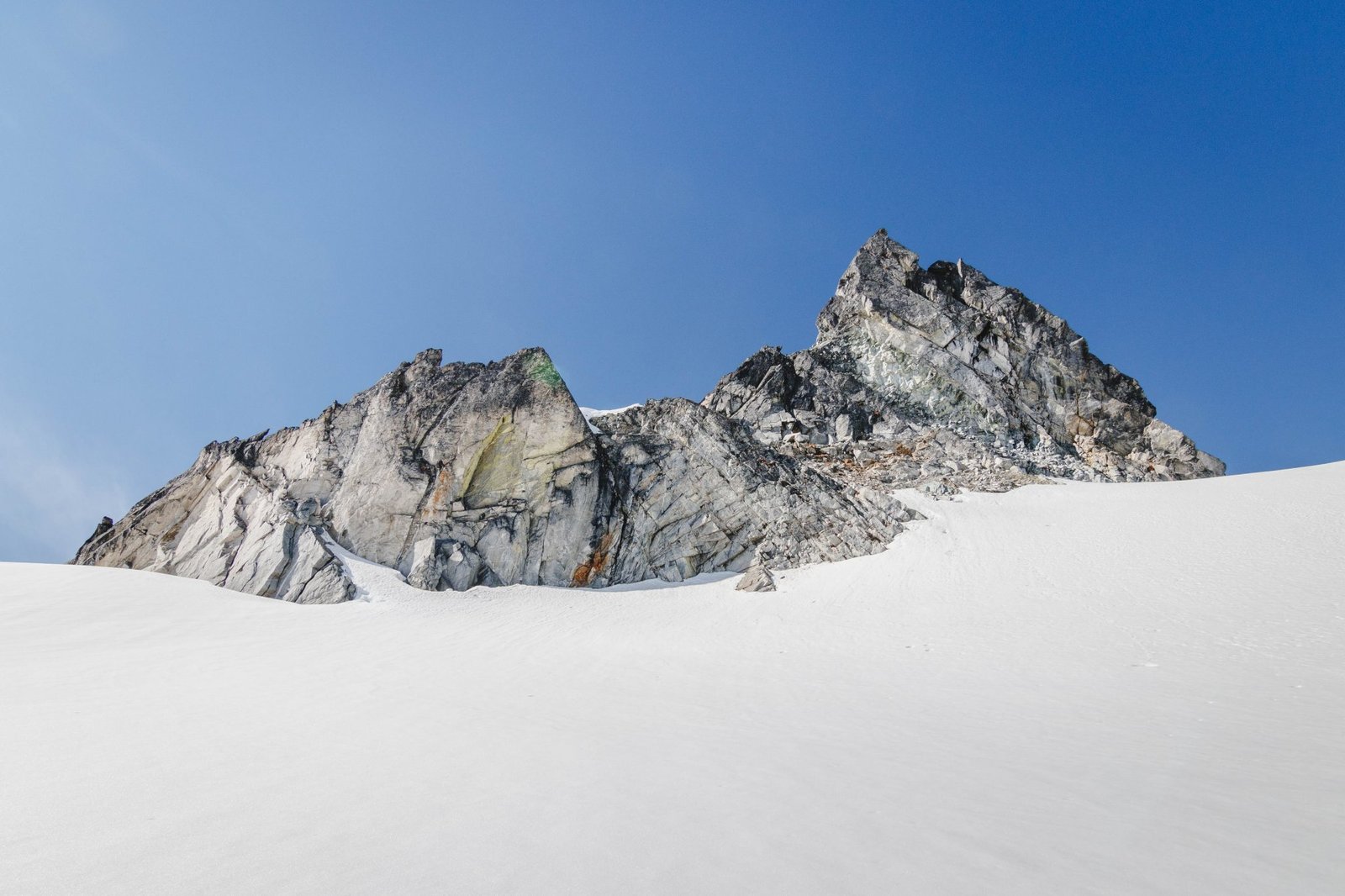 See more trip photos here.
For Snowfield Peak and Neve Peak trip, check out this post.
I had been itching to come back and climb other peaks since my first visit. During that trip, I spent the first day waiting out poor weather, so I didn't get to explore anything else. It was surprising to see more snow in the area at precisely three years later. This time my main objective was Horsemans Pack.
The Lowdown on Horsemans Pack and Environs
Environs = Pyramid Peak + Paul Bunyans Stump + Colonial Peak
周圍地區=金字塔峯+保羅班揚的樹樁+殖民峯
Access: Pyramid Lake Trailhead
Round Trip: TBD
Elevation Range: 1120′-8152′
Gear: helmet, crampons, ice axe
GSP Track: available
The Preface
First backpacking trip of the season! Saturday weather forecast went from mostly sunny to 40-50% chance of rain. So, in fear of history repeating itself, I postponed my trip by a day to avoid potentially foul weather. I stopped by the Marblemount ranger station for my permit. One of the rangers told me that the Colonial Zone was full on Saturday night.
But this worked out in my favor, as climbers would be heading out just as I went in on Sunday. Purrfect! After spending the night in the car, next morning I awoke to glorious sunshine, yaaaaaas! I then pulled up to the trailhead with a dozen vehicles already parked in the lot. A busy weekend indeed!
See more trip photos here.
Pyramid Lake to Northeast Ridge
The hike to Pyramid Lake was just as uneventful as it was three years ago. But this time there were views through small openings in the forest. And just as I remembered, the grueling climb started immediately past the lake. From there, the climbers' trail took a sudden rise toward the northeast-trending ridge extending from Pyramid Peak.
Many places required pulling onto tree roots and tree branches to get up several vertical steps. Slowly but eventually, the terrain flattened out at the meadow above 4200′. There were a few small ponds with snow patches, as well as my first full view of Colonial Peak.
See more trip photos here.
Northeast Ridge to Colonial Glacier
With snow patches over climbers' trail, route finding in the forest wasn't as straightforward. Boot tracks were hard to follow, as various groups took different paths while carving out their way. Depending on the amount of snow and down trees, at times parts of the trail were not visible.
The goal was to follow the ridgeline until reaching the eastern cliff wall of Pyramid Peak. A few parties stayed at the 5400′ camp, while a couple of groups pressed on to the Colonial Glacier Basin.
See more trip photos here.
Colonial Glacier to Neve Col
On the way to Colonial Glacier Basin, I struck up a conversation with some climbers on their descent. I found out that several parties got a late start on Snowfield Peak due to last night's storm. One Mountaineers group turned around in the basin so they could get back to the trailhead at a reasonable hour.
In the end, I was happy to have postponed my trip. The decision allowed me to take advantage of the excellent weather and explore more of the area.
See more trip photos here.
Neve Col Camp
The last Mountaineers group returned from Snowfield Peak just as I got up to the bivvy site on Neve col. I quickly set up camp and then took a power nap. Afterward, I made my way toward The Three Stooges, as I'd like to call them. Paul Bunyans Stump, Pinnacle Peak, and Pyramid Peak.
Since I had just enough time left to climb two of the three, I left out Pinnacle Peak. Not only I couldn't find enough beta, but I also didn't want to burn off more daylight to route find.
See more trip photos here.
Neve Col to Pyramid Peak
The route to Pyramid Peak couldn't have been any more straightforward. By traversing north and staying high in the glacier basin, I followed a snow ramp east of Paul Bunyans Stump. The path provided direct access to the base of the peak. From there, I followed the boot tracks from the two climbers who had just come up earlier in the day.
Just as on any other North Cascades high points on a good day, the views were incredible and expansive! With high clouds, I could see virtually everything: Jack Mountain, Crater Mountain, Ruby Mountain., Picket Range, Davis Peak, Hozomeen Mountain. Pyramid Peak was the only place to take a panoramic shot of the other Snowfield summits. Next up, Paul Bunyans Stump.
See more trip photos here.
Pyramid Peak to Paul Bunyans Stump
I first took notice of the Snowfield group when pups and I climbed Sourdough Mountain in 2011. Being new to mountaineering, I was in complete awe. And I couldn't wrap my head around the immense beauty of this place. I pondered the fact people could climb any of these gnarly yet aesthetic peaks. I felt extremely grateful, yet incredibly small to be standing among these peaks I've been admiring ever since.
From Pyramid Peak, I followed my tracks on the snow ramp and headed south toward Paul Bunyans Stump. From the south saddle, the route was straightforward until I got to the headwall at 7200′. Then I moved to climbers left and located the southwest gully to finish the last 300′ of the climb. This side was almost free of snow; sandy paths and ledges guided the way.
See more trip photos here.
Paul Bunyans Stump Summit Plus Descent to Camp
The narrow, elongated, and uneven summit probably wouldn't provide comfortable seating for a group of three or more. Again, spectacular views, even better under the early evening light. I wanted to stay through sunset. But then I realized that it was probably best to get out of the southeast gully before dark.
Back on the south saddle, I made a rising traverse for 200′ while traveling southeast. Then I got back to camp well before dark.
Neve Col Camp to Horsemans Pack
The perpetual overnight wind made it hard to get out of the tent to take photos of the night sky. So I went back to sleep and got up around 6 AM and left camp by 7. Luckily, when I got down to Neve Glacier, I was still in the shade. Just moments later, the sun slowly made its way around the backside of Colonial Peak. Another bluebird day ahead!
There were lots of boot tracks on the glacier from this weekend's climbing groups. Soon, I spotted the bear tracks mentioned by one of the climbers I met. The bear looked to have made its way down east of the glacier toward Colonial Peak.
See more trip photos here.
Horsemans Pack via Neve Glacier
Fewer crevasses to negotiate this time. I followed climbers tracks until 7200′, then split and headed southwestward toward Horsemans Pack's west saddle at 8000′. I immediately noticed the scree ramp on the north side of the peak and followed it to the east side. Then I went around to the access gully on the south. From the west saddle, I traveled clockwise around the peak to its south side to locate the access gully. Only 150′ of steep and steppy scramble and then I was on top.
Horsemans Pack Summit
Airy summit to say the least, and without protection, I opted to straddle the summit rock by the cairn. Great views into the Eldorado group on the icecap as well as Big and Little Devil Peaks. Views were boundless no matter which high point I stood on, just at a slightly different perspective. Profile of The Horseman on the other side of the saddle looked extremely narrow and pointy. Snowfield Peak was just within arm's reach.
See more trip photos here.
Descent to Colonial Glacier Basin
I was back at Neve col under an hour. Then I took a much-needed nap before heading back down to Colonial Glacier Basin for my final objective: Colonial Peak. Snow conditions were still good, not too slushy despite full-on sunshine.
I traveled southeast toward the eastern edge of the glacier. Then I located the access gully at 7200′ to get on the west ridge. Bear tracks on the snow looked to be the same ones I saw this morning on Neve Glacier. It could very well have made the first summit on Colonial Peak today!
En Route to Colonial Peak
At 7600′, a long traverse through the steep snowfield on the northwest face got me to the notch. The large, strategically placed cairn indicated access to the other side. From there, it was another 200′ of boulders and scree to reach the summit. The real high point was on the east end of the summit ridge.
By now, I was beginning to run out of steam. So I moved slowly for the final scramble.
See more trip photos here.
Colonial Peak Summit Views
Views here were still just as gorgeous. It was perhaps the best of the entire Snowfield group! Also, an excellent vantage point to see more of Neve Glacier, including Horsemans Pack. There I got a closer view of the Thunder Arm and portions of Ross Lake down below. I was just down at the Diablo Lake Vista Point two days ago checking out the weather conditions!
One of my favorite climbs Ruby Mountain was just across the valley. Views to the southeast of Neve Creek feeding into the Thunder Creek drainage were just excellent. Gabriel Peak with a lineup of familiar high points positioned perfectly right behind. I made my way down after an extended stay. Shortly afterward, I made my way back down to Colonial Glacier.
See more trip photos here.
Existing in Style
Back at the 5400′ camp, I met climbers Robin and Megan. They came in while I was on Colonial Peak. I discovered that they were both a part of the livingsnowproject.com project through talking. I volunteered to get pink snow samples during my subsequent trips this season.
They also told me about a helicopter rescue mission from the night before. A member of the Mountaineers group broke an ankle on the way down. As a result, the rescue team airlifted her out of the area. I kept good thoughts.
An extra day to hang out here would've been nice to have! This area was too beautiful of a place to leave behind for the chaos back in the city.