I craved more spectacular views into the North Cascades after last weekend. So today, I narrowed my choices down to Davis Peak and Ruby Mountain. But I chose the latter because it looked less technical.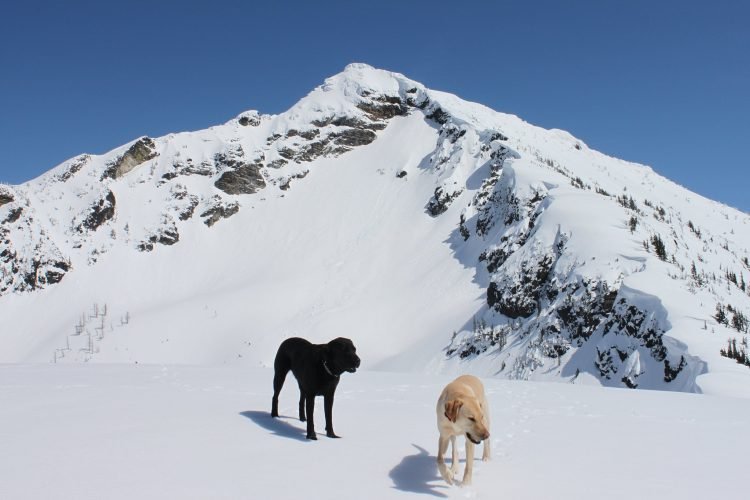 See more trip photos here.
Ruby Mountain at a Glance
Access: Highway 20 past Diablo Lake Overlook
Round Trip: 7 miles
Elevation Range: 2160′-7408′
Gear: helmet, ice ax
GPS Track: not available
Dog-Friendly: with guidance
Highway 20
Davis Peak looked technical from the pictures of a report. The climbers roped up near the top. I don't know anything about ropes. But even if I did, it certainly wouldn't be feasible for the pups. So Ruby Mountain, it was!
We started just off Highway 20 east of the boulder field. The faint trail was steep from the get-go. Then it continued to climb steadily. Snow appeared at 3000' just as the path dwindled. But I held off putting on the snowshoes for another 400', hoping I wouldn't need them. But who was I to kid?
See more trip photos here.
Ruby Mountain Northwest Ridge
Going up to the ridge at 4000' was laborious. What looked like moderate terrain on the map turned out steep. I brought poles but ended up using only the ice ax. So far, I haven't been good at breaking trail in the trees without feeling disoriented. So I relied on the GPS device.
But once we were up at 5400', things started to look promising. Then I was able to see precisely where we were on the ridge or where we needed to go. The top of Ruby Mountain was also in full view. So it had me feeling even more pumped about reaching the top.
See more trip photos here.
Next Stop on Point 6315
We continued on the crest and then started moving southeast. By then, we were in continuous snow. But it was starting to become very warm. So we likely would be in slush on the way out. There were clouds in the sky earlier. But they've all since dissipated.
It felt so calm and peaceful. And the only noises we heard were the occasional snow bombs and planes flying overhead. The dogs had a blast chasing around each other. Slowly, we made our way up to Point 6315. At that point, I could see most peaks in the northern skyline.
See more trip photos here.
Final Stretch on Ruby Mountain
The rest 800' of the climb was steep. Along the crest were cornices clear up to the radio tower. They were also hanging over the steep north face. So we moved very carefully through here. Meanwhile, we stayed close to the trees to avoid any disaster!
I didn't want to go straight up the crest in the final 200′. Instead, we went around to the backside. So we could steer clear from the steep terrain and the cornices. Later I spotted the radio tower, so I knew we had made it, finally!
See more trip photos here.
Ruby Mountain Summit Plus Views
We stayed long enough to eat and take pictures. The views were far beyond my wildest imagination. The landscape looked even more spectacular than on Sourdough Mountain. Jack Mountain was in full display. It looked like it could be this summer's project.
I gawked at the landscape in amazement. Then out of nowhere, I spotted a double-peak structure looming above the top of Ross Lake. It looked so impressive, unlike anything I had seen before. I wonder who would climb those?! Damn, but it's so far away, though.
Outro
It took us four hours to go down the mountain. Then we went back to the car just before dark. We'll see you around, Ruby!
See more trip photos here.