Eldorado Peak has been on my radar since I started pursuing the Bulger List. So today, I finally had the opportunity to climb it with the Mountaineers group. Several peaks in the area were also of interest, but I would need to return later for them.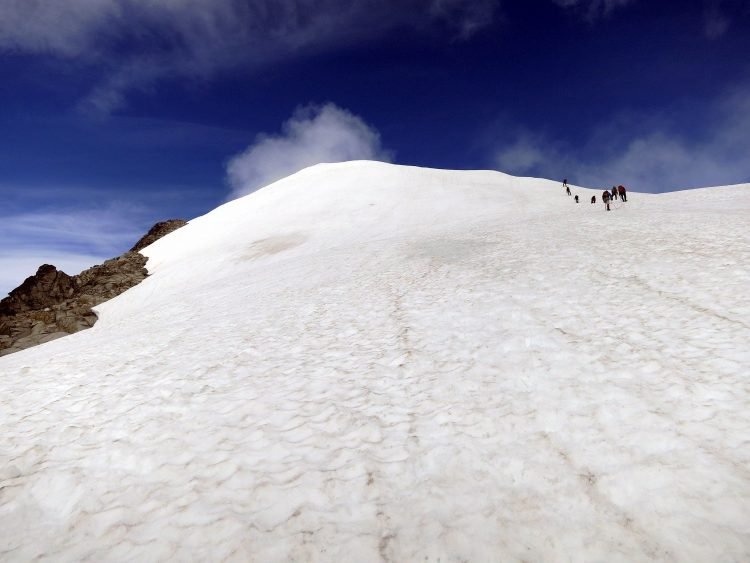 See more trip photos here.
Eldorado Peak at a Glance
Access: Cascade River Road @ mile 18.5
Round Trip: TBD
Elevation Range: 2160′-8868′
Gear: helmet, crampons, ice ax, rope
GPS Track: available
Dog-Friendly: no pets
Climbing Eldorado Peak
There was no shortage of steepness on this trip. For me, the worst part was going from the car up to the boulder field. I sweat in buckets. But the rocks were easy to hop through. Though, they were annoying on the way down. Later, we reached the top of the meadows. Then we crossed the notch and went down to Eldorado Basin.
We lost some elevation after the crossing. So we had to regain it right away. Soon, the teams roped up to go through Eldorado Glacier and Inspiration Glacier. It didn't seem to take too long to get through that part. After slogging up through the east ridge, we stood before the infamous knife edge.
See more trip photos here.
The Knife Edge on Eldorado Peak
The photos I saw of the feature weren't too much of a stretch! It felt so surreal to walk on the snow arête. This part was just full enough for us to take steps. So it was not the place to lose my footing for sure! Soon, we reached the dry summit rocks.
Since it has been cloudy, we didn't see much on top. So we stayed for 30 minutes before leaving. At times, the clouds would move away for a few seconds. So we could catch glimpses of the nearby peaks. But not long enough to photograph anything decent.
See more trip photos here.
Outro
It was a long day, 14.5 hours car to car, to be exact. Glad everyone made it back down safely.