The elevation gain on Davis Peak NCNP was insane. We gained over 6000′ in 3.5 miles. So the minute we left the Gorge Creek Falls bridge, we just kept going up! I brought a rope for the trip. In case I needed to rappel off the north side of Point 5872. But without snow, I ended up not using it.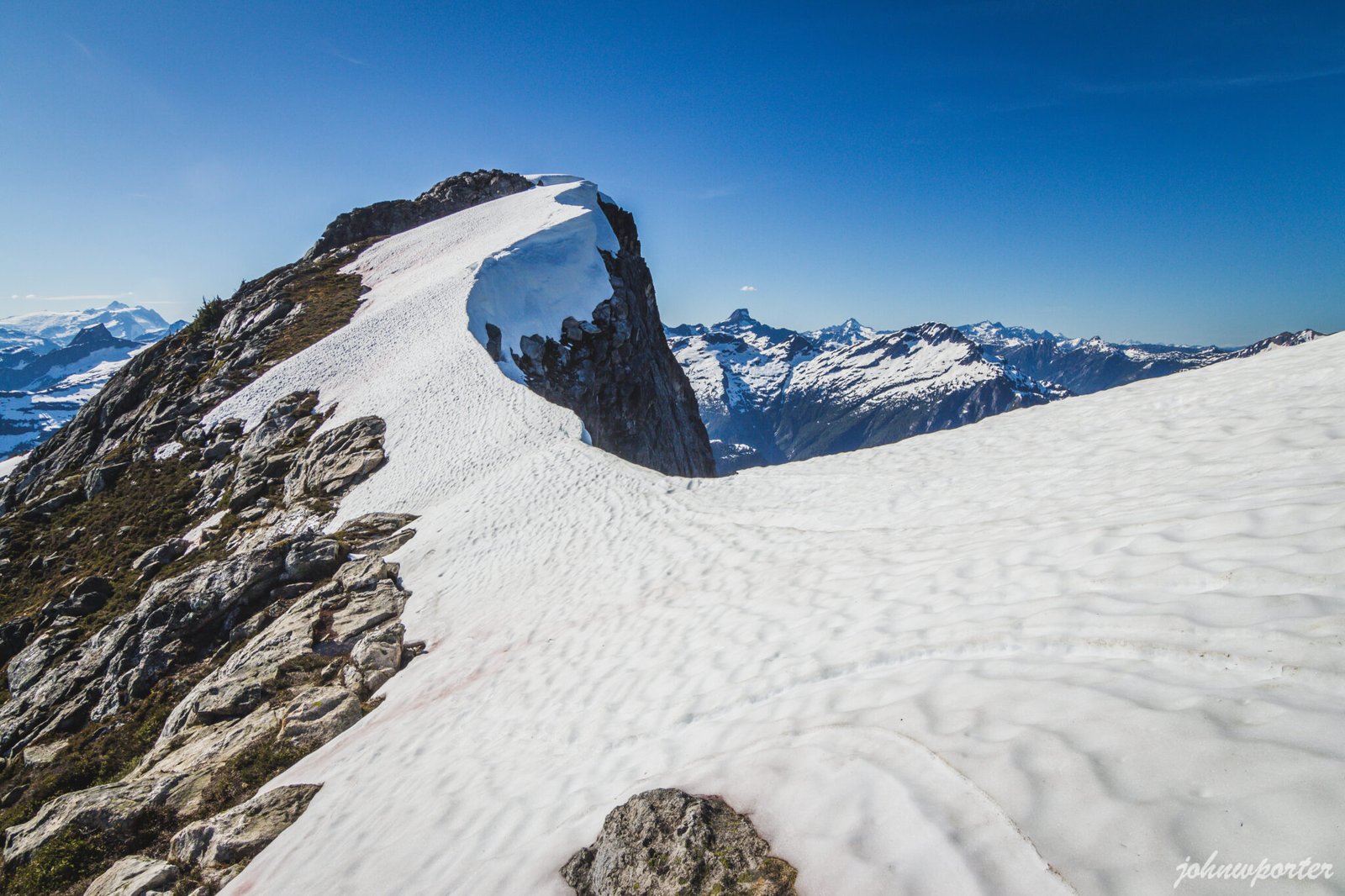 See more trip photos here.
For Davis Peak in Salmon La Sac/Alpine Lakes Wilderness, check out these posts.
Davis Peak NCNP at a Glance
Gear: helmet
Getting up to the South Ridge
Without snow, the gully crossing at 3600′ was brushy. But things started to look more promising once we went up to the granite slabs at 4850′. The terrain flattened a bit on the ridgetop. Then it steepened aagain after we went down onto the north saddle of Point 5872.
The ridgeline looked to go on forever. It was similar to the traverse on the neighboring Mount Ross. But once we made it to the south ridge at 6300′, the rest of the route was visible mostly. Though, the summit was still out of sight. Then we bypassed a few more cliff bands and avoided the snow on the east rim.
See more trip photos here.
Davis Peak NCNP Summit Plus Exit
Though partially buried in snow, the summit had cornices over the edge of the steep east face. We stayed to the west of the ridge crest on dry rocks when possible. Views into the Southern Picket Range and the Snowfield group were breathtaking. I had wanted to come up here for a while. So I could get a photo of Diablo Lake with Ruby Mountain in the background.
Getting off the mountain went by faster. But the steep, constant elevation loss would be hard on people with knee problems. As planned, we crossed the brushy gully while it was still light out. Then from here, the rest of the descent went by fast. Thanks to the yellow pup for sniffing our way down the ridge.
See more trip photos here.