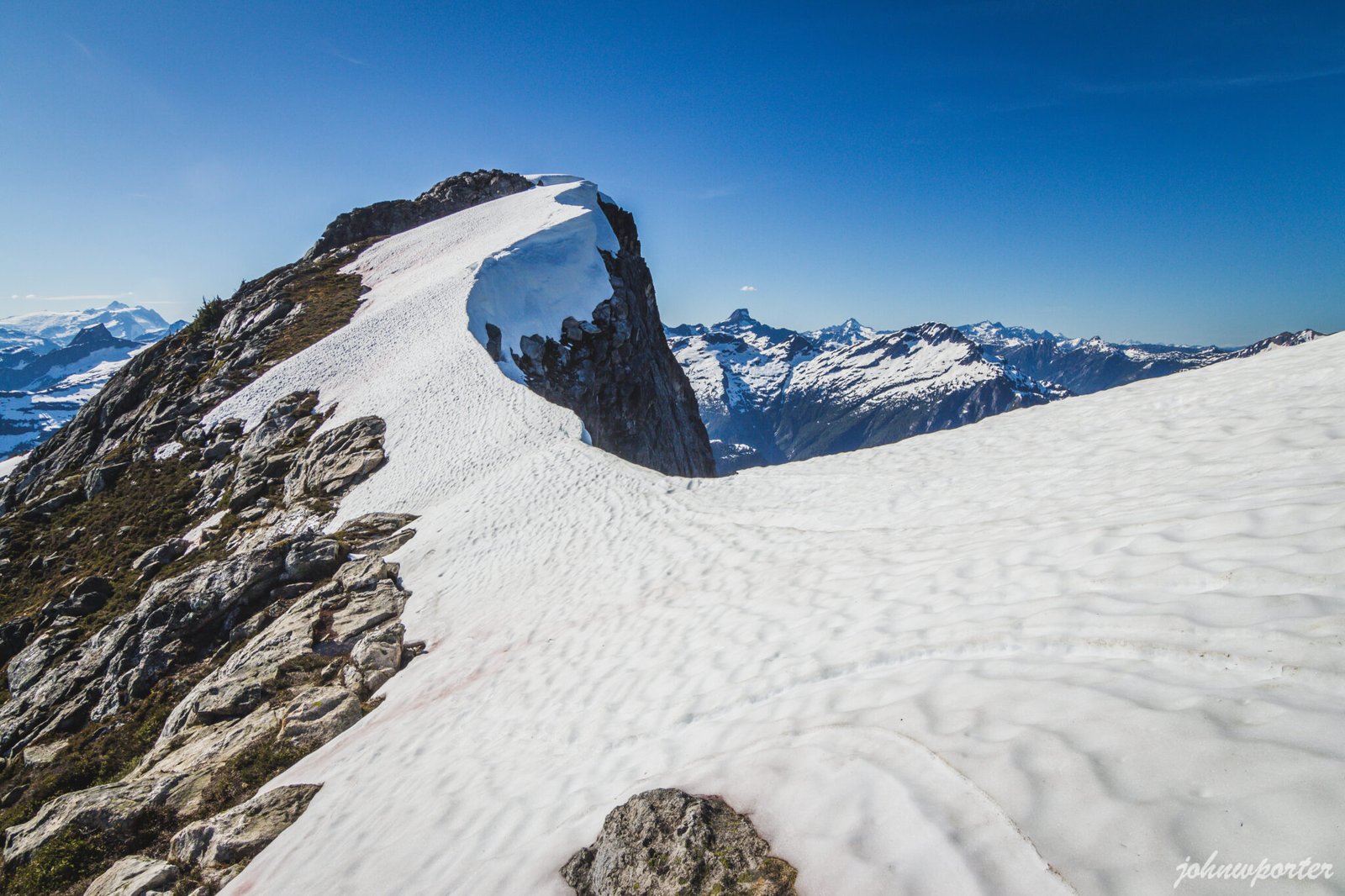 Photos from this trip can be found here.
Davis Peak in the North Cascades National Park. For Davis Peak in Salmon La Sac/Alpine Lakes Wilderness, check out these posts.
Elevation gain of this climb was insane, 6,000+ feet over 3.5 miles. Once leaving Gorge Creek Falls parking lot, we just kept going up, up, and…UP! I brought a rope in case we needed to rappel off north side of Point 5872, but that turned out to be unnecessary when snow wasn't present.
Without snow, the gully crossing at 3,600′ was brushy. But things started to look more promising once we got to the granite slabs at 4,850′. Terrain tapered off for a bit on the ridge until after we got down onto the notch north of Point 5872, where it steepened once again.
Ridge line seemed to go on forever on this mountain, very similar to that of Mount Ross right next door. When we got to the south ridge at 6,300′, rest of the route was mostly visible except the summit was still out of sight. We still needed to get around a few cliff bands while avoiding snow on the eastern edge.
Partially covered in snow, summit had cornices hanging over the edge above the precipitous east face. Best to avoid by staying on the exposed summit rocks if any. Views into the Southern Picket Range and Snowfield group were absolutely breathtaking. I had been waiting for this moment to snap a photo of Diablo Lake with Ruby Mountain in the background.
Getting off the mountain didn't take as long as I thought, but I could see how the steady elevation loss would be hard on the knees! We crossed the brushy gully well before dark, whew. Rest of the descent went quite efficiently with yellow pup sniffing our entire way down the ridge.
Gear: helmet