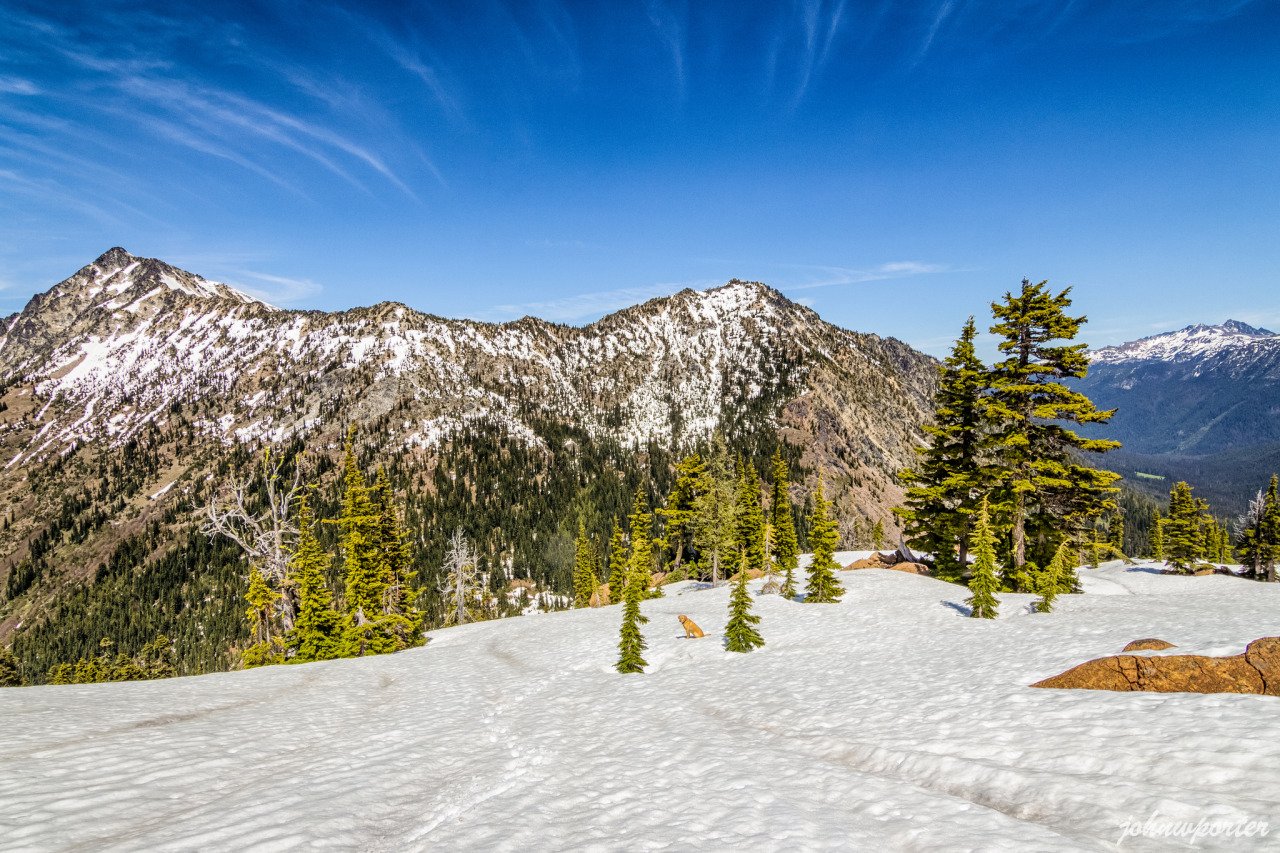 Photos from this trip can be found here.
The peak had been on my back-burner list, a great vantage point to view its next-door neighbor The Cradle, which pups and I visited almost four years ago. Trail was in better conditions but with lots of down trees in lower elevation. Terrain steepened after getting through the last group of down trees that was a little tough to get around. Then terrain tapered off again just before reentering the forest with full snow coverage. Snow was firmer in the forest so postholing wasn't an issue.
After getting out of the trees, we traversed in the direction of summer trail and got around Tucquala Peak on the east. Pup and I could have dropped lower to traverse on the snow slopes instead of coming down the steep snow gully from higher up. But it was hard to gauge the grade on the way in, but we figured it out on the way out.
The only crux on this trip was on the way back having to regain the thousand feet lost dropping down onto the saddle at head of Meadow and French Creeks. Once we got past that point, it was just getting through a short section of brushy area before getting into the upper basin. From there it was a slog getting up the occasionally steep southwest slopes to the summit. Postholing wasn't an issue here either, but I put on snowshoes for traction through steeper sections.
Summit was a little windy, but the views were just awesome as on any other nearby peak, with The Cradle being the main attraction. Pup and I were able to get out of the wind on the east behind some bushes and chilled until the wind eventually calmed down significantly. Most mountains and ranges were visible, including Stuart Range, Jack Ridge, Blackjack Ridge, and Mount Daniel area.
All the while I kept staring at the notch next to Tucquala Peak and wondering how long it would take us to get back up there to hike out.