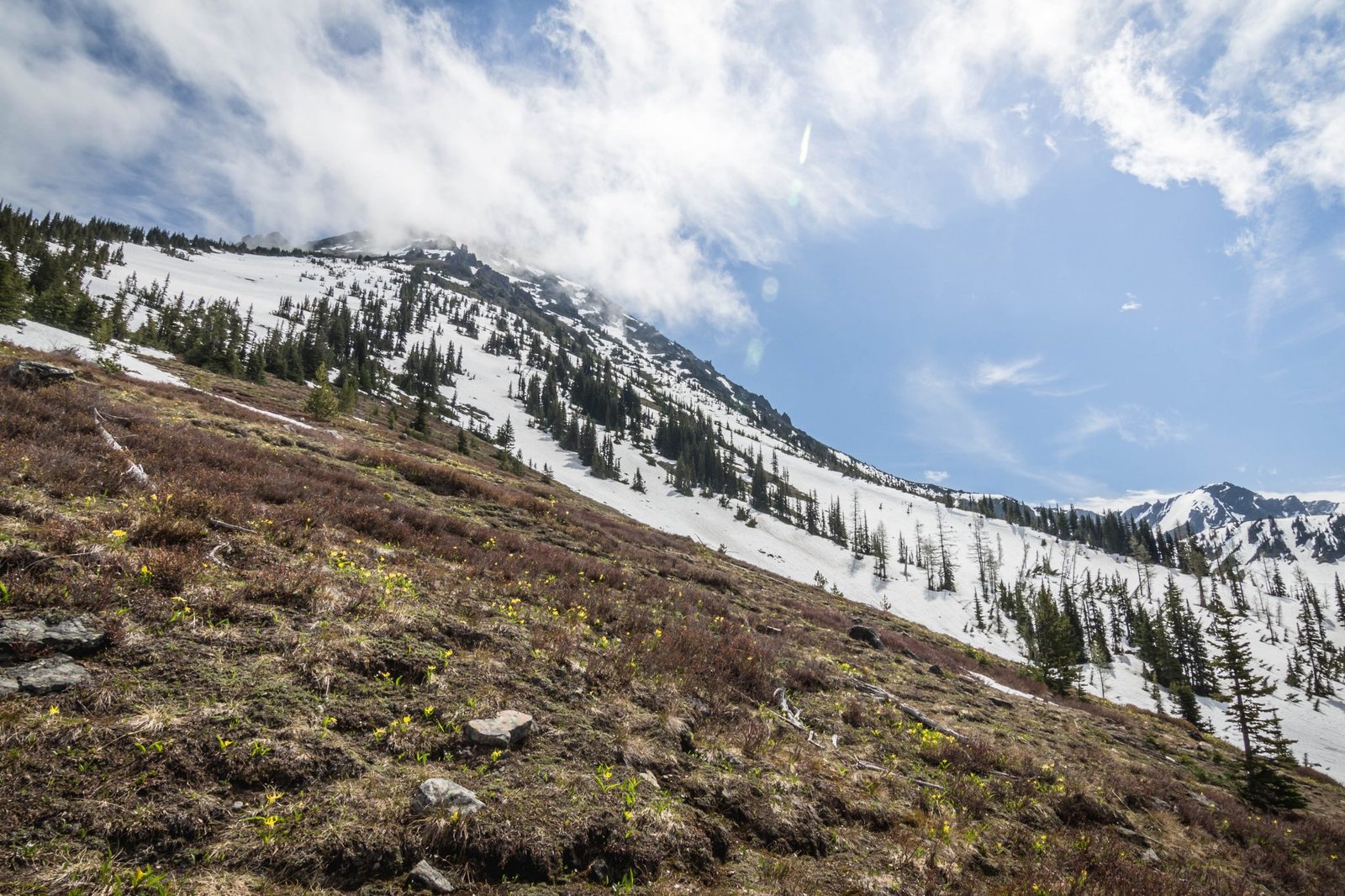 See more trip photos here.
The Lowdown on Big Chiwaukum
Access: White Pine Trailhead
Round Trip: TBD
Elevation Range: 2320′-8081′
Gear: helmet, snowshoes, ice axe
White Pine Trailhead to Wildhorse Trail
Pup and I car camped at the empty White Pine Creek Trailhead on Friday night. Then the next morning, we hiked early to climb Big Chiwaukum: highest point on the Chiwaukum Mountains. Along the way, we encountered several stream crossings. Depending on the height of the water, we either crossed farther up or downstream.
The elevation increased past the Wildhorse Trail junction. Snow patches soon turned into full snow coverage at 4400′. There I put on snowshoes, and we continued to travel south. After rounding Point 5482, we left the trail and moved southeast while aiming for the notch north of Lake Grace.
See more trip photos here.
En Route to the South Ridge
Much of the snow on the ridge had melted. So I packed up the snowshoes while checking out Lake Grace from the shoulder at 6600′. A short distance uphill was another notch with a hidden snow finger. So we bypassed it by staying on rocks just south of the crest. Then the rest of the scramble to 7800′ was on slippery heather and rocks mostly.
We stayed low on the steep west slopes while traveling north through several melting snow fingers. With cairns guiding us, we eventually arrived at the base of the summit block. The ridge traverse seemed to have taken forever. Because of the terrain, the final scramble to the top required route finding for the pup. Other than getting up rock steps with more effort, there wasn't anything technical.
See more trip photos here.
Big Chiwaukum Summit Views Plus Outro
Just before we got up to the summit, clouds gradually moved the area. So initially there were no views. We waited patiently for half an hour. Then the sky began to show some blue, and the sunshine slowly seeped through. Suddenly, the clouds moved down into the lower basins. Soon, it was a beautiful afternoon with views in all directions. I didn't recognize many of the nearby peaks since we hadn't spent time in this area.
On the way down, we stayed lower on the west slopes to avoid the snow fingers entirely. We then even skipped the ridge by heading directly down alongside a small creek. Eventually, we made it down into the western basin. Then from there, we followed our tracks back down to the Wildhorse Trail and hiked the long way out.
See more trip photos here.