K9 by Nimbus Mountain and Thor Peak rises above Pacific Crest Trail (PCT) in Alpine Lakes Wilderness. In the winter, Scenic Creek directly leads to the peak when PCT can't go near it from the south. Best of all, this rocky summit offers spectacular views of the surrounding peaks.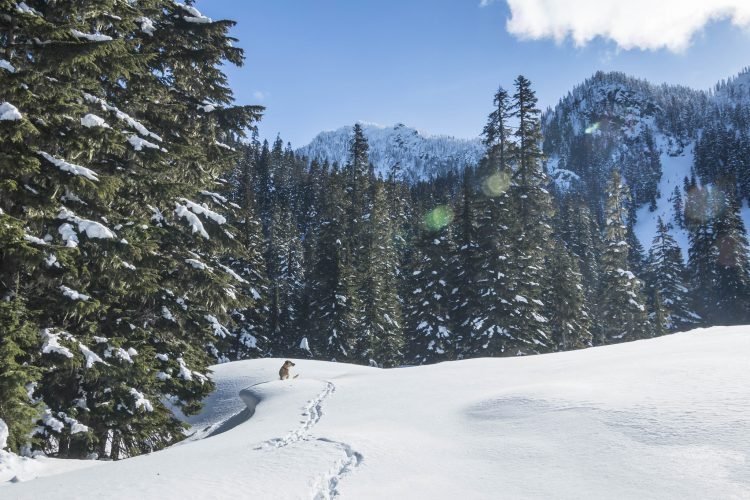 See more trip photos here.
K9 at a Glance
Access: Scenic Creek Trailhead
Round Trip: 7 miles
Elevation Range: 2200′-6242′
Gear: snowshoes
GPS track: available
Dog-Friendly: with guidance
The Preface
I first saw K9 from Windy Mountain in January. But it's one of the few places west of French Creek the pups have climbed with me. Mac Peak, Surprise Mountain, and Spark Plug Mountain, to be exact.
I have been fighting a sinus infection for the past three weeks. Although yesterday's weather was gorgeous, I was glad to have rested. Then today, I felt well enough to tackle the peak.
See more trip photos here.
Scenic Creek Trailhead
The snowplows have cleared the roads recently. So I could drive over the railroad tracks to the south side. Then I started snowshoeing right away from the Scenic Creek entrance.
The aftermath of the February snowstorms was apparent as the area was still under much fresh snow. Not that Cody wasn't helpful in trail-breaking. But I could've used another body to help with the strenuous task.
See more trip photos here.
En Route to Hamada Lake
The two and a half miles to Hamada Lake didn't go as fast as planned. There was no easy way to move ahead without postholing constantly. So we tried hugging Scenic Creek and weaved through the trees to avoid soft snow.
But I was still glad to have snow smooth out the terrain. Otherwise, we would've had to hop over massive down trees underneath. It also allowed us to bypass two boulder fields en route.
See more trip photos here.
K9 West Basin
We later reached Hamada Lake's outlet and had a first decent look at today's goal. My initial plan was to go through Murphy Lakes Basin. Then from there, we would go to the notch south of Point 5756.
After rechecking the maps, it looked like we could take the shorter way up to the peak. And given today's snow conditions, it looked doable. So from the lake, we went east into K9's west basin.
See more trip photos here.
Taking the West Notch
I had seen photos of K9's impressive north face. But the west side looked just as stunning from a thousand feet below. The final 150′ to the notch was agonizing as thigh-deep had slowed us down significantly.
At last, we made it above the steep gully after many grunts. Then I took a minute to enjoy the gorgeous south view before moving again. But I knew all this effort would soon pay off.
See more trip photos here.
The Final Stretch on K9
From the notch, it was only another half a mile to the top. But we first had to gain another 750′ of elevation. However, that part alone ended up taking another hour to go through! The fatigue had set in at last.
Our tracks alternated between a few strides on firm snow and calf-deep plunges in fresh powder. To make matters worse, I started coughing again. I soon felt winded every few minutes and knew I wasn't as well as I had thought.
See more trip photos here.
K9 Summit Views
It was a long and heavily corniced summit. I felt for solid rocks with the poles to be away from the edge before sitting down safely. What a gorgeous day in the Alpine Lakes Wilderness!
I knew the 25 mph-plus wind was in the forecast. But it turned out to be breezy and warm when we reached the top. Glad that the 25-degree weather didn't feel cold either.
See more trip photos here.
Name That Peak
I looked around and could only name peaks several valleys away. Stuart Range was to the southeast, and Nason Ridge to the northeast. There was also the Wild Sky Wildness high points northwest of here.
Since I hadn't explored much of the area, all the nearby peaks looked foreign. But I know I've seen them from other places before. Glad I had brought maps to add more peaks to the bucket list, perhaps.
See more trip photos here.
Outro
We enjoyed an hour on top before leaving the summit. And with a fast descent, it took under two hours to go back to the car. Thanks partly to the enormous amount of snow!
Back in Hamada Lake Basin, we saw fresh ski tracks on the frozen pond. It looked like others were here playing in the powder also. But they all had left before we showed up there.
See more trip photos here.