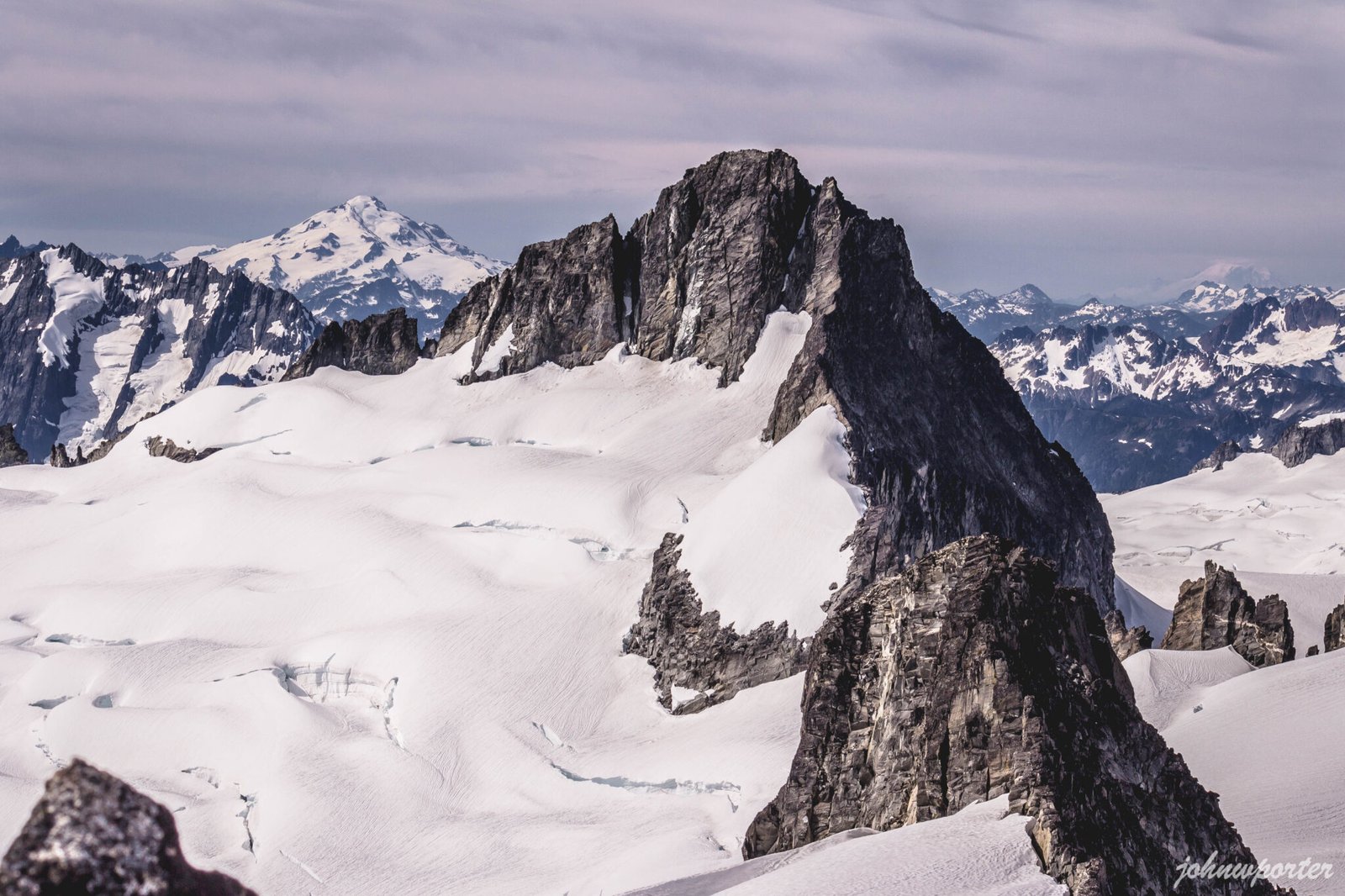 Photos from this trip can be found here.
Inspiration Traverse, the one long traverse I had been putting off until this season, wasn't exactly something I had been aspired to do from the start. While still not a huge fan of snow, I knew it would be a huge undertaking with lots of self convincing to feel motivated. And if it weren't for Primus Peak, the thought of crossing five glaciers in one long day probably wouldn't have crossed my mind.
First time on the Icecap was climbing Eldorado Peak in 2013. The area was submerged in cloud most of the day, and views too minimal to appreciate the hidden beauty. Lucky for us, this time weather was on our side, albeit a bit warm for a June ascent.
My partner and I met by chance on my way to climb The Craggies, and four years later we had the opportunity to climb together on this trip. We made good time from car to the 6,200′ notch into Roush Creek Basin. Snow appeared around 6,400′ halfway up the beautiful granite slabs. Early season skiers and climbers allowed us to take advantage of good tracks through Eldorado Glacier. Weather got pretty warm the Monte we stepped onto the glacier.
Lower part of Inspiration Glacier had little elevation change. At the nose of Eldorado's east ridge by the base camp, nearly all foot traffic took a sharp left uphill to Eldorado. From here we could see the vast Inspiration Glacier spanning all the way across to Klawatti col. We roped up and followed a set of old foot tracks headed in the same direction.
From Klawatti col, we headed north and drop partway down onto McAllister Glacier, followed by a short traverse to Klawatti north col. With some mixed climbing, we got through a notch and got onto Klawatti Glacier. By now the snow had gotten slushy, so we stayed roped up through this section. Just before reaching Austera Towers, we made a gradual descent to eastern edge of the towers and crossed over to the north side via a short scree section. Another short section of side stepping on steep snow officially put us on North Klawatti Glacier.
Good camping a few hundred feet up slope from the 6,800′ icefall. After setting up camp, we identified a couple of steep snow ramps at the base of the south face and started walking toward them. The climb wasn't difficult as I had imagined. We stayed on snow in lower section then transitioned to rocks when they became more exposed. A couple hundred feet below the summit we traversed right onto south ridge and scrambled to the top.
Summit was snow free and relatively flat. South side of North Klawatti Glacier was in and out of clouds. Evening light beautifully lit up nearby mountain ranges; Forbidden-Torment ridge line periodically changed colors as the light piercing through moving clouds. Nice to see other highest 100 peaks in the area too–Snowfield, Jack, Goode, Buckner, just to name a few. My partner headed back down to camp while I stayed a little longer to capture more photos.
We got back to to camp 40 minutes before sunset. Tomorrow we'll get to spend longest day of the year climbing Austera Peak, then followed by the long trek out. Starry night for shooting star trails and Milky Way photos.
Next morning we packed up and left after sunrise hoping to beat warm temperatures from turning snow into slush while getting back up Klawatti Glacier. After crossing back to south side of Austera Towers, we stayed paralleled to the towers and climbed up to tapered terrain at 7,800′. Not much snow beyond that point, plus snow on upper east ridge had melted out and worked to our advantage.
Summit was hidden from view on the ridge until we passed a few spires above 8,000′. Mostly stayed on or south of ridge crest, occasionally dropped lower onto scree to get around cliffy area. Only one section to traverse around the north side on exposed class 3 slopes right before the summit gully. Loose gully and we stayed right on more solid rocks. A few 4th class mantle moves in chimney, followed by 15-20 feet class 3 scramble on exposed east face and we were on top.
Another beautiful day on the neighborhood! Loved the cascading Forbidden, Boston, and Sahale. And the daunting Klawatti Peak and Dorado Needle I was still hoping to climb this season were only two glaciers away and seemed so close. Summit was a bit tight for two to sit comfortably, we stayed long enough for photos before heading back down to glacier.
From snow we reversed the route and got back to Klawatti Col for a break. We tried climbing Klawatti Peak as well, but couldn't find a good place to transition onto rock since moats had already formed. To no avail, an hour of route finding later we turned around and started making our way across Inspiration Glacier then down Eldorado Glacier. Climbed back up to the 6,200′ notch, down through heather and talus, then forest and back to the cars.
What an amazing trip albeit not enough time to savor the views. Probably won't do another snowy traverse for a while, but we'll see.